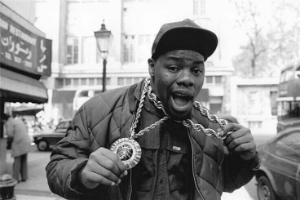 Hip-hop heads, did you know that Biz Markie's classic 1989 hit single "Just a Friend" is his highest charting single?
As the lead single off his second album, The Biz Never Sleeps, "Just a Friend" might just be one of hip-hop's most beloved songs and certainly one of the genre's most famous singles.
Interpolating the melody of "(You) Got What I Need" by Freddie Scott and combining it with the hard drum kicks of Lee Dorsey's "Get Out of My Life, Woman," Biz Markie created an endearing song about unrequited love that resonated with listeners from all over the world.
The single peaked at number 9 on the Billboard Hot 100 and was one of the biggest hip-hop hits of 1989. Within a few months of its release, "Just a Friend" was certified platinum in April 1990.