Hip-hop heads, did you know that Jay-Z's 2003 retirement album The Black Album was supposed to have 12 songs produced by 12 different producers?
After being in the rap game for over a decade and running it for more than five years, The Black Album was primed to be Hov's last record and he was determined to go out with a bang.
Even at the early stages of the album's marketing campaign, the flyers has the slogan "12 songs… 12 producers…" and listed the names: The Neptunes, Just Blaze, Dr. Dre, DJ Premier, Rick Rubin, Swizz Beatz, Kanye West, Trackmasters, Eminem, DJ Quik, Ski and Timbaland.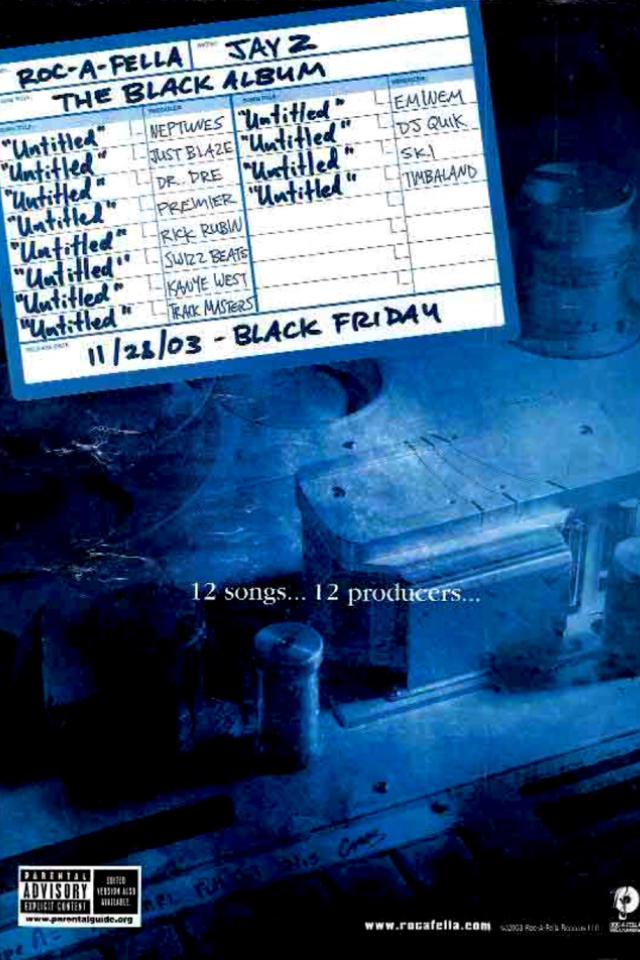 Unfortunately this wasn't the case of the final product, although we did get 14 songs by 10 producers – Just Blaze, Kanye West, The Neptunes, Timbaland, Rick Rubin, DJ Quik, Eminem, 9th Wonder, The Buchanans and Aqua.
Just Blaze contributed 3 tracks – "Interlude," "December 4th" and the fan favourite "Public Service Announcement (Interlude)," Kanye produced 2 – "Encore" and "Lucifer" and The Neptunes produced 2 – "Change Clothes" and "Allure." Everybody else contributed one beat.
Fortunately, even without Dre and Premo, The Black Album turned out to be another masterpiece from Jay-Z. The album included now classic joints like "What More Can I Say," "99 Problems," "Public Service Announcement (Interlude)" and remains one of his's best releases of all time. Jay-Z actually recently ranked all his albums and placed The Black Album third – behind his darlings Reasonable Doubt and The Blueprint.