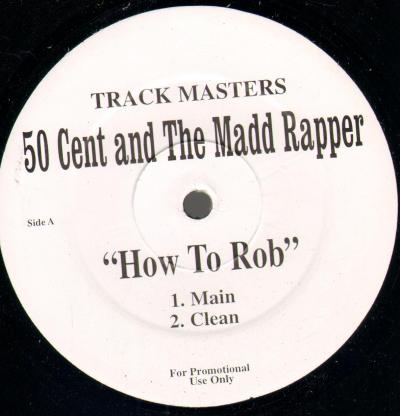 Hip-hop heads, did you know that 50 Cent wrote his debut single, "How to Rob," in 30 minutes?
According to 50's 2005 autobiography, From Pieces to Weight: Once upon a Time in Southside Queens, the infamous song was created out of a desperate situation, when the rapper was stuck in limbo on Columbia Records.
50 Cent: It's wasn't a difficult song to write. I wrote it in about thirty minutes because it was what I was really feeling at the time. I was sitting back, broke, and watching all these MCs shine and show off their jewellery and cars. I was sitting back, thinking, I wish I could have that chain.
Released in 1999 and featuered on 50's shelved debut album, Power of the Dollar, "How to Rob" was the way more aggressive version of Kendrick Lamar's verse on last year's "Control," on which the Compton rapper called out all his peers by name.
However, Kendrick's approach was more out of friendly competition, whereas with 50, who was widely known to be deep in the street life, his words were taken with a bit more wariness and spurned other rappers to respond, which was exactly what he wanted.
While artists like Big Pun, the Wu-Tang Clan and Jay-Z fired back immediately at 50 Cent, fellow Queens rapper, Nas, was impressed by his hustle and invited him to join the Nastradamus promo tour.
50 Cent: I loved the guys who had something to say about me on a record. Big Pun, DMX, the Wu-Tang Clan. the best was Jay-Z when he responded at Summer Jam.
As one of the greatest rappers of all time, 50 Cent has made conflicts the centre of his career, starting beef with rappers like Jadakiss and Fat Joe as a marketing ploy to generate buzz for projects. 50 was savvy enough to promote his mixtapes in the earlier days by jumping on popular beats and making them his own.
Source: From Pieces to Weight: Once upon a Time in Southside Queens