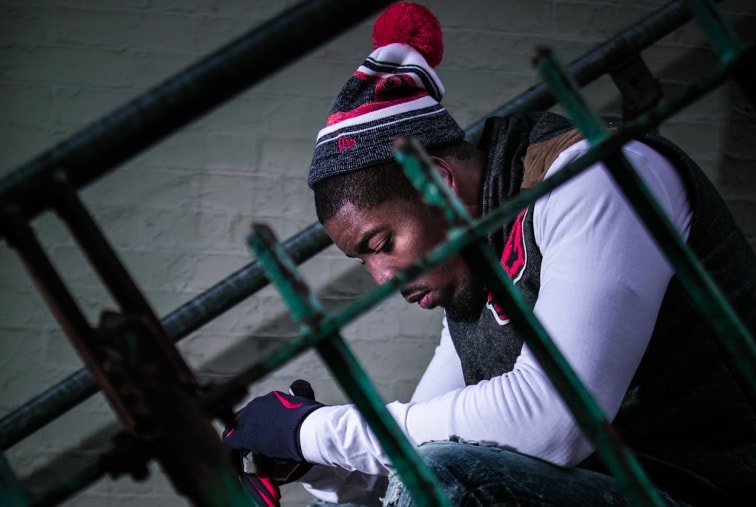 Born and raised in Chicago by his single-parent mother, Kelvin Jacobs acquired the name 'Hunnid' when a friend from a different side of town discovered that Kelvin was from 118th S. Eggleston.
This neighborhood was an area dogged by crime and poverty, referred to by many as 'The Wild, Wild Hundreds'. From then on, his nickname stuck with him.
Bringing more artillery to his fight, Hunnid is also the founder of C.C.G (Committed to Comradery and Growth) – a talented team of solo artists, each with their own unique vision.
1) How do you think growing up in Chicago influenced your music style?
Growing up in Chicago influenced my music a lot, ranging from cadence down to the topics I rap about. Chicago has made me who I am from the way that I talk, walk and carry myself.
Like any other city, there's a unique vernacular that that environment uses. When you listen to my music you can hear Chicago all in it. So it's safe to say I'm a product of my environment.
2) What was it like creating your latest single "Money Up"?
This felt like a fun but tedious science project for me. It took a lot of time, there was a lot of experimentation but at the end the reactions have been worth it.
I compose records very quickly but with this being one of my singles I wanted it to represent me whole-heartedly and molded just right.
3) What was it like winning Best Chicago Artist during the Chicago Independent Music Awards in 2014?
It was an incredible feeling. You have to understand that I was fully independent without any help from a third party.
Succeeding in this industry without any kind of help is very difficult so to know that I made that happen by myself was highly rewarding.
4) What are your thoughts on staying independent or signing to a major label?
As of right now, I'm looking to stay independent unless a major label situation unfolds that is right for me. Although it makes the journey harder, I value the image and control that I have over my brand.
5) How do you feel about the independent hip-hop industry right now?
The independent scene is more populated than ever which makes it difficult for the quality to rise above the quantity. Honestly, I feel like an artist like me is needed. When everybody goes left, I tend to go right, which can be refreshing in this industry.
6) As an independent hip-hop artist grinding it out, what sort of promotion and marketing are you doing to stand out from the rest?
That'd be like giving you the recipe to the secret sauce and that usually never happens!
7) How do you currently make money as an independent artist?
Features, shows, selling merch and streaming.
8) How do you feel about hip-hop today?
Hip Hop today has a different sound. Everybody talks about the evolution of hip hop but I feel we have evolved more sonically than hip hop as a culture.
Artists and rappers now a days are into the creation of music without understanding that hip hop isn't limited a genre. It is a culture.
With that being said, hip hop is the way you talk, the way you walk, the way you dress, and even the way you move. And I feel that hip hop now a days only embodies a portion of that.
9) What artists in the game today do you look at for inspiration?
I don't look at any artists today for inspiration. However, I observe different artists and extract a particular quality that I may be lacking. This helps me improve my artistry and keeps me in the loop with current artists.
10) Who are your top 5 rappers dead or alive?
Tupac, Lil Wayne, Ace Hood, Rick Ross and Eminem.