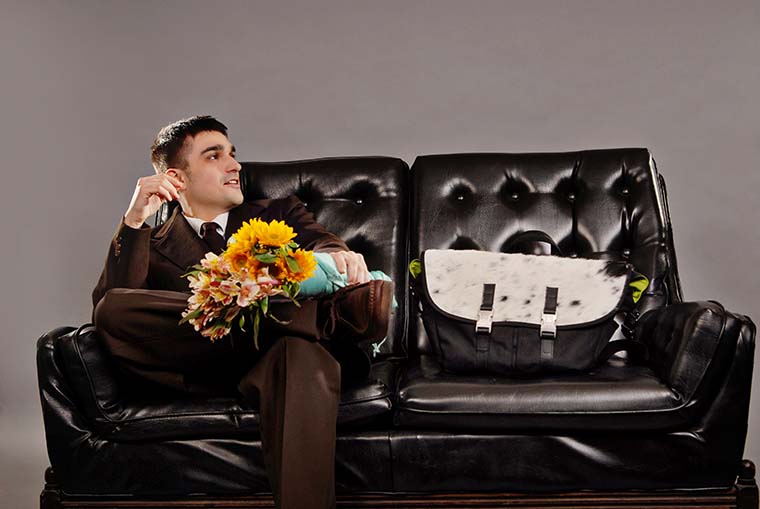 Forging an evolution of the "mashup" album format, producer Amerigo Gazaway's "conceptual collaboration" projects imagine studio sessions between like artists of different genres and eras.
Equally influenced by his Brazilian roots and southern U.S. upbringing, the 28 year old Nashville native's work was featured in Apple's "What Will Your Verse Be" series of iPad commercials and called "brilliant" by music's premier aficionado, ?uestlove.
Amerigo's work has also earned him praise from leading national and global outlets including The Guardian, Huffington Post, The LA Times, Vulture, NPR, BBC, MTV, BET, REVOLTtv, and plenty more.
With his next project – the B.B. King/UGK mashup B.B. & The Underground Kingz: The Trill is Gone – set to drop soon, Stop The Break had a chance to speak with Amerigo about growing up in a musical family, his dream collaboration, mixing The Pharcyde with Tribe and plenty more.
1) Your dad was the legendary jazz trumpeter Gary "El Buho" Gazaway which helped you get introduced to a lot of classic jazz music. What was it like growing up in such a music-oriented family?
It definitely made an impact. My mother is from Brazil, so I grew up listening to her sing and play bossa nova on guitar. I played the trumpet in band for several years, and took some piano and percussion lessons when I was younger.
My father used to take me to the studio and on tour with him, where I was introduced to talented musicians like the Wooten Brothers and Col. Bruce Hampton. I would spend lots of summers just going through my Dad's record collection, messing with synthesizers and an old EMU sampling unit.
The EMU sampler was amazing to me at the time – it took floppy disks and you could load up samples on it and trigger them with midi keyboard (kind of like an MPC).
2) Who were some of your musical influences coming up?
I was largely influenced by the radio. I used to listen to WRVU growing up which had a lot of quality shows like 911 Emergency with Egon & Count Bass D, The Old Time Record Shop with Kent Berryhill, D-Funk, etc.
Those DJs put me on to a lot of great music that I would have never heard otherwise. Everything from hip-hop, funk, jazz, big band, swing – also the soul/R&B stations like 92Q and AM1470 in Nashville. I can still remember listening to WDIA (the station where BB King got his start as a DJ) while driving through Memphis on my way to visit my Dad in Arkansas.
Another big influence growing up (besides radio) was video games. One of my first experiences making music was actually with an old PS1 game called MTV Music Generator, in an attempt to re-create soundtracks in the vein of my favorite video games like Donkey Kong, Chrono Trigger, Secret of Mana, Zelda, etc.
The musical arrangements in those games were so rich and complex, especially given the strict limitations of the sampling technology at the time. To this day I'm still a huge fan of legendary game composers like Yasunori Mitsuda (Chrono Trigger) and Nobuo Uemastu (Final Fantasy series).
3) How would you describe yourself as an artist? Has your style changed much over the years?
I'd describe myself as a producer. I like arranging and putting things together like a puzzle. I also like having limitations and challenging myself. A lot of times I'm not even sure where I'm headed musically, but I know what I like and I'll try to figure out a way to achieve that sound (either through sampling or creating it from scratch).
My style is always evolving because I'm always listening to new (or old) records and being influenced by them. As a result, my tastes are always changing. For instance, I used to not really like disco, or house music, but then I started DJing in dance clubs more and learning about the history of dance music, and how one genre (house) evolved from the other (disco.)
Now I have a better understanding and appreciation for the culture. So instead of saying "I don't this particular genre", I try to listen to a little bit of everything and figure out what I do like about it so I can then incorporate it into what I do.
4) I'd love to learn more about your creation process. Do you have a set routine for making music or is it different every time?
I'm always experimenting and trying new things. I don't like getting stuck in a creative rut or in the same routine every time so I usually try to stay away from beat templates, presets, stock drum sounds, etc. because every track or artist I work with is different.
I like to keep a clear mind and a blank canvas too so I'm not feeling boxed in. That said, my process usually involves a lot of critical listening. In a way, I think Hip-hop producers are actually more like musicologists – we probably listen to more different types of genres and artists than most people do in an average lifetime.
Even when I'm not working on music, I'm still playing music in the background , taking notes, digging, and absorbing everything all around me, which somehow eventually finds its way into my work.
5) I'm a big fan of Yasiin Gaye – can you run me through the making of that project? From what I've researched, you were able to get a hold of Marvin Gaye's original multi-tracks for the project?
I did (unofficially) get a hold of a good amount of the original multi-tracks and having access to those really opened up a whole new world of musical possibilities. But more than that, it's just really breathtaking to hear (and see) how some of these songs were put together.
Like, what makes a song timeless? What makes a song resonate with people on an emotional level? Why do I like this song so much? Those are the types of questions I'm constantly ask myself. I know there isn't one true single answer, but it's fascinating to think about and even more fascinating to explore firsthand.
To have a glimpse into the original sessions, to hear the mistakes, the imperfections, and to realize how sometimes those imperfections are actually what make the record so special in the first place.
6) Another favourite of yours is Bizarre Tribe: A Quest to the Pharcyde – what inspired you to mix two legendary hip-hop acts like A Tribe Called Quest and The Pharcyde?
At first it was kind of a joke. I used to do this DJ blend at parties back in the day where I would combine the Pharcyde – Passin' Me By acapella with the instrumental from ATCQ' Bonita Applebum to create "Bonita Keeps Passin' Me By".
Years later when Delicious Vinyl re-released a box set of Pharcyde 45's for the 20 year anniversary of "Bizarre Ride 2 The Pharcyde", I was able to get my hands on enough of their acapellas to do a full length project. I think I was inspired to do Bizarre Tribe because both groups had such an impact on me growing up and because they were both connected through two of my favorite producers, Q-Tip and J Dilla.
Shortly after working with Tribe, Q-Tip introduced Dilla to The Pharcyde, who then went on to produce on their Labcabincalifornia album. So in a way I wanted to pay tribute to both groups/producers, and the overlapping sounds that they created.
7) What music are you listening to these days? Anyone in hip-hop really blowing your mind?
There's so much great music out there. Anyone who claims otherwise is either misguided or severely out of touch. I would say Kendrick Lamar for sure. At first I didn't want to believe the hype, but I think To Pimp A Butterfly is a sonic masterpiece.
I caught Run The Jewels in Nashville the other night and they put on one hell of a live show (shoutout to DJ Trackstar). My homie L'Orange of Mello Music Group just put out a concept record with Kool Keith about time travel that's pretty psychedelic to say the least.
Big K.R.I.T. has quickly become one of my favorite southern artists/producers to ever do it, as well as Oddisee and his live band, Good Company. Adrian Younge is an inspiration and someone I look up to, especially as a producer who's trying to get into recording his own samples.
And lately I've had a soft spot for modern funk/boogie/electro acts like Dam-Funk, Tuxedo (Mayor Hawethorne x Jake One), Chromeo, Cherub, The Internet, etc. The list goes on…
8) If you could work with any artist you wanted, what would be your dream collaboration?
I'd really love to connect with some of the living legends: Herbie Hancock, Quincy Jones, Stevie Wonder, Prince, George Clinton, Roy Ayers, etc. Even to just be in a room with some of those guys and soak up the knowledge and wisdom they had to offer would be a dream come true for me.
As far as lyricists go, I would say Black Thought is one of my favorite (and most underrated) emcees of all time. Also, doing a track with Slick Rick has always been on my bucket list.
9) What has been the best moment in your music career so far?
A lot of times the best moments are the little things. When a fan writes me a hand written "thank you" letter. When someone shares an art piece they created that was inspired by my work. When I travel to a foreign city or country and someone brings a record for me to sign.
It's those types of experiences that inevitable make it all seem worthwhile. I would make music regardless of whether people listened or not, but the fact that people appreciate what I do makes it that much more rewarding.
I feel blessed to be able to travel and connect with so many like-minded people through our shared love of music.
10) So what's next for Amerigo Gazaway?
Besides touring and various projects, this year I've really been trying to build a library of original, royalty free samples to use in future productions. I've been recording with other musicians, playing keys, trumpet, and trying to teach myself how to play bass and the guitar.
I'm also working on Selective Hearing Vol. 2, a follow up to my 2010 instrumental release on Cold Busted. In addition to that, I'm working with the "Xiomara and The Headband" on their first full length LP, as well some future Soul Mates projects. Stay tuned!