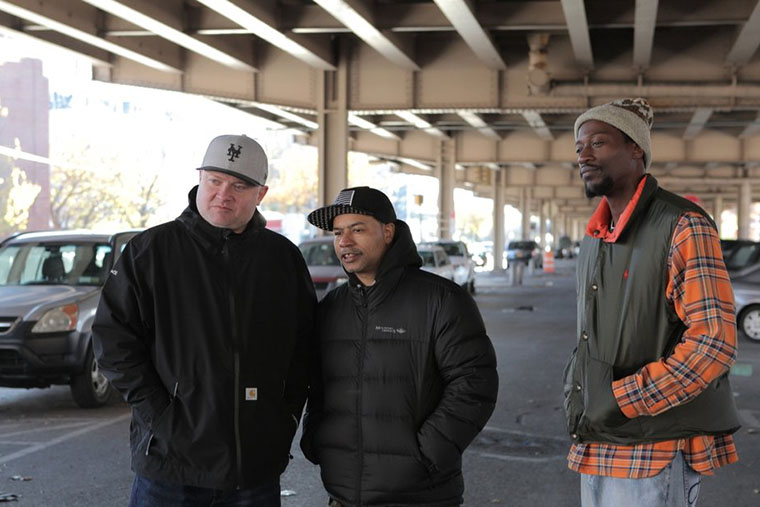 Control Your Own is authoritative NYC hip hop by producer Ras Beats. Featuring MC heavyweights Roc Marciano, O.C., Elzhi (Slum Village), A.G. (D.I.T.C.), Rasheed Chappell, Blacastan (A.O.T.P.), Sub Con, Breeze Brewin and more.
From the slick talking "Wit No Pressure", the thought-provoking lyrics of "Knowledge Of Self", the instrumental anthem "Queens" to the dedication record "God Bless" the album shows the versatility of hip hop music at it's best.
Embracing the independent spirit, Control Your Own is a project following it's own direction and rules. It is released on New York based indie label Worldwyde Recordings.
With the album set to drop on July 19, Stop The Breaks had the pleasure of interviewing Ras Beats about the project, working with legendary rappers, his independent grind, and plenty more.
1) You have an album, Control Your Own, dropping July 19 – what was the inspiration behind the title?
The title came from a real life conversation. Basically Control Your Own is a reference to how you need to control how you make your music, make it how you believe it needs to be done, keep the sound you're going for, have that creative control.
Bigger than that, in life, as a grown person, control how you act, control your morals, your ethics, you don't control other peoples actions, things on a larger scale but you can always control your own and your actions. Word, I definitely believe in that strongly.
2) What are you trying to achieve with this project?
A couple of things. First and foremost bring quality music to people looking for it. Following in the tradition of the New York and beyond boom bap, underground, real hip hop or whatever you wanna label it as.
At the same time I wanna add on to that sound, that's the reason behind us labeling the album as "The New Sound Of New York", being true to the tradition but building on that, working on adding on to it.
Nothing against anybody's music being made or anyone's taste in music but in a nut shell I wanna give you the music that i think you need to hear. Beyond that it's my first full length and we're planning what's next right now, so there's a lot more coming from me after the Control Your Own album.
3) You linked up with a number of incredible East Coast lyricists, including Roc Marciano, the legendary Masta Ace, O.C., Elzhi, Sadat X and more. How do you form relationships with rappers you work with? Do you have to kick it with them first to see whether you have the chemistry?
That varies a lot from MC to MC in my experience, I was introduced to Roc Marc by Large Professor, A.G. made the connection to O.C. I think you definitely make better music if you have that chemistry in the studio, but I think mutual respect is key and enables both the MC and the producer to do their best work and come up with the dopest music that way.
Breeze Brewin and Sureshot La Rock are people I have known for years and we were finally able to link up on this album and that was definitely something I wanted to include.
Most of the people featured on the album are people I connected with specifically to record for it, but I think you can expect some of these combos to happen again.
Two of the MC connects I made on the album are O.C. and Elzhi, and Blacastan and Rasheed Chappell, those are combos that you haven't heard before but they came out sounding mean, brought out something special in 4 MC's that are already incredible.
Most times you make a fast connection thru music though, once you give an MC a beat that inspires them you get pretty far pretty fast as far as building with them.
4) What goes through your mind when you pick a certain rapper for a certain song? Do you just think "so and so would sound great on this" or is it deeper than that?
As a producer it's definitely a balance between getting MC's beats that will inspire them to to bring it but also producing a great record for them.
For my album I had certain MC's I wanted to made sure I featured so it was about getting beats for them that would bring the best out in them and also make the right songs for Control Your Own.
A lot of is definitely getting the right MC on the right beat but also making sure everything makes sense as an album as well in this case, really producing an entire album, not just wait till you have enough songs to call it an album.
5) Do you have any standout memories of the studio sessions for this album?
Everything pretty much stands out to me on this one, being fortunate to be in the studio with legends was definitely a standout for me.
I listen to music almost constantly and really study this art so being in the studio with artists who's music I have been listening to for 10-15 years or more is definitely an incredible situation to be in, I'm very appreciative of that.
Just being in the studio and that moment when the song really starts to take shape is incredible to me, whether you're working with legends or not in that situation. O.C. was incredible in the studio, A.G. too, Sadat X is a beast, Roc Marciano is another one, all great at what they do.
When they have that experience recording they just know how to deliver a performance and make themselves sound great on a record, and then you add on to that with the mix, arrangement and all that. After they do what they do you definitely need to take it up even more as far as finishing the song as a producer.
6) Flying Lotus recently went on Twitter to talk about how he feels many producers are being exploited by rappers these days. He brought up Future and Metro Boomin's working relationship, saying how he thought Metro should be the star. Did you have any thoughts on this issue?
I'm not sure what exactly was said but there's times where the producer might not get the credit or money they deserve. I think it's partly due to "you don't get what you deserve, you get what you negotiate" saying but there's more to it at times.
Some artists seem to undervalue beats, treat them and the producers disposable at times. I remove myself from a situation like that, Ge-ology told me years ago "make sure they respect your craft and what you bring to the table" I think that's key and that always stuck with me.
There can most definitely be exploitative situations, but that's the music business and that's also life, it's about how you react and respond to those type of situations and how you control what you can.
7) Control Your Own is going to be the first full length released on your independent record label, Worldwyde Recordings. What is like running an indie label in 2016?
It's mixed, mostly positive. We still do physical products, we knew the audience still want vinyl and CD so they are available for the album, so that part hasn't changed too much.
The digital side of things is almost constantly evolving from digital stores to streaming etc, so you have to make sure you stay up to date and understand those platforms. You have to understand the changes that have happened as far as how distribution works and how you get your music heard. Gotta study that.
8) In my opinion, I think it's a great time for independent artists, with the reach of social media, lower recording costs, etc. What do you think?
Yeah, the reach you're able to get more affordable and easier is an incredible tool. Makes is much easier for an independent labels to get your music to a lot of people, definitely levels the playing field some for an indie compared to a larger label.
There's a lot of people out here really paying attention and looking for new music to DJ, write about and listen to. A lot of people really into music with no politics or business involved and that always inspires me as someone running a label.
Recording costs have definitely gone down some, but key is to still make sure your music sounds right. Make sure it sounds good on someones phone, but also played loud on speakers.
Take the time to make sure it sounds right and make sure you have the right people doing work for you. From engineers to designers, definitely make sure it's quality work.
9) You have your own website, social media channels, SoundCloud, Bandcamp – how do you make all these platforms work together to effectively market your music and brand?
You gotta have an understanding of each site, make them work together and compliment each other. Not everybody visits the same sites or apps so you make your music and updates available on different sites so people can get the info and hear the music on whatever platform they use.
Make sure people can hear your music if they are interested, you don't need to spam the world but don't make it too hard to find either.
10) Ok, last question – who are your top five, favourite hip-hop producers of all time?
Mmmm, that's tough. I would probably have to to top 20-25. If I have to try probably Marley Marl, Premier, Pete Rock, Showbiz, Large Professor, 45 King, Dr. Dre, Bomb Squad, DJ Muggs, Rza, Erick Sermon, Prince Paul, too many great producers, I can't narrow it down to five, too much good music.