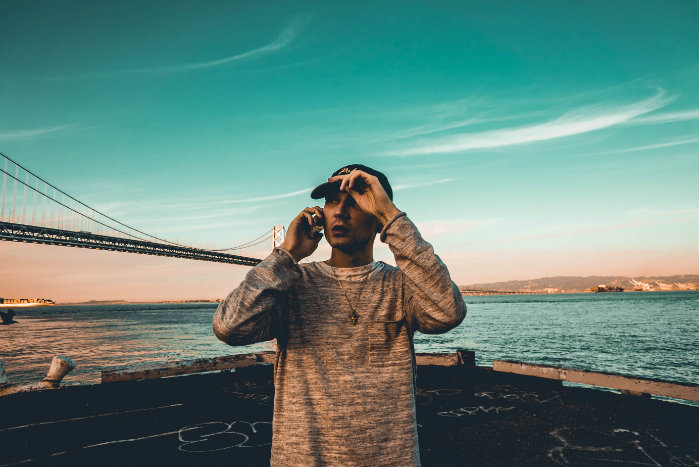 Producer / Rapper TOPE is considered one of the top up and coming artists in the Northwest region and has been recently featured on XXL, The Source, 2DopeBoyz, Okayplayer, Jay-Z's Life + Times, Hip Hop Wired, Hip Hop DX and more.
Since his debut album in 2010, TOPE has produced and/or collaborated with artists including Slum Village, Blu, Planet Asia, TiRon, Myka 9, Abstract Rude, Scarub of Living Legends, LMNO, and many many more.
With a commanding stage presence and engertic live show, TOPE has shared stages with hip hop legends including Nas, Mobb Deep, Talib Kweli, Run The Jewels, Deltron 3030, Big KRIT, Dom Kennedy, Black Milk, Mac Miller, Ty Dolla $ign, Digable Planets, Hieroglyphics, Aesop Rock, The Coup, People Under The Stairs, Macklemore and countless others.
As a one man machine; booking his own tours, designing his own merch, writing, recording, and producing his own music, and more – TOPE has worked his way up to being one of the most respected independent artists in the NW plus an up and coming rapper nationally with a recent move to California and attention from major press outlets building with each release.
1) How long have you been doing what you're doing and how did you get started in the first place?
I started recording my own raps around 16/17 on Cool Edit Pro, and then was getting snuck into bars to perform around 19. Literally since I was maybe 20, it's been non-stop. Countless shows, probably over 300, 15 projects released, features, music videos, etc etc.
It goes on and on. It wasn't until I moved to Oakland that I actually took a break from performing. I always had a love for music, studying albums, being obsessed with lyricists, but it wasn't until I got cut from my basketball team my Junior year of High School that I started wanting to do music more seriously.
To be honest, as a musician I always had a love and appreciation for it, but I was really late getting started playing instruments, learning about music theory, all that. I'm still learning and trying to get better everyday.
2) Who were the first influences on your music and style?
My first influences on music that I can remember, this is gonna sound funny but, MC Hammer, Vanilla Ice, and Bell Biv Devoe. Those were the very first tapes I remember having. Then probably 2Pac, Biggie, BTNH, but as far as making music it wasn't until I got into underground hip hop and saw one of my friends rap in high school that I was like, "damn, that was cool. I could do that."
Style wise I've always been influenced by soul music – J Dilla, Erykah Badu, Marvin Gaye, Curtis Mayfield, DJ Quik on to artists like SZA, Terrace Martin, BJ The Chicago Kid today. Right now I'm jamming the hell out of this Chance The Rapper.
3) What would you say is the most challenging thing about being an independent artist?
The most challenging thing about being an independent artist is working with a limited budget and limited resources. There's 10 ideas I have RIGHT NOW for my new album but I can't work on them everyday because I have other things I need to handle – a tour, press, a PR company, a life.
I can't go to the studio everyday like I want to, so I guess it's just finding the balance. At times it hard representing yourself and trying to break down doors for YOU. I hear no a lot on my music, like almost everyday, but thats also because I'm putting it in high places and shooting for the sky.
As an artist that can either be frustrating or motivating, honestly it's both but its all how you handle it.
4) What do you think is the biggest barrier an artist like yourself has to overcome, to gain commercial success?
I think the only barrier is myself when it comes down to it. Its up to me to make the music and deliver. To be honest I would say I've made good music but not music targeted at a commercial audience per say.
I would say having a plan though, good music and a team. You have to be ready for the long haul because it's easy to gain someone's attention but the challenge is keeping it.
5) Who are the independent hip-hop artists out there who inspire and motivate you?
Watching the homie Macklemore do what he's done over the last few years will always be inspiring to me. I saw him really come up from an underground MC to a worldwide superstar.
I really like Dom Kennedy's whole brand and image, with the exception of the last two projects he's been one of my favorite independent artists to watch maneuver.
Right now Chance's story is pretty amazing to watch. I think I'll always be inspired by College Dropout – Kanye too, like "Through The Wire" and "Family Affair" will always bring out an emotion of trying to come up for me.
6) You're gearing up for your 3AM Tour in June, talk to us about this tour and how everything got set up.
Yeah the 3AM Tour kicks off June 1st in San Jose and ends June 28 back in Oakland. I have to give a huge shout out to Dezz of Da Maddhouze down here in the Bay because this whole thing wouldn't be possible without him.
Basically Dezz had heard my music, I believe, before I moved down to Oakland and I was playing a show in SF that Dezz was hosting when I first moved down. I made a point that night to have a great set and try to steal the show, and I might have achieved that because Dezz later asked me to headline his summer tour.
We've been working on this since February I think, and it was definitely good motivation to put the wheels in motion for me to release some new music, finish my album, and give it to the people. We started out trying to do 2 weeks and it turned into the biggest tour either of us have ever done.
7) What's your biggest advice for other indie artists out there who are looking to set up their own tours?
I think you have to have buzz in your hometown first. A lot of people overlook the importance of having a fan base at home first. If you can't pack a show at home it's going to be hard for you to pack a show anywhere else.
Also, make sure your live show is ready for the road, DO NOT rap over your own vocals besides choruses and some back up vocals. Thats the worst thing I see, people just rap over their CD. Then once you can book shows in other towns, its very important to network with other MCs in these cities.
Without these local opening acts or a major radio hit its going to be almost impossible to pack a show out of town. Overall make sure you're ready, buzz and performance wise. Don't be afraid to open for someone else in their town if they have a bigger draw, it might benefit you show and reach in the long run.
8) How important do you think touring is for independent artists in this day and age?
It really depends, with the internet its so easy for a lot of artists to just touch the people instantly if their buzz is right. For other artists, the road is a way of making new fans or connecting with the ones that they have already.
I know some rappers that are famous on twitter and have never toured. I know other artists who tour all year round, and hardly every post on their twitter. There are so many ways to get your money these days.
For me touring, or testing your live show with always be a test of a true performer. Not necessarily the test of true artist, but true performer, because I think those are two separate things as well.
9) Tell us about your upcoming album 3AM IN OAKLAND.
3AM IN OAKLAND is the follow up to my most recent release, BROKEBOYSYNDROME. The majority of production is handled by Stewart Villain with contributions from Zach Striar so far. I'm gonna have some cool special guests lined up, but so far the album is very personal (again).
Since my move I've had a lot of time to reflect and think about what I want to do moving forward, personally and musically. Lately I've had time to analyze some of my flaws and work on them.
A lot of times I would find myself awake at 3 am, just thinking about everything, my music, my life. The title just came to me one night, I guess its kind of a bite on Drake's series but I don't care.
10) What makes your music different to other artists?
I think the fact that I don't really follow trends makes my music stick out. It's funny because people will tell me I have an old school sound, which just makes me feel old but my music doesn't really sound like a lot of the stuff thats out right now.
I've never really tried to record anything in auto tune or anything like that, I wish I could, I think that shit is tight. I think the fact I can make my own beats helps me stick out. I've always just tried to be select on everything I do, from beat selection, to artwork, to pictures, I want everything to be dope as possible.
11) Where do you see yourself in 5 years?
Somewhere with a nice tan and newer Benz.