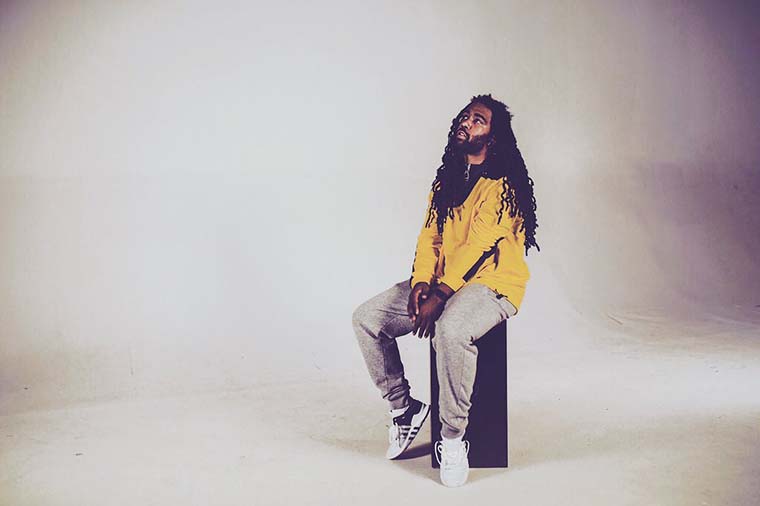 Hailing out of Prince Georges County, MD, right outside of DC, independent hip hop artist dopeSMOOTHIES just dropped his first mixtape WAVERUNNER which was recorded in a college dorm room before he dropped to pursue music full-time.
As a multi-talented artist who completely embraces the independent grind, dopeSMOOTHIES directs his own videos, records, mixes, provides art direction and everything else related to his career.
Stop The Breaks had the pleasure to kick it with dopeSMOOTHIES to talk about WAVERUNNER, the independent grind, artists who are pushing the boundaries and plenty more!
1) Talk to me about the making of your latest project – WAVERUNNER. What was the inspiration behind it?
Let me stop for taking your time out to do this with me. Really appreciate you reaching out for us to do this, definitely means a lot! Ok so this will be the first time I really go in on this so I hope you don't mind.
I remember being a kid and trying to use my uncles computer and play this game called BLADERUNNER (based on the movie which is based on a book) but I could never figure out the concept of how to even get into the actual game so I would always be stuck in the opening.
The game semi-sparked my interest in the movie and I'd eventually see it then my infatuation with it would eventually wear out but not before it planted this idea in my mind. So back to the tape, when I was putting it together in my mind I could just remember feeling like I wanted to do something that was exclusive to me as an artist and not just a replica of what rap music sounds like right now.
I had actually just completed a different project that I just wasn't crazy about so I just whipped it. Then I dropped this song on SoundCloud called "Top 5" that I did in my dorm room and I think that's the song HDBi heard that got him into my stuff. Then HDBi would go on to do production on every track of WAVERUNNER.
I sat in this poor excuse for a dorm room that felt more like the cell I had been in just months prior and just recorded on every beat bro sent me and I knew it was something because I was happy with the sounds. So back to Bladerunner, if you seen the movie or you read the book, you know it was about like clones acting crazy and these special officers called Bladerunners were basically tryna get rid of them.
See where I'm going? I wanted to make an piece that condone originality before it praised the monkey see/monkey do mentality that artist are being born everyday from. So to sum that all up WR is a futuristic-wavy-chill-fly-ass tape that should be played moderately loud in a car, somewhere there aren't many police cruisers so you can smoke and drive with your girlfriend (or boyfriend riding shotgun).
2) With the music industry tanking and record sales falling, how do you currently make money as an independent hip-hop artist?
The music industry was never built for the artist, it was built for a company to use the artist to make money. So it's just different problems not, but I'd say we have better problems to have because at the end of the day. We have the internet and as long as you can create a dope product that people can buy into, you dictate your own revenue.
Whether it be through doing shows or merch, I'd say the impact of great marketing is the same as it was when marketing became a thing. The way people consume music now only means we can't do the same things we've been doing for the past 50-60 something years.
And I don't really see a problem with that as much as I'm sure big label execs do. The fans will always care and be there to support a great brand, not sure they were ever really impressed by the labels that got really rich using those brands in the past.
3) From a business point of view, which artists in the game do you think are really pushing the boundaries and changing it up?
Obviously Chance is the front runner for this just because of the mainstream success he's had as independent artist and the different things he's doing to solidify himself as a WAVERUNNER.
Tech N9ne's always been able to push boundaries and connect with his core, which is definitely goals. It's a lot of guys doing good things, I like what Nipsey's doing, I heard Drake got a big bag from Apple for Views (More Life too I'm sure) so that's doing things people have never done.
Everybody though if we're hearing about them and they're still doing music that people are jamming everybody's doing a good job because if they weren't we wouldn't hear about them like we do.
4) What business lessons have you learnt from the music industry so far?
I'd say the biggest lesson I've learned thus far is to really find a way to thoroughly invest in yourself. Do what you gotta do to get the capital to move your product efficiently. Every artist is a small business. Small business need investments. If you can, do EVERYTHING you can do invest as much as you can.
5) What do you love about hip-hop music?
Hip-Hop is for the elite. The undeveloped mind can only comprehend a fragment of what they're listening to when a great rap song is playing. However it's so elite that I can leave traces of itself on the undeveloped mind and lead it in a direction that one may have never began in had you never experienced it.
For example since I was six years old I could rap every song on Harlem World, I couldn't have had any clue of what I was listening to but it the eliteness of Hip-Hop was able to leave an impression so great that it's still with me 20 years later and I'm still hearing new things. I love that Hip-Hop is for the true elite. Anyone that loves Hip-Hop can pat themselves on the back because they are elite beings.
6) What still surprises you about hip-hop?
It doesn't surprise me but it's comical to me that it's still the blame for so many social and community issues. Like addressing the actual issues involve too much work, so it's much easier to blame these things on the most popular sub-culture in all of american pop-culture.
7) If you had the power to change one thing about the hip-hop industry to help independent artists – what would it be?
There'd be mandatory auditions to receive a rapper i.d. card that gave you access to DAW's and stuff so just anyone didn't think it was okay to say "hey, I think I wanna be a rapper today…jugg jugg jugg, plug, plug, plug, (ad-lb)" That's probably all I'd change. So many dope voices would be heard and competing for your ear against other dope voices.
8) Who do you think are top 3 rappers doing it at the moment?
Quavo, Offset and Takeoff
9) So what are your plans for the future?
More…