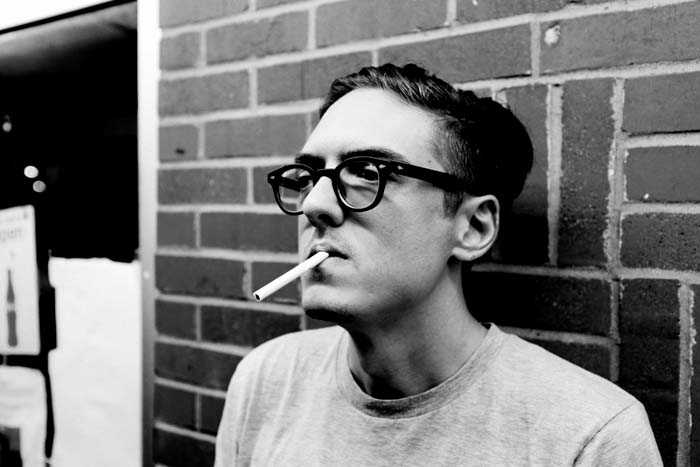 Stop The Breaks was fortunate enough to have an opportunity to interview one of our favourite artists right now – independent hip-hop producer L'Orange.
Hailing from North Carolina and signed to one of the top independent labels right now, Mello Music Group, L'Orange is a wizard on the MPC, crafting jazzy, audio movies with lush samples and noirish snippets.
1) First of all, can I just say we're big, big fans of your work here at Stop The Breaks. When it comes to vibing out to some jazzy hip-hop, nothing beats L'Orange's music. What is it about those old jazz samples that inspire you?
It's the kind of music I've always enjoyed the most. It's personal and flawed and beautiful. It reminds me of what life feels like.
I think there's something about early 20th century recordings that remove the pretense of music. It's a music that I can simply enjoy without thinking about how they recorded it or mixed or wrote it.
2) Tell us about your come up in the music industry – I read that hip-hop artist Kon Sci was your mentor early in your career and introduced you to Mello Music Group?
True. Kon Sci is in a group called MindsOne that I followed throughout highschool. I looked up to them and I embarrassed myself a few times trying to impress the group.
I was definitely a fanboy. But eventually he took me under his wing more or less. He was the first to put me on to Kev Brown, Oddisee, Homeboy Sandman among many others.
3) Your music has been compared to the greats such as J Dilla and Pete Rock – how do you feel about those comparisons? Were you influenced by these guys?
I was definitely influenced by those artists. But I hope the comparisons come from a spiritual succession standpoint.
I try to embody what Pete Rock could do with a 4 bar loop and how Dilla approached hip-hop like it could be anything he wanted it to be. He made what he felt. It's definitely an honor to be compared to my idols.
4) When I listen to albums like The Orchid Days, they play out like narratives. Can you talk about your production style and how you structure your music to sound like movies?
That's great to hear actually. All my albums have detailed stories that I rarely explain. I grew up as a writer and found music later. In order for me to feel comfortable making an album, I want to be able to tell a story- even if that means it just plays in the background while you listen.
5) With an incredible roster that consists of talent like Oddisee and Rapper Big Pooh, Mello Music Group is one of the top independent record labels in the game today. Can you tell us what it's like being signed to them?
Mello Music Group was my dream home. It feels amazing to be a part of the label that shaped me. To be counted among the artists is a incredible. They are the perfect home to let me be new and unusual and live on the fringe of normal if that's what I want to do.
6) In 2015, you dropped two albums, The Night Took Us In Like Family with Jeremiah Jae and Time? Astonishing! with the legendary Kool Keith. What is the process like working with such different artists?
They were vastly different projects. I wanted to make sure if I was releasing two in the same year that they felt viscerally different. I took The Night Took Us In very seriously.
I've always had the word 'noir' attached to my music because of the era I'm inspired by, so I wanted to double down on that and truly make my first noir album. For Time? Astonishing! I wanted to let go a little.
The beats are a little off the wall to match Keith's tone and approach. Even the stories in the background are vastly different.
7) What are your thoughts on the independent rap game right now?
I really love that artists are able to have a voice. The voices are more scattered but I love what they collectively represent. The artistry is at an all time high and people are gravitating towards originality and uniqueness.
8) If you could collaborate with one rapper for a full-length album, who would it be?
Always wanted to make an album with DOOM, naturally. Other than that, I'd love to work with guys like Homeboy Sandman, Jemini The Gifted One, Blu, Open Mike Eagle and many others.
9) What's next for L'Orange?
My new album with Mr. Lif came out on 8/7 on Adult Swim and an extended version on 8/14 via Mello Music Group.