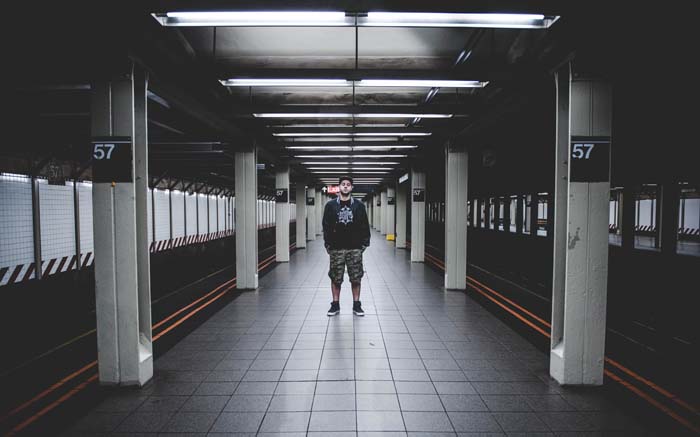 When I wrote up our list for the top 10 hardest working independent hip-hop artists in the game today, I should have put Brooklyn producer J57 as an honorable mention. As an independent artist relentlessly grinding his way to the top, J57 has been working and dropping music non-stop these past few years.
After having the chance to interview J57's business partner and fellow independent artist Koncept, Stop The Breaks had the opportunity to interview the man himself. Enjoy the read!
1) First and foremost man, let's talk this remix of Blu & Nottz "Atlantis" – how did this collaboration come about?
Please let me start by saying, I've been a Blu fan since Exile's Dirty Science LP, ten years ago and Nottz for as long as I can remember.
I spent years studying Nottz's drum techniques and now I get the honor of remixing a track for two of my favorite artists on the planet, that have really influenced me as an emcee (Blu) and as a producer (Nottz), so you know I had to bring my A-Game to the table.
I called in a ringer to sing the hook; one of my go-to guys, Akie Bermiss. When I was asked to remix this record, I immediately thought to myself that I need to bring a completely different vibe to the track and really do it justice.
(In no order) the top three hip hop producers that I consider to be drum gods are Nottz, J Dilla and Timbaland. People praise me on my drums (which is a "life goal" in itself) but it's because I'm a student of those three geniuses and have been since I started making beats in 2003.
This remix was a fucking honor. Blu x Nottz Titans in the Flesh is out now via Coalmine Records – it's a must have!
2) I can definitely picture you doing a remix series similar to Pete Rock or 9th Wonder. Have you ever thought of doing a project like this?
I definitely want to start a remix series like that in the near future – good call! The closest I have to it is a remix EP I put out that consisted of a few remixes I did for other artists (Torae feat. Pharoahe Monch, Cage, DJ JS-1 feat. MURS, Fashawn, Choosey and more), as a compilation.
I do want to do the series idea, though, I think it would be fun.
3) Let's take it back to the beginning of your career. Talk to us about being born and raised on Long Island and living in Brooklyn for the past 10 years, working at the legendary Fat Beats and hustling your way to where you are now.
It was great growing up on Long Island, my parents have been really supportive in anything and everything I do; from growing up playing hockey and football, to making music. I'm really, really grateful for that. I moved to Brooklyn exactly ten years ago this September.
It sucked commuting from LI to my job at Fat Beats, like I did for two years, so the move really made me step my networking game up in NYC as well my skill level at making music, because I had more time to put into my craft.
4) One of the most important people in your career so far has been the god himself, DJ Premier, who you had a mentor relationship with and have assisted in the studio. How did you first meet Premo and how has working with him influenced your own production game?
Man, Preem is easily one of my favorite humans on the planet. Even if he wasn't one of the greatest hip-hop producers (if not the greatest) of all time, he's still one of the coolest people I know and a lot of fun to hang out with.
Premo's work ethic inspires me till this day. He first invited me to kick it at his lab back in 2011 with Mac Miller (we all had a blast) and since then, I've learned so much from him musically and work ethic-wise, that helped mold me into the artist I am today.
I met Premier at a Pharoahe Monch show in 2006 right when the Christina Aguilera stuff he was doing dropped. He was walking through the crowd with a big entourage – I walked up to him to tell him I'm a fan and he was really grateful and cool.
Then in 2009 I met him again at Fat Beats and he told me he was a fan of my group Brown Bag AllStars. I didn't become friends with him for another few years when he started to fill in for DJ Eclipse on our show "Rap Is Outta Control" on SIRIUS XM, whenever Eclipse went on tour.
5) Random question – what are your top 3 Premo-produced tracks?
GREAT question! I already have that answer ready haha!
Nas – "Nas Is Like"
Big L feat. Big Daddy Kane – "Platinum Plus"
Royce da 5'9″ "Boom"
6) You've turned down 3 major label deals and have set up your own independent record label – FiveSe7en Music. What is the appeal of the independent grind for you?
It's been a long road but I'm doing it all my way and I can do literally anything I want without anyone telling me what to do OR shelving me. I love the fact that I'm in charge.
I'm not anti-label and I'm not anti-major, I just haven't been offered a deal yet that's worth it yet. I've seen so many artists that I came up with, sign bad record deals and it ruin their career(s) and lives.
7) What is like running an independent record label in 2016? Do you think it's easier now more than ever to be an indie artist?
I think it balances out. I know for a fact around 12 years ago music videos could cost up to $50,000 and in 2016, you could shoot a larger than life video for approx $5,000.
But no one buys music any more, so owning an indie label 12 years ago could have been great because if you sell 30,000 units (which would have been a low amount of album sales for that time) at earning approx $7 per unit (net), could have been very lucrative.
It just balances out, so it's really not any worse or better, in my opinion.
8) You and Koncept, another independent hip-hop artist, teamed up last year to drop The Fuel EP. What's your working relationship like with Koncept and are you guys planning to work on any more collaborative projects in the future?
Koncept and I started our own label with our business partner, Kyle, about a year ago, called KON57 Records (via Soulspazm digital distribution and Fat Beats distro for physicals).
We use the label as a platform to release anything Koncept & J57, as a group. We're gearing up to release our album Flight by the end of the fall!
9) You have a joint project with Aaron Rose (fka A La $ole) of PRO ERA coming up, tell us more about that and what fans can expect from it.
It's a really dope project. Aaron reached out to me via twitter a couple of years ago after hearing one of the joints me and Joey Bada$$ have in the chamber, while they were on their tour bus.
I was a fan of his as well and reached out to do an EP; he was down. The rest is history. Coalmine Records is releasing our project, Elixir, by the end of 2016 – expect to hear all heat!
10) I think PRO ERA is one of the savviest and successful crews in the game in terms of branding, music, business, fanbase – independent or otherwise. In your opinion, what is it that Pro Era are doing that's working so well for them?
It's definitely a few things:
Joey Bada$$ & Jonny Shipes are both business geniuses
Pro Era's music is consistently dope
Their camaraderie as a crew is a really cool thing to watch.
11) As all independent artists should know – networking is vital to success in the rap game. Over the years, you've cultivated important relationships with dope artists like Joey Bada$$, the Wu-Tang Clan as well as DJ Eclipse. What goes into building these relationships and maintaining them long term?
It's hard to say exactly what goes into building them, because I think you need to just have "it," but a few things for sure are:
You have to be sincere
You have to be like-able
You have to make sure you don't overstep your boundaries
You have to be fucking amazing at whatever you do; whether it's making music or whatever it is you do that defines you as a person.
12) How about building a fanbase? What have you done in the past that has enabled you to build up a strong fanbase that supports you?
My secret weapon is: empathy. I put myself in the consumer's shoes. I know what I want to hear/see/buy into as a customer. I also know what type of shit turns me off as a customer.
I apply things I learned in college in my marketing classes, but there's only so much of that, that can be applied to indie hip-hop (don't get me wrong; the stuff you can use, is really beneficial).
I used Fat Beats as a focus group for the 6 years that I worked there. I knew exactly how consumers and different demographics felt about releases because they would straight up tell me, without fail, 100% of the time.
I could have let that slip through my fingers, but I knew how valuable that information was, even before I was releasing music on a large scale. So, I used it to my advantage.
13) You've got so many projects in the works it's impossible to cover in one interview – can you do a quick run down on what's coming up for J57 fans?
Very true. I don't think I can list them; it's gotten to that point, but, if you follow me on my socials, you can keep up with me as we release these projects: Twitter: @J57, Instagram: @J57BBAS, Facebook.com/J57Music as well as J57Music.com (to listen to music and download my catalogue for free)!