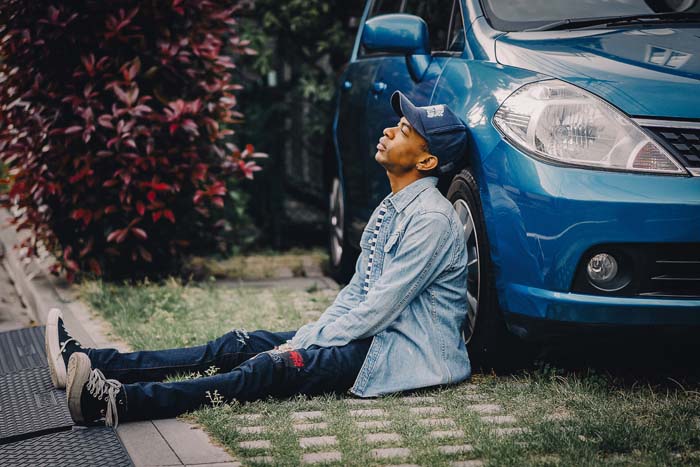 brandUn DeShay is an independent artist and music producer hailing from Chicago and currently residing in Los Angeles.
Known primarily for his production work with artists such as Mac Miller, Chance The Rapper, Dom Kennedy, Danny Brown, Joey Bada$$ and many more, brandUn has also released a number of solo projects, including 2015's Japanese-Eido era inspired goldUn Child.
brandUn's love for anime, video games, Japanese culture and motivational stories are major influences heard throughout his music.
1) First thing's first, you recently got back from shooting a video in Tokyo – how was it?
Tokyo was a dream. I would seriously be thinking to myself at time, "Is this really real?" I know Imma break a lotta hearts but I'm def moving there soon.
2) What made you decide to go to Japan to shoot those visuals?
Well, my whole aura is Japan. My music, my style, my visuals, everything.
3) What was it like growing up in Chicago and how do you think it's influenced your musical style?
It didn't really influence me. Besides the fact that it made me a obligatory fan of Kanye and Lupe. That's about as far as it goes though.
4) You've made a name for yourself producing the likes of Currensy, Mac Miller, Chance The Rapper and others. What is the process like getting placed on one these rapper's songs? For example, how did you land production on Chance's Acid Rap?
I knew Chance before he dropped 10 Day, so we just stayed in touch and when he came to NYC, he came to the crib and I played him a couple beats. "NaNa" happened to be one of em. Most of my credits came from relationships I made with the artist BEFORE they popped off really.
5) As a follow Chi-town rep, how does it feel watching artists like Chance and Vic Mensa blow up these couple years? Chance, in particular, is having a big 2016 and he's constantly shouting out Chicago.
It's cool. It don't really affect me because I never really came outta Chicago. I grew up there but not as a musician. My love for the Chi is purely innocent and has nothing to do with the industry there.
6) How do you balance out both rapping and producing? Do you feel like you're more known for one than the other, if so, do you want to change that?
Yea, def more known for producing because I'm attaching my name to brands bigger than my own. Hoping to change that from now on though with my album "goldUn Child" and the sequel coming this winter. Rap has always been my heart and now singing too. It's like breathing.
7) So far in your recording career, you've dropped two albums, three mixtapes and one EP. I've always been fascinated as to how an artist chooses what format a particular project will be in – how do you decide what's an album, what's a mixtape and what's an EP?
The one that I make cohesively and for sale, is the album. The others be random songs I made over time that end up as mixtapes.
8) Fair enough. Tell us about Seven7Ceven Music – is that your own label that you created?
Yeah. It's just me right now. A home for my projects now that they going up for sale. I do wanna work with other artists after goldUn Child: 2 though.
9) What is like being an independent hip-hop artist grinding in 2016?
Stressful but fun. I love the freedom and the excitement of where all the checks can come from. It's not as structured as a label, so when shit happens for me, I'm 100 times more excited that something I did alone turned into fetti.
10) If you could collaborate with 3 artists – one producer, one rapper and one singer – on one song, who would they be? 
Producer would be Yasutaka Nakata, rapper would be Jaden Smith and singer would be Morrissey.