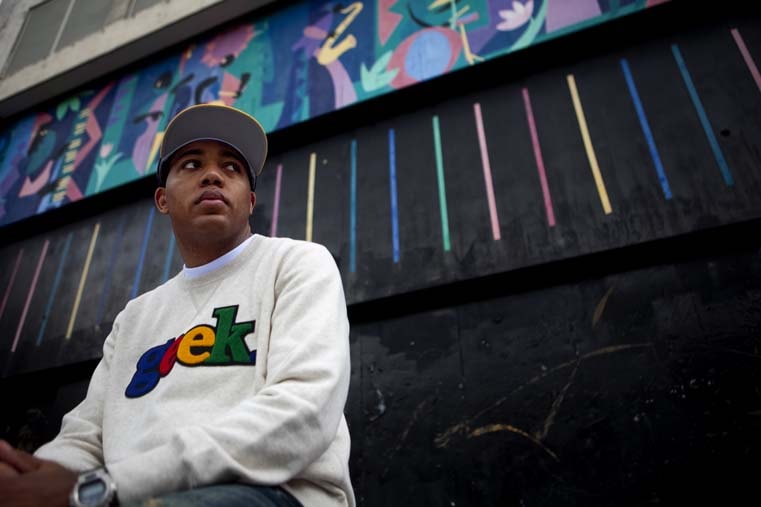 Veteran independent Brooklyn rapper Skyzoo is out here grinding non-stop.
After dropping Music for My Friends last year, Skyzoo is readying for the release of his collaborative album with Apollo Brown The Easy Truth set to drop September 30th via Mello Music Group.
Stop The Breaks had the pleasure of interviewing Skyzoo ahead of the album's release; we got to speak on his relationship with fellow independent rapper Torae, owning his independent record label First Generation Rich, An Ode to Reasonable Doubt and more.
1) We recently spoke to Torae, who you collaborated with on 2014's very dope Barrel Brothers. What was it like working with Torae on an entire project?
Working with Tor was easy because he's been family for so long. We've came into the game around the same time with a ton of mutual friends, so we became close right away and built a musical rapport which turned into us becoming family.
The music is the easiest part with us because we came up on the same music and have the same appreciation for the culture.
2) You've also got another collaboration project coming out soon – The Easy Truth with Apollo Brown. How did this project get started?
This one was due to the fans asking for it. Apollo and I have been cool for years and collabed on a few songs here and there on each other's projects, but the people used Twitter as a way to demand their desire for a full length LP, and we heard them.
Once we decided to do it, it made so much sense musically. It's one of those things where you realize it definitely could have been done sooner.
3) What was it like working with Apollo Brown? What's the main difference between working with a single producer and multiple producers on a project?
Working with Apollo was great because his background is straight hip hop. Loops and drums and nothing else.
Just straight to the point, but still beautiful music. It'd been awhile since I'd done a project without a lot of instrumentation added on to it, so it was definitely dope to go back to the essence of scaling it back. It was dope indeed.
The difference between working with one producer vs multiple producers is with one producer, it becomes a group effort for every song.
The entire project becomes a union where we both have to agree on everything, even down to the concepts that I wanna write about, so it's a lot of give and take.
But with Apollo it was easy because we're like minded when it comes to the quality of music we want to create.
4) Your last solo project, Music for My Friends, was released on your own independent label, First Generation Rich. What's the inspiration behind the name and what is your vision for the label?
First Generation Rich is an ode to wanting to create a legacy. Knowing you're the first of your kind, from your family or circle or background to get to a certain point and wanting to keep that legacy going.
My vision is for FGR to push out all of my creative desires be it musically, film, tv, literature, the works. I'd also in turn like to do that for other aspiring creative types along the way.
5) You've been independent since day one – do you think it's easier now more than ever to be an indie artist?
It's definitely easier. It went from "indies are artists who can't make it to the major level" to "man we should've been smart and gone indie a long time ago."
Everyone wants to be indie because it's more lucrative and the playing field has changed. The digital age made everything almost level out. I love where I'm at.
Not to say I wouldn't take a major deal because I definitely would, but it'd have to be on my terms.
6) As an independent hip-hop artist and label owner, what type of revenue streams have you created for yourself, outside of pure music sales?
Music licensing and syncing is a big play indeed. I've been able to build relationships with the likes of EA Sports, Buffalo Wild Wings, 2k Sports, ESPN, HBO and more, and all have turned into streams of revenue.
Touring and ghostwriting have also been huge for me.
7) In addition to making your own music, you're also a well-known ghostwriter. What is it like writing for other rappers? Is the process different for everyone?
I love ghostwriting, as it's a way for me to help someone else tell their story. I just love creating music, so I look at that as another way to be creative and flex my wings musically. Each scenario is different as far as the artists.
They all have their ways of expressing how they want to get their point across on a record, and my job is to bring it to life and make it dope.
8) How do you feel about the whole Drake vs. Meek Mill situation in terms of ghostwriting?
I understand both sides of it. Fans are starting to understand the game a little more each day, so the impact is different now as opposed to what may have been back in '99 or so.
That being said, people just gotta enjoy the music and take from it what they will.
9) One of my all-time favourite projects by you is An Ode to Reasonable Doubt. How did this album come about and was there pressure recreating these classic Hov tracks?
This was another situation like the Apollo LP where someone sent me a tweet saying "Elzhi did 'Illmatic', and the only person who can do 'reasonable doubt' is Skyzoo. Hope he's listening".
I retweeted it and a firestorm started. I had no idea people would gravitate to it like they did. There was definitely pressure because I know the esteem that people hold the original version to, and rightfully so.
On the flip side though, I love how it came out and the fans did as well. It definitely exceeded my expectations as far as fan reaction. I'm humbled by it indeed.
10) So what's next for Skyzoo?
The Easy Truth, The Easy Truth, The Easy Truth. Outside of that dropping on Sept 30, Apollo and I will be touring stateside as well as overseas and then I'll be brainstorming some new music for next year indeed.