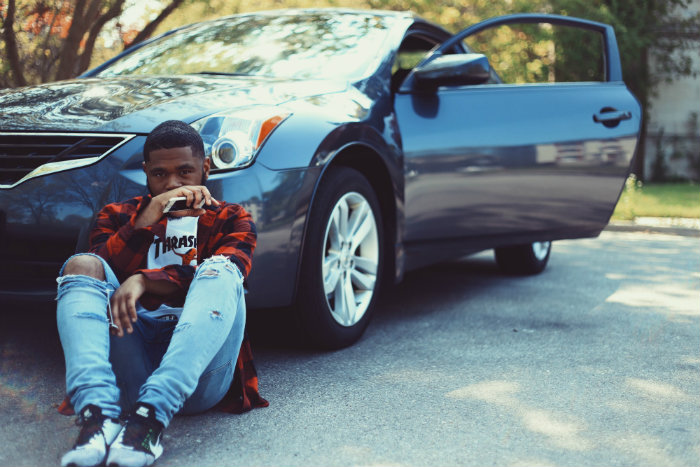 Highly regarded as one of the leaders of Milwaukee Hip-Hop, Von Alexander is the perfect blend of artistic lyricism that meets no creative boundaries.
In 2015 Von released MEMOIRS which was quickly followed by the 2016 V O N EP where he breaks away from his former moniker Vonny Del Fresco. Evolving in sound, writing, and image you can witness his Influences by artists such as Kanye West, Lupe Fiasco, Pharrell and more.
Diving into his new sound of high energy, melodic flows, and hypnotic songwriting, Von is solidifying his presence and individuality in the music industry.
1) Tell us a little about yourself and your background.
I'm Von Alexander, a 22 year old Hip-Hop artist based in the midwest (Northside of Milwaukee, Wisconsin to be exact). I began writing poetry in 3rd grade, grew as an early obsession as I learned more about how to express myself through rhyme, and learning different techniques of writing.
Slowly stopped playing sports during my years in junior high, and what I knew as poetry started to become me rapping, whether it was to a beat or just in the middle of class writing in my notebook.
I don't come from a musical or artistic background at all, so I kind of just found this passion on my own. I come from a quite rough and different upbringing than most people, which I do give some detail about throughout my music.
This is what helped me realize my story, find myself at a young age, and take recognition of the person I desired to become in the future. Here now at 22, you get to see where I am in the middle of my growth but still the beginning of a patient journey.
2) Who were some of your musical influences coming up?
Well throughout my actual childhood, I listened to whatever was being played around me, didn't take any certain liking to anything, just kind of soaked it all up.
From the age of 6-12, I lived with a different family than my own, and couldn't listen to Hip-Hop until I was given a Walkman at age 9, but for the most part before that moment Gospel was the main thing genre being played.
I didn't really like it too much as a kid, so once I had my Walkman, I'd turn to our local station known for Hip-Hop & R&B, but since I wasn't allowed to listen to it, I'd often just listen to the rock station, which is what conditioned me to like different genres of music.
I didn't tap into what I actually found influential until I was about 13/14, I started watching Rap City, TRL and 106 & Park on a daily basis and LimeWire was a huge factor to where I got a lot of music when I wanted to learn about certain artists.
Coming up during my years in junior high and learning more about myself the artists I liked and paid attention to the most began to show up through my daily life, from how I dressed to how I spoke and wrote raps.
Lupe Fiasco, Kanye West, Pharrell, Common, Little Brother , Kid Cudi and Lil Wayne were some of the artists I gained the most influence from the year 2006 until now. Most people can actually see it in me, and say I carry myself as if I want to be these guys, which is no mistake, I always did want to be these guys.
3) How would you describe yourself as an artist? Has your style changed much over the years?
At this point in time as an artist I would describe myself as experimental and on the verge of hitting a streak of brilliant creativity, whether that goes noticed or not I see it for myself. I know that's something that's going to take much patience and constant practice.
Over the years my style has become something I didn't even see coming. I see it as my own, a few years back, I couldn't tell you a hook I wrote, I didn't know how to write any, I couldn't give you a bridge, or even adlibs.
I literally was just a rapper, that's what I worked on all the time, rapping. I started recording at 16, so I was just happy to be recording raps I would always choose beats with samples for hooks because I wanted to give you bars. I didn't focus on hooks until around the beginning of 2014, kind of shaky, but here we are in 2016 and It's not hard for me to do so now.
My style is made up of nothing but constant progression in elements of my techniques. I can play you music from a few years back, and you can really see how far I've come with learning the art form of the music I want to create.
4) Can you run me through the making of your latest project – V O N (EP)? Where were the studio vibes like?
Well, before I the idea of the 'V O N' project came about, my name was Vonny Del Fresco (Youtube that name and you'll see the artist I referred to being in the last question). Last year was a very intense year for me, I learned a lot, experienced a lot of failure and growth as an artist.
I released a full length project called 'Memoirs' which will be 1 year old in two days (May 26th). I worked on that release for at least 6-8 months, trying to really make something I could consider a real album for myself, which at the time, sounded great to me, and was some of my best music (at that time).
After I dropped it, I really didn't feel any kind of happiness from it, I had gotten so used to working on it, I still wanted to work on it, but was kind of rushed on the release. Had too many expectations for myself, some of which others placed in my mind, that I just didn't meet. That confused me.
Over the Summer, I was kind in the largest funk I've ever been in, from my personal life to my music, just needed a break. So from June to about September I stopped doing things, and just lived my life, went and actually lived a little.
Though no music was being released, I was still trying to find what was next for myself, and that's when I decided I would change my name to Von Alexander. I wanted an entire new feel, a new energy man.
Recorded "W A V E S" after bumping into one of my favorite and go to producers DMND on Soundcloud late September. "W A V E S" changed everything for me, I had gotten back into my grind mode, and from the time I released "W A V E S" to the time I dropped 'V O N' I had a month of what I consider a real creative streak.
Here's the creation for the EP: wake up, got to work, come home and lock myself in the basement banging beats and writing every single day and I did not stop until about a week before I dropped the EP when I released my song "D R E A M S" which I wrote a week or so before I dropped it.
It was pure instinct for me to move fast during that 1 1/2 month span. 4 hour studio sessions almost every week ready to record something new, and add something to songs that were already drafted.
The studio sessions were crazy, that's when the songs really came to life for me. Sitting at home I'd just write the hook out & the verses out, but in the studio, I'd just do things like sing under the hook in different tones a few times (something I began to do on my 'Memoirs' project), yell out my adlibs that were not pre-planned, just impulsive.
Everything I do in the studio is off of impulse, me doing something and a new idea coming to mind as soon as it's done. The songs you see released on the EP are the only songs recorded, some artists have to record a bunch of songs to know what they want on their projects, I figure all of that out during the writing process.
I may record random song drafts before going into a project just to get a sense of direction, but once that's figured out, I know exactly where I'm headed. Everything was a constant vibe, from the basement writing sessions to the recording and mixing sessions.
5) What sort of promo and marketing channels are you using to stand out from other indie artists?
One thing I do to stand out from other indie artists that I know, is that I literally can do everything on my own to certain point. I dropped 'V O N' with no management, no PR. Just me, my laptop with a large amount of patience to research and find out who to reach out to hoping to get blog placements.
I really was just banking on hope. That hope worked for me, Mass Appeal reached back out to me about a week after I sent my EP out for premiere placements, really the only people to reach back to me on that. I'm the guy that takes the time to really figure things out before I make my moves, like predator and prey.
6) How do you go about booking gigs for your live performances?
People have always reached out to me, I'm just now stepping out on my own and putting my own things together, making my own moves. I've been performing since I was 18, and I'm just now really getting comfortable, I guess that comes from the music I make now.
7) Did you go on tour following the release of V O N (EP)?
Nah I didn't, I thought about it, but I want to wait for something like that. I'm a person that wants things to be in demand or have some sort of sense of need from others.
I do plan on doing that next go around, I used 'V O N' just to get my feet wet on the net, see how people would gravitate toward my work. We'll see what the people want next release.
8) What has been the most important lesson you've learnt grinding as an independent artist?
Never waste your time sitting around waiting on others to move for you, or for things to happen. Too many people fall victim to idle time or expectation, and that's when you really place a low ceiling on yourself.
Expanding my creativity has helped too, I've learned that the people who support you are the most important outlet for everything. Letting the people who support you know that they count, as well as gaining new support.
Establishing genuine relationships and paying attention to what my supporters react to as well as want the most is what I'm learning to go with. I'm not trying to have fans for a year or success overnight, I want fans for life and longevity within the industry of my craft.
I want to hear my name mentioned in the same conversation as the word goat man. I won't stop until I've gotten those things, and even after.
9) What has been the best moment in your music career so far?
Right now is the best moment in my music career so far. I've never had this much exposure, this many people reaching out to me, and this much passion in my music before. All of it is new to me, and it feels more than great.
10) So what's next for you?
What's next for me is ascension, that's all I aim for.