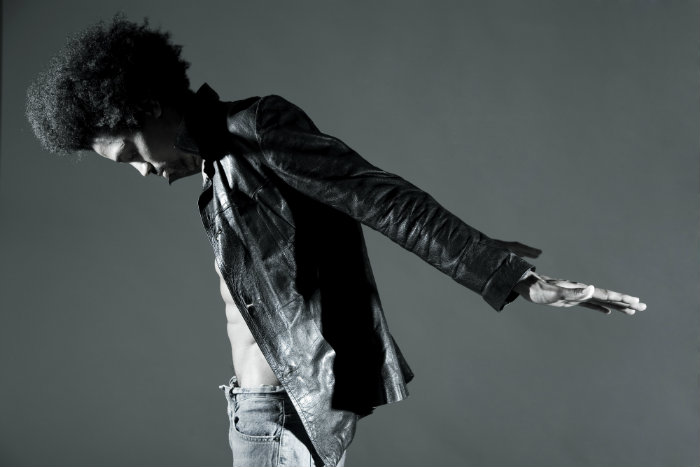 Born and reared in Detroit, Michigan under the sun sign Gemini, The Illjazztic One was more enthralled with sounds of James Brown, Jimi Hendrix, Parliament-Funkadelic, and Sly and the Family Stone than anything the mean streets of Detroit had to offer.
Starting out on trumpet, Aqeel eventually progressed to the piano, and finally to the two instruments which have become synonymous with his signature sound, the bass guitar and drums.
Following stints in a number of jazz fusion, funk, and reggae bands, The Illjazztic One became increasingly intrigued by the art of manipulating sounds and creating music using direct-drive turntables and a DJ mixer, a phenomenon referred to as "turntablism."
After spending seven years mastering his music production skills and DJ craft by floating around in the underground Hip Hop music scene, The Illjazztic One took the music world by storm in 2014 releasing six instrumental beat tapes.
1. First off man, you always have dope artwork for your projects. Do you usually have a vision for what the artwork will be or do you just let the graphic designer run with it?
Dope artwork, you say? What's really hilarious is the fact that you are one of the few people who has every commented on the album artwork! Usually it's just crickets.
I always end up thinking to myself, "When is anyone ever going to pay any attention to the artwork, and comment on how dope it is?" So much respect to you for bigging up the visuals!
I'm the graphic designer, and because of that I can take all sorts of liberties that someone else might be afraid to take! Sometimes I'll start with a concept, and then end up with something totally left field of what I originally intended. In the end, the only limitation is the breadth of my own imagination!
2. Growing up in Detroit, Michigan, what was it about artists like James Brown, Jimi Hendrix, Sly and the Family Stone that attracted you to their music?
The minute someone hears that I am from Detroit they immediately throw me in the Motown closet, and throw away the key! I mean I can't, and wouldn't dare take away anything from the impact and influence that the Motown sound had on the music world, but in its original form it is a bit too polished and tame for me.
Now if you are talking about cutting, chopping, screwing, blunting, and remixing some of those Motown classics over a Hip Hop or Boom Bap beat then I'm all in, and that is not to offend anyone, that is just my take on things!
At the end of the day, I am about the "riddim," the instrumentation. That's what attracts me to the old school pacesetters like James Brown, Jimi Hendrix, Sly and the Family Stone, Parliament-Funkadelic, and so on.
See I'm a retro head, a vinyl archaeologist, so when I go on a crate dig I got my barometer set to "bump dis shit". If the windows aren't vibrating then I know I got a dud, and I have to crate dig a little deeper.
3. In addition to being very capable with live instruments, you're also a DJ and producer. How do you incorporate live instrumentation into your music production?
My caretakers thought it would be good if the nappy headed little boy with the baby afro, and the non-conformist attitude got a little refinement by studying music theory, and how to play in a classical orchestra.
I started out on the piano, then went to the trumpet, then went to the cello, and then ended up on my signature instruments the bass and the drums, so what it comes down to is that I basically fucks with all live instruments.
Sometimes people doubt me, and I have to show them by saying point me to the piano, or the drum set, or the bass, and so on, and then they end up standing in the corner with a stupid look on their face!
Ok. Let me get back on track, yeah I DJ, produce, compose, arrange, and so on. That's how my mind works, left and right brain hemisphere equilibrium.
However, keep in mind that I was born under the sun sign Gemini, so I am a dual person, and with that comes extremes, so when it comes to music production, and I am sitting in the studio creating I just let the moment take over, and flow with it, and see where I end up!
Sometimes I get in the mindset of "fuck all this loop shit," and I won't touch a sample, a loop, or anything like that for months, and create using only live instruments.
Then a few months after that I'll get in the mindset of "fuck this live instrumentation shit," hand me the MPC Touch, Maschine, Beat Thang, or whatever might be lying around, and I'll create just using samples, loops, cuts, clips, or whatever.
I am at the peak of my game when I can create a track that is half and half, meaning half loops and samples, and half live instrumentation. That's like my "nirvana!" I am certain that a few purist from both camps might frown down on that, but for me that works. Balance you know!
For them it might not work, but I don't drink haterade. Everyone has their own process, and that's what makes things interesting! For instance, I create music a little different from a lot of beatmakers and producers, because I start off by creating the bass line first, not even the beat, but the bass line.
I'm strictly about the bass line. It's the bass line that drives all of my songs, and then I deal with creating the beat after that, constructing it around the bass line. All the melodies that you hear in my songs started off as melodic bass lines.
4. How do you feel about the recent resurgence of jazz in hip-hop – Kendrick's To Pimp a Butterfly, Donnie Trumpet & The Social Experiment?
What ends up happening is that each successive generation gets exposed to the creative expressions and peculiarities of the past generations. Ultimately those expressions re-materialize and are re-conveyed in such a way that they hold a uniqueness and freshness distinct to that generation.
Whatever the case, as you already know jazz in hip hop never went away, it just went underground, so what Kendrick, Donnie Trumpet, and artists like that are doing is bringing it topside again.
In the end it opens the doors to some unique opportunities for a beat maker, and producer like myself who is basically a passenger on the same ship that they are sailing on, so I love it!
5. Talk to me about your upcoming album – Greatest Hits, Vol. 1 (Limited Edition).
Greatest Hits (Limited Edition) collects 18 of my hottest Hip Hop jazzadelic tracks from 6 dynamic releases spanning from 2014 to 2015. What makes this collection unique is that each track has been re-imagined, cut, chopped, screwed, blunted, and remixed by Supa Soul Brotha number one himself.
That's right, The Illjazztic One is at the helm, flowing like a wizard from another realm. Not to sound too arrogant or overly boastful, but I have got be to real with you, this release is some tight shit.
This is some 10 on the Richter scale shit! Windows vibrating, shortie's waist a moving Superjazzalisticbeatsalidocious shit!
Initially this "Greatest Hits" release was slated to be your typical humdrum compilation of hit tracks. You know how artists do it. Peruse your discography, select the hottest tracks, throw them together, and package it with some lazy ass corny artwork, and label that shit, Greatest Hits, and keep on moving!
However when I was gathering the tracks together, and start listening to them, I thought to myself, "Since when does The Illjazztic one do typical?!"
Deep down inside I knew that it would be extremely exciting for me, and a pure delight for the listening audience if I went into back into the studio and re-imagined all of the tracks by cutting, screwing, chopping, blunting, and remixing them.
Some of the tracks are so different from the originals that they are almost unrecognizable except for a melody here or there, and that's how I wanted it.
6. What is like being an independent artist in 2016? Do you think it's gotten easier with the spread of social media and online platforms?
Honestly at the end of the day I don't actually consider myself an independent artist, instead I prefer to think of myself as a collective artist. I have got my own personal reasons for why I feel that way, but this is not the time nor the place to discuss it.
I will say this though, many people who label themselves independent artists have the same feeble mentality and despicable thought process that dominates the mainstream industry, so I ask you, what are they independent of since they are operating from the same fiendish mindset?
I am not about dog eat dog, so being a supposed independent artist has been very tough for me, because the mind state that I operate out of is more harmonious. I am not about bullshitting anyone. I am a no holds barred, straightforward person, and that is more than most people can handle inside or outside the music industry.
As far as social media and online platforms are concerned, personally I love the ease by which you can promote yourself from the comfort of your home, car, or whatever by simply using your smart phone, computer, or tablet, but the impersonal aspect of if has its drawbacks.
Also, since basically anyone can do it you end up with a glut of artists posting shit everywhere, and because of this it can be very difficult for a quality artist like myself to stand out in the crowd, or get your music heard.
In the end I wouldn't say that social media or online platforms necessarily make things easier, it's just another added marketing and promotions outlet that like everything else has its benefits and detriments.
7. Is Bandcamp the main platform you use to distribute your music? What else do you use?
What I like about the Bandcamp platform is the ease upon which you can create a release, and make it available to the consumer in the blink of the eye, in the that instant, hassle free, so shout to Bandcamp!
You can't do the same thing with iTunes, Amazon Music, or Spotify. There's more of a time consuming process involved with using those platforms, and getting your music out there sooner rather than later.
Nonetheless, in the very near future my music will be available on all the major digital music platforms. Also, with vinyl and cassettes becoming popular again I am exploring the reality of making my music available through those mediums as well.
Shit, like I said earlier, I'm a retro head, a vinyl archaeologist, so the resurgence of vinyl is right up my alley! Besides you can do so much more visually with the an album cover than you can do with a digital thumbnail.
8. For independent artists, one of the biggest challenges is ensuring you have enough cash flow to support yourself as well as your craft. What type of income streams have you set up for yourself through music?
Outside of doing my own thing as The Illjazztic One. I work with Soulful Child Records as an instrumentalist and music producer, and have played a major role in the worldwide success of their super-group Neo Soul Acid Jazz Collective. I also DJ across the country at various underground Hip Hop events, etc.0
9. If you had to collaborate with three artists – one rapper, one singer, one producer – which three would they be?
Awww man, just three artists? Can I go male and female for each choice? Male rapper, it would be a toss up between Greg Grease and Oddisee; Female rapper, another toss up, give me Sa-Roc and new comers OSHUN.
Male singer, yikes, not too keen on the male singers. Ok, BJ The Chicago Kid; Female singer, newcomer Aste Mari, and I gotta have SpaceBunny Jefferson from The HUE, Ego Ella Mae, Catherine Sera, Akua Naru, and newcomer Cleo aka HippieTrapGoddess. Yeah, I'm being greedy!
One producer, Male, now this one is hard. Another toss up, I'm going with Knxwledge, and Flying Lotus. Oh shit. Slakah the Beatchild too!; Female producer. Georgia Anne Muldrow hands down!
10. If you had the opportunity to remix an entire album and add your own touch to it, which album would it be?
Another very, very, very tough one. I gotta go male and female on this one too:
Male: Time & Materials by Cavanaugh (Open Mike Eagle & Serengeti)
Female: Asase Yaa by OSHUN and The Verdict by Gwen Bunn