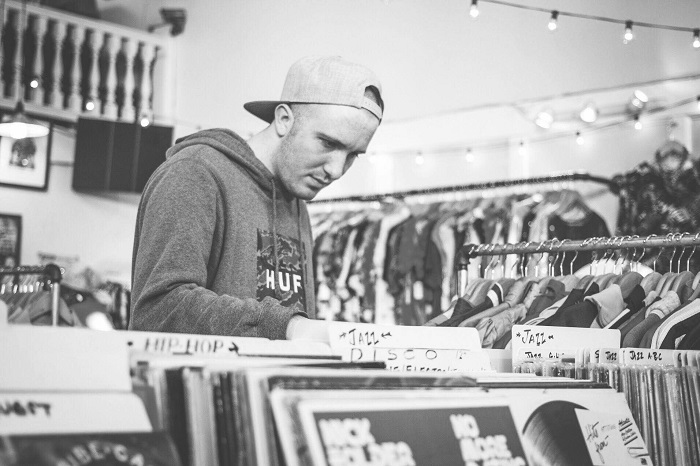 Phoniks is a hip-hop producer from Portland, Maine known for his vintage-90's boom bap production style and melodic jazz and soul samples. The 24-year old beatmaker has amassed 10 million+ plays over the past two year's through exposure from his original work with emcee's Awon, Dephlow, and Anti-Lilly and his series of popular remix tapes on SoundCloud.
Recently Phoniks has started up his own independent record label "Don't Sleep Records" with partner Awon and the two artists will be dropping their collaboration album Knowledge Of Self in mid-October.
Stop The Breaks had the pleasure of interviewing Phoniks following the release of Shaolin Summer, we spoke about developing his style, favourite project, picking the Wu to remix, his new record label and plenty more topics.
1) In my opinion, you are the king of Golden Age, boom-bap, jazzy remixes. Who were your early musical influences and how did you develop your style over time?
Wow thank you man! I really appreciate that. Haha I wouldn't say I'm the king, but I'm humbled by the designation. My biggest influence with remixes would be Pete Rock. Just the way he would bring his own jazz influenced sound to tracks like Real Hip Hop by Das EFX and Can't Stop The Prophet by Jeru.
For newer cats it'd be like 9th Wonder and Cookin Soul (Spanish production duo). 9th Wonder especially because of the way he used remixes to gain exposure in the early 2000's, I tried to follow in his footsteps in that sense.
2) One Time 4 Ya Mind might be my favourite project of yours, although we'll have to see after I fully listen to Shaolin Summer. If you had to pick your favourite project, which one would it be?
As far as remix projects I'd have to go with One Time too. I just felt like I was in a zone the whole time I was working on that and then when I put the tracks online people went crazy for them right off the bat.
I got a million plays off the CREAM remix and every other track on the project broke at least 100k, so that one has to be my favorite just because of all the exposure it brought me. Also the cover artwork is still my favorite artwork that I've done so far. For people who don't know I do the art for all my records.
3) Correct me if I'm wrong, but I think this is the first time you've dedicated an entire project to just one artist? What made you choose the Wu-Tang Clan?
There's just something about Wu-Tang remixes that people go crazy for. I had previously released "Back In The Game" and "C.R.E.A.M." and they actually became the two most popular Wu-Tang remixes on the net and my two most popular songs. I since had to take them both off Soundcloud to avoid copyright violations and getting my main page deleted.
When I decided I wanted to do another remix album and focus on a single artist Wu-Tang was a no brainer. Previously I've seen the way remix artists like Amerigo Gazeway and Dangermouse got crazy exposure for remix albums focused on a single artist so that was in the back on my mind when I was planning my next project as well.
4) Talk to me about the making of Shaolin Summer. Where did you get the inspiration and what was the creation process like?
It's interesting because I had a whole vision for the project initially. I was going to call it "Moonlight Over Shaolin" and the artwork was going to be black and white showing a full moon over a countryside in China and the moon was going to be shaped like the Wu logo.
I had this whole vision in my head for a few months and the music was going to be dark and jazzy to fit that motif. Then I started working on the project and all the samples I initially dug up were so different than what I envisioned, but they seemed to fit so well with the vocals that I just went with it. I ended up changing the name and coming up with the new artwork idea because of that.
The other part of the process was that I wanted to do something to keep the "Wu-Tang" vibe, even though the songs sound so different from typical Wu stuff. I knew I wanted to bring in the Kung Fu samples like the old Wu albums had, but I decided that I didn't want to just rip the same samples that they used and re-use them again on my tracks.
I ended up spending a few days just watching old kung fu movies and sampling stuff to build a bank of sounds I could use for intro's and interludes.
5) You've generally stuck to melodic jazz and soul sounds on previous work, what made you decide to switch it up with up-beat funk vibes on this project?
It's funny because like I said I originally intended for the project to be dark and jazzy, which is more of the type of sound I'm known for. But then I started working and the first thing I noticed was how fast a lot of the Wu-Tang tracks are. 95% of my stuff is between 80-95 beats per minute, but songs like Gravel Pit, Uzi, Mystery Of Chessboxin, REC Room, Got Your Money, Daytona 500, Cutting It Up were all well over 100bpm, some of them up around 120.
It's funny because when you think of Wu and how grimey the tracks are you'd think they'd be slower. When I started working at these fast tempo's everything was coming out really upbeat and funky. At first I didn't like it because it didn't fit my vision for the record, but then I thought "Why fight the funk?" You can't fight the funk.
So I just embraced it and pushed it as far as I could in the opposite direction. When I came up with the new name and the idea to make the artwork look like an old Kung Fu cinema it all seemed to work.
6) I read that you recently started your own independent record label – Don't Sleep Records. What made you decide to do this?
Yeah man me and Awon recently began Don't Sleep Records. Basically we decided to do it because we are both working on projects all the time and work with a similar team of people including Dephlow and Tiff The Gift. We all put out so much stuff independently that it just made sense to have our own imprint so everything was dropping under the same umbrella.
So far it's been a great experience. We've dropped two records, the "Ills Of The Earth" EP by Peebs The Prophet and "Matte Black Soul" Awon's solo album and both were really well received. Next up we've got the "Knowledge of Self" LP by Awon & Phoniks coming in October and "Deph Threats" by Dephlow coming right after that and those are both going to be huge albums.
I'm basically like the whole in house production team for the label. We will reach out and collaborate some with other producers, but I'm usually handling around 75-100% of the production work on every project.
7) What do you think it takes for an independent hip-hop artist to become successful in this era?
The biggest thing is having the ability to wear a lot of different hats. Along with being a producer I also went to school and have a degree in New Media so I can do my own graphic design work and I know how to make websites and understand how to move on the internet. I also handle all the mixing and mastering work for my own projects and for our label. I could never make any money if I had to outsource all these jobs.
At the same time I have to put in a crazy amount of work for every project that I do, but that is why I'm able to be successful. There's a lot of producers who make great beats that you've never heard of because they don't understand how to get their music out there. You need to put just as much time into promotion and making connections as you do into creating your music.
You can't just upload a project and send out a few tweets and expect it to take off. At the same time you can't put all your time into making connections either. There's a lot of guys out there like that. Funny enough you actually have to make good music too.
8) Give me your top 5 rappers and top 5 producers, dead or alive and why?
Damn. Let me think. In no particular order here's my favorites:
Rappers
Nas – Combination of flow and lyricism is untouched. One of the best voices in hip hop history.
Biggie – Just has an unrivaled presence on the mic. Incredible flow. Can make any line sound dope.
Black Thought – Every verse is fire. So slept on. Been in the game for 20 years and might have had the best verse of 2013 and 2014 (the joints with Statik).
One Be Lo – My favorite underground emcee. Wordplay and metaphors are incredible. The Binary Star album influenced me more than any other piece of music in my life.
Method Man – The master of flow. Will be the standout verse on any track he's on and he doesn't have to get crazy lyrical to do it. Similar to B.I.G. in that respect.
Producers
Pete Rock – The producer I idolize the most. Produced several of my favorite albums ever including my favorite album of all time, The Main Ingredient. Master of drums and jazzy, soulful beats.
DJ Premier – No words needed. The definition of crafting a "signature" sound. You can recognize a Premo beat by the time the first snare hits.
MF Doom – Maybe the producer that has influenced my sound the most. Crazy ear for loops and breaks and the way he uses all kinds of obscure sound bytes as intro's.
Dilla – No words needed. The definition of a "producer's" producer.
Lord Finesse – Great ear for samples and his drum programming always flows so well.