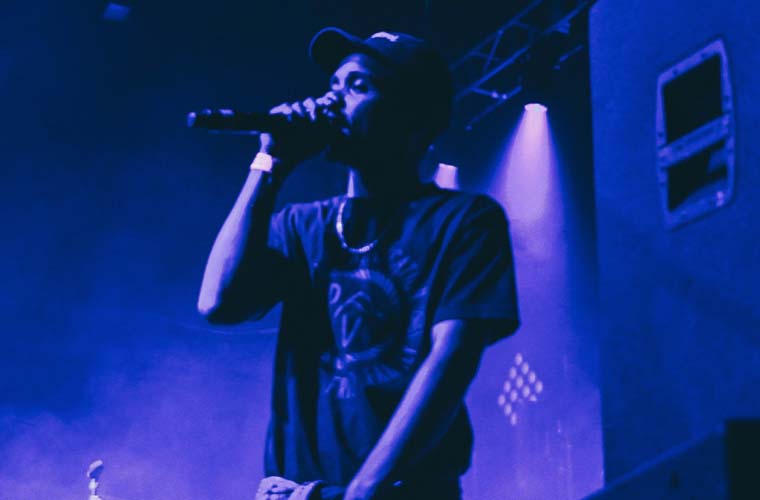 Independent hip hop artist Erick Lottary is on his grind, dropping the stellar Hold Please EP late last night and is poised to fuck up 2017 with some big moves. Hailing from Fayetteville, NC and currently residing in Charlotte NC, Erick has had the honour of sharing the stage with hometown hero J. Cole and is set to drop two more projects this year.
Stop The Breaks had the pleasure of kicking it with Erick to talk about growing up in Fayetteville, being inspired by Cole, the making of Hold Please and plenty more.
1) Tell us about your background and growing up in Fayetteville, NC.
I've been rhyming for over 10 years. The town is a predominately trap rap vibe. Although, You can find a few gems in the ratchet. The ville is a military town with a lot of out of towners. So regardless of how rural it is, you meet a lot of different people and you get faced with a lot of bad influences. But even with all the minuses, I'm happy to say I was born and raised there.
2) How do you think J. Cole's rise to the top of the rap game impacted on the Fayetteville?
I think it showed everyone there that, if you work hard enough you could become whatever you want to be. A lot of people in the town feel like Cole owes them something.
In all actuality, He has given more than anyone will ever give him credit for. A kid from a town as small as ours can make it in to conversations with the greatest rappers in the world. That's amazing.
If you can't see the inspiration in that, you are a hater. Bottom line.
3) Who were some of your musical influences coming up?
I grew up listening to Canibus, Wu-Tang, Def Squad, DMX, Jay, Pac, Pun to name a few. As I got little older I got into UGK, Scarface,OutKast, Devin The Dude and more southern artists. Some of my favorite artists were R&B. Dru Hill, Tank, Joe, Carl Thomas. I was really influenced by the overall place music was in the mid to late 90's and early 2000's.
4) Talk to us about the making of your latest project Hold Please. What was that like?
This release was made through a span of a 2 year hiatus. My last project was released in the end of 2014. In 2015 I had my second child. That year and the one that followed was spent making sure I was there for every first milestone of hers.
So I only created when I actually had time to. During that time I started working on a full length project, which is still waiting. I put "Hold Please" out as an appetizer. Just something to hold my listeners over until I was ready to release what I felt was the cream of the crop.
5) What's your process like for making music? Do you have a set routine or does it vary track by track?
I work on 3 and 4 songs at a time. I get tired of the same beat over and over. so ill get a starting point on one. switch to another, try and find a melody. Voice record it, move to another song. Try and think of a hook. Then go back to the first and have a whole new energy after I read what I previously wrote. I've used this way of writing since my first project.
6) As an independent artist grinding, what are some of the biggest hurdles and roadblocks you face on your way to success?
Really, just sacrificing time with my family to make a dream come true. I'm very much involved with my kids lives so I like to be there for every step. Being an artist can sometimes hinder that if you are making the right moves, and great opportunities come your way.
Everything in life requires time. With that being said, the only hurdle or road block is figuring out whether you should sacrifice your time now to be in a better position later? Or do you sacrifice your talent now and maybe not be able to pursue it later? Every good artist has to make that choice.
7) With the recent success of artists like Chance The Rapper and Nipsey Hussle, what do you think of the independent rap scene in 2017?
I believe that they're showing everyone how much labels aren't needed. If you are good enough, labels will beg to be a part of your success. The $100 and $1000 projects Nipsey did changed my life.
8) What music are you listening to these days?
Ive been bumping that 6lack album heavy. The H.E.R. album is in heavy rotation. Ab-Soul's in rotation. A few personal friends of mine have dope projects I've been playing. VVG's new tape. Deep 6 Division. Elevator Jay. Kris Kasanova has been dropping heater after heater. Kinda bias towards him tho. That's pretty much my current rotation give or take a few singles.
9) If you could work with any artist you wanted, what would be your dream collaboration?
Method Man. I don't care how old he gets or how quiet he may be. I would feel like I made it.
10) What has been the best moment in your music career so far?
I would have to say opening on J. Cole's first tour. First time I performed for a sold out crowd. The crowd erupted when I mentioned where I was from. And J. Cole turned out to be one of the greatest to hold a mic. Humbled to share that stage.
11) So what's next for you?
I plan to drop 2 more projects this year. Multiple singles. I will be performing in TX in march for SXSW. And I also have a lot of videography I plan to push out under my directorial moniker ShotXLott. Actually working on shooting a video for Big Pooh as we speak. Which is extremely humbling. For anything follow the bread crumbs. HomeSkool.