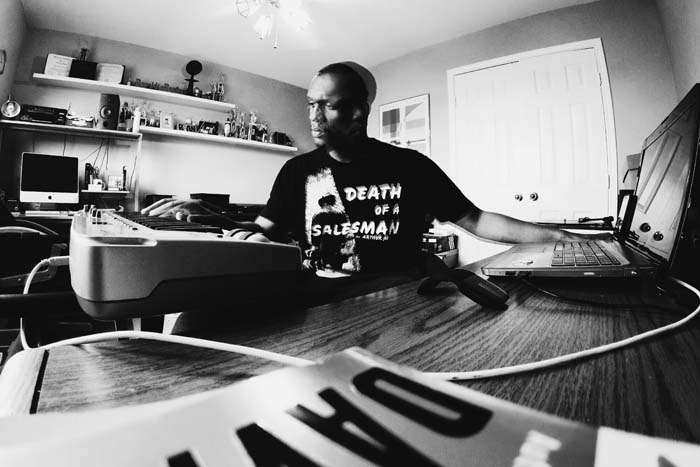 Houston producer, Jett I Masstyr has put together a 22-track instrumental album titled 'ThereAreNoWords'. 'TANW' features plenty of soul and jazz vibes to set any mood. Through 2016's many ups and downs, this project seems to mirror that rollercoaster of emotion.
Stop The Breaks had the opportunity to interview Jett about the making of ThereAreNoWords, grinding it out independently, how to build a loyal fanbase, branding himself as an independent artist and much more!
1) What inspired you to be a part of the music industry?
Mainly my upbringing and family members had a profound effect on my love for music. That love for music ultimately transformed into a desire to make music myself. I never set out to be apart of the industry even though that is a by-product of releasing art for consumption.
Being in the industry never was the goal, the goal was making the best art I could for the people.
2) Talk to me about the making of your latest project – ThereAreNoWords. What was the inspiration behind it?
ThereAreNoWords was a project I really put together because I felt I hadn't released a full length album in years. I've been creating so much music that it was time to release some of it.
The inspiration behind it was to use tracks that strike a chord emotionally–sometimes we can't put into words how situations make us feel. Musically I trying to play off of that idea.
3) What was the process behind making the project?
I wanted to get back to using drum loops, analog bass synths, and an array of samples. Also using vocal interludes from artists, movies, to give tracks added depth in concept. Some of the tracks were leftover from projects I've been working on but didn't have a place in those.
4) What are your thoughts on the hip-hop industry at the moment?
I think the hip-hop industry has a lot of parody and contrast. In a sense it's still very open for an artist or producer to make their own noise and build a fanbase organically. The emphasis on streaming rather than buying music will continue to change the industry in significant ways.
5) Do you enjoy grinding it out independently or would you prefer to be signed to a major label?
I've always been independent. Major labels may be necessary for new artists with a fanbase but no strong branding. Otherwise I don't think major labels will be around much longer. Being independent has its freedoms but plenty of challenges that go along with it.
6) What do you think goes into building a loyal fanbase?
Content. Content. Content. In this day we can't afford to be one-dimensional. It can't be "I drop one album with 3 singles/videos per year". You have to fight for your fans and give them reasons to stick around.
Releasing music, working relentlessly at building your brand. Don't rely on social media alone, you have to be seen to be heard. Also focusing on the fans that already do like your music, versus casting a wide net to get people that don't.
7) What sort of online promo and marketing are you doing to reach your fanbase?
Social media posts, fan base e-mail lists, Facebook / IG ads.
8) As an indie artist, how do you brand yourself and your music to stand out from the rest of the artists out there?
I brand my music by making the music that I love to make. I rely heavily on authenticity to stand apart from anyone else. Being in Houston, there's a stronghold in most people's minds about what the city should sound like.
I embrace that and use it to my advantage. My influences come thru my production and I don't shy away from that.
9) How do you currently make a living as an independent hip-hop artist? What sort of income streams do you have?
Over the years music has been good to me, but income stream wise I've had to diversify how I get to the money. I've gotten into hosting events, promoting events, recording podcasts, and pushing apparel.
Selling production to artists is also another way to generate income. I would say to people going independent, take your passions and figure out a way to get paid from it. I love making music, but it's not all that I love.