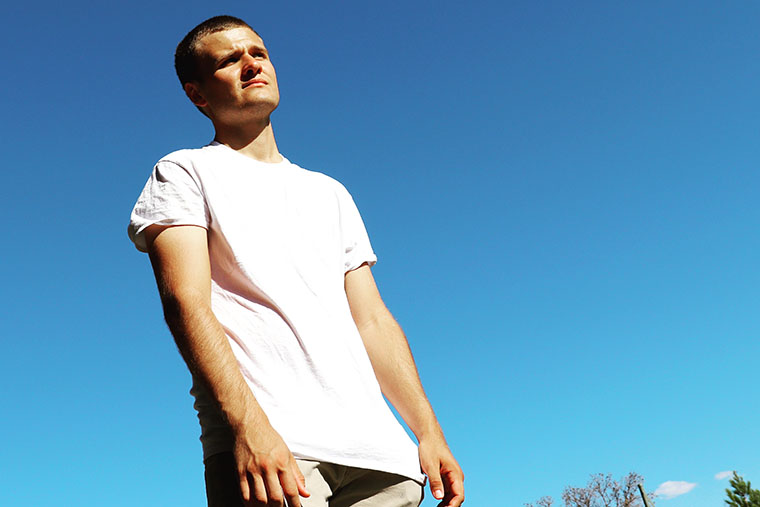 If you were to combine controversial, witty, and consistent in the dictionary, the closest thing you would get to a synonym is Kauzum.
A born and raised native of Las Vegas, Nevada, Kauzum has been consistent in musical projects since his first mixtape release in 2014. Nowadays, if you all you do is rap exclusively, people won't take you seriously and wonder where the face tats are.
To stay busy, Kauzum also taps into the visuals on the Kauzum YouTube channel where sketches, short films, and music videos are there in abundance in a diverse catalogue of dopeness.
People usually admire the career of a rapper for the attention or the women that it comes with, but all he wants from this rap game, and we quote, "I make music and I own a camera. I hope this combination will get me out of my 9 to 5".
1) Talk to me about the making of your latest project. What was the inspiration behind it?
I would say the making of my latest project was all inspired by a three-year relationship I got out of on top of the four months that happened afterwards. Most of the songs on here are a reflection of my side of the coin while still accepting the fact that there is two sides to every story.
On top of all this, I did a lot of studying of Michael Bolton's "Soul Provider" album which not only took me back to the 80's but helped me learn to evoke more emotion in my voice. That album also inspired my album cover!
2) With the music industry tanking and record sales falling, how do you currently make money as an independent hip-hop artist?
Well if the music industry is tanking and record sales are falling I am right along with them cause my wallet is pretty damn empty! I am another starving artist at the moment not making too much money off my music, but I can say I have made enough to buy a Big Mac meal from McDonalds.
Each song or project I have released for the past year and a half I make sure to buy a lease for the beat and stick it all over streaming platforms like iTunes, Spotify etc. I have also printed out business cards and hand them out to people and try to have them follow me on Spotify so whenever something new drops I will be on their feed.
We are currently in the very early stages of T Shirts and other merch, but I first want a little more established ground because no one is going to wear or support someone they have no clue about. So, to answer your question, my only real source of music income as of now is streams.
3) From a business point of view, which artists in the game do you think are really pushing the boundaries and changing it up?
Oh man, I'm always for out of the box and crazy ways of promotion when it comes to the music industry so the first person I would have to say (excuse the cliché) would be Drake. Reason being, this dude got exposed to the world by Pusha T for a slew of things which the internet considered to be career ending.
Instead, dude came back full force and instead of responding he flooded all streaming services with ads and promos that made him and his album break records. I feel like that was hitting two birds with one stone and an excellent way to stay in relevant conversation.
I would also say Kanye with the crazy tweets and putting his foot in every door with a variety of artist (I dig that song he did with Lil Pump). He keeps you wondering what the hell he is going to say or do next and I find that to be really interesting.
Finally, the last artist I would say that's holding it down is Cardi B. The woman has a personality that is perfect for the internet and when you have funny relatable videos all the time mixed with the bangers she's been releasing that really is a recipe for success! I really dig female rappers who can hold their own when it comes to lyricism!
4) What business lessons have you learnt from the music industry so far?
Hands down the best lesson I have learned from the music industry is something that can be pretty simple yet so many artists overlook and that is always their downfall: Promotion.
I feel like anyone from anywhere can be an artist weather it be a rapper, filmmaker, painter etc. but if you do not take the time to promote in a way that is both engaging and creative then no one is going to know about it.
I also feel people usually confuse the low numbers and low stats they get on their content as being trash but it could honestly just be due to not posting that simple tweet or Instagram photo. The next thing I would say I learned is to have everything you have done connected under one name across all platforms.
I can't tell you how many times I have met artist who have had one name on Instagram and then a completely different name on another platform. I usually end up losing track of who it is and just unfollow the one I see less.
You should always have the same name on all platforms and stay consistently posting so you not only engage your followers but you also stay alive in the search engines.
Every time I create something new I make sure I promote on all my social medias and make sure whoever was involved with the project also posts as everyone knows everyone and the content can reach more of an audience.
My last business secret I would give out would be to always have a business card with your info and links on it. Yes I know, with it being 2018 no one is used to physical copies anymore but you'd be surprised how many people appreciate it still.
It's more intimate and memorable and if people forget they followed you they'd still have a physical card to remember who you are and more links to check you out on. You can get cards for real cheap in bulk nowadays which is really dope!
5) What do you love about hip-hop music?
What I admire about Hip Hop the most is the extremely large cultural impact it has made up to this point. I love how it continues to not only change in sound but is also becoming more accepted as a music genre and not seen as just obscure and provocative.
Sure, you get those old heads that will tell you that nothing is like the old days of rap music and music today takes no skill, but the fact that people can have these arguments while still sharing an admiration for the genre at some point in its existence is really dope!
As far as the creating process goes and calling myself a rapper, what I love the most about this style of music is always needing to think of the next line that'll go over people's heads and seeing people nod and vibe to a song that I have created.
Nothing is more rewarding then when someone can quote a line of mine and say they found it clever or when someone quotes a chorus of mine it gives me a rewarding sense of individualism like dude, there's millions of other artists out there, more popular then me and have better quality production then me, but you still choose to remember something I created.
Every time I get that, it just makes me believe that I can make it in this game.
6) What still surprises you about hip-hop?
Hip Hop is always surprising me, but what I'm always surprised about is seeing how crazy numbers go when an artist drops an album out of the blue that skyrockets in billboards! It's an awesome time to live in a society that can obtain information so accessibly through the internet and it's always a nice surprise to see an artist I mess with just throw an entire project out there.
I've even seen it done by local artist in my city and even they are getting numbers like that! It's as if all the business knowledge of promoting etc. I said earlier gets thrown out the window when you go through with this method, but I still think you need some sort of hype.
Just seeing these surprise albums reach billboards without any sort of promotion is really a sight for sore eyes. Thanks Beyoncé!
7) If you had the power to change one thing about the hip-hop industry to help independent artists – what would it be?
Man if I had the power and money (well, then again what's the difference?) I would love to establish a program or school that can further increase knowledge of the industry and give people who don't have access to a microphone or recording equipment a chance to gain more knowledge on both the creating side as well as the business side.
Not everyone is blessed enough to have the opportunity to be around like minded creatives where they live, but if something is established and has something to benefit from people will follow. It would also make for a great networking opportunity which is what I also feel a lot of independent artist need these days especially in my city of Las Vegas.
In such a flooded market with even more saturated ads on top of it you are going to have to know people who know people who can get you to that next level you need to be to get anywhere in this industry today. So more knowledge to that kid who wants to take his art to the next step is what I would want to give if I had the power.
8) Who do you think are top 3 rappers doing it at the moment?
Top 3 rappers for me at the moment are probably Drake, Cardi B, and J. Cole. Honestly I would say KOD has been my favorite hip hop album this year.
Some other notable mentions are Tech N9ne and Post Malone. I can't tell ya how many times I blasted better now in the making of my album.
9) So what are your plans for the future?
Well honestly man from this point on I plan on dropping a few music videos for this album and get started on the next big project! I want to crank out another EP before my birthday comes around (a little tradition I do. Every February 17th I give myself a present in the form of a release) and just push heavy on my sketches and such on my YouTube channel.
I also want to be more interactive on my weekly podcast The Common Critics and look for some venues around town to perform this album. But as of now, I just hope y'all will vibe with this album I'm releasing and enjoy all the other content I've dropped thus far! Thanks again for giving me the opportunity for this interview!