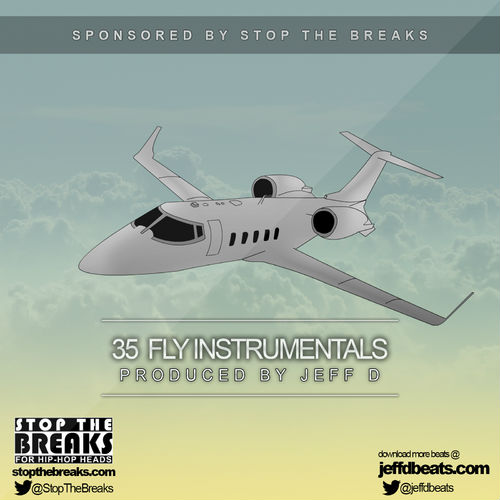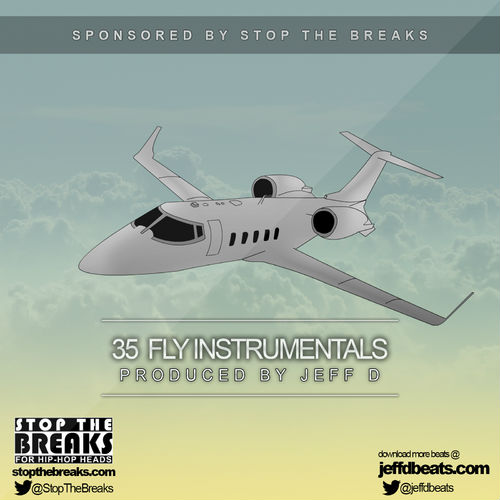 Stop The Breaks is proud to present to you our first sponsored mixtape, 35 Free Instrumentals, from Vermont hip-hop producer Jeff D. Straight out the gate with 35 new instrumentals, Jeff D demonstrates his versatility behind the boards, crafting rich sonic soundscapes perfect for all sorts of situations.
Check out our interview with Jeff below as he talks about learning to use the MPC, listening to old school vinyl, his production process and more. You can stream 35 Free Instrumentals after the interview.
1) Tell me a little about yourself and your background.
I am from Vermont. When I was in highschool I spent some time living in Myrtle Beach South Carolina where I learned about the MPC. When I heard the music that people played out of that drum machine I was hooked.
I had only used a computer before then and didn't know about vinyl sampling so seeing a machine that was made for chopping samples was sick. I started to get heavy into music, I would make beat CDs and give them to people along with recording some of my own songs.
2) Who were some of your musical influences coming up?
For hip hop and beats I would say Dr. Dre, Alchemist, Ice Cube, Snoop, Mobb Deep, Eazy-E, Rakim, Shyne, Sean Price, Agallah and many more. I also like listening to old school vinyl. I like more than just hip hop though I will rock some Frank Sinatra along with the whole Rat Pack, Lynyrd Skynyrd, Clutch, Cage the Elephant, pretty much everything.
3) What's your process like for making music? Do you have a set routine or does it vary track by track?
Its usually varies. Sometimes ill start with a melody like guitar or keys and other times I will start with the rhythm track like bass or drums. I never really know when the inspiration will strike, it seems like when u least expect it. Sometimes I will experiment with totally random sounds to try to come up with something new.
4) Can you run me through the making of your latest project? How the idea came about and what the studio vibes were like?
Some of the latest music I have been recording involved messin with crazy sounds. I sampled some pots and pans, the hair clipper, some coins, electric pencil sharpener pretty much anything i could find laying around. I am always working on new projects.
I try to lay tracks down everyday. Its hard to remember too many days where I wasn't in the studio. I pretty much live in one. I like the vibes to be chill when I am in the lab. I like no pressure and stress just have fun while I am making tracks.
5) As independent artist, what are you doing in terms of promotion and marketing in order to differentiate yourself from others?
I am pretty much trying to do whatever I can to get people to listen to my music. I will give out most of my beats for free download just to get people to hear them. I feel like a lot of artist don't like to give out there music free for fear of someone stealing or copying it but for me I feel like its actually an honor to just have somebody want to use or listen to my music. I have just been getting into the social media thing too, It seems to be the future of music promotion and marketing.
6) What's the number tip you would give to someone who's looking to get in the music industry?
Do it for the love of the music and try to keep it yourself. Its cool to be influenced by other artist but we can tell when somebody is trying to clone a style.
Try to add some of your own ideas to what you're doing so its more original. It is also a good idea to try to surround yourself with positive people who are shooting for the same thing, a lot of times it takes teamwork to make your goals happen.
Do it for the love of music, chase the dream and not the money and be yourself.
7) How do you feel about hip-hop today and where it's headed?
I think its pretty cool, I feel that it's becoming easier for people to get into it and create music. Now we have all these tools and resources that once were not available. You can produce a track with pretty much nothing but a laptop and now even a phone! It use to be so only a lucky few could do it but now everyones got the power.
It is crazy to see how it is progressing I am looking forward to messing with new technologies and seeing what's next. I am thinking an air MPC where you can make beats out of thin air via motion tracking or even with just your mind or Some Hologram Pads
8) What music are you listening to these days? Anyone in hip-hop really blowing your mind?
I like Kendrick Lamar's tracks they got an original sound, some of Chip the Ripper AKA King Chips tracks sound real dope, 2 Chainz, Rick Ross, I still listen to alot of the classic stuff as well. I've been messing with Doom Metal and rock too, Electric Wizard is cool, I like listening to a lot of different genres.
Stream 35 Free Instrumentals and head on over to DatPiff to download the tape.