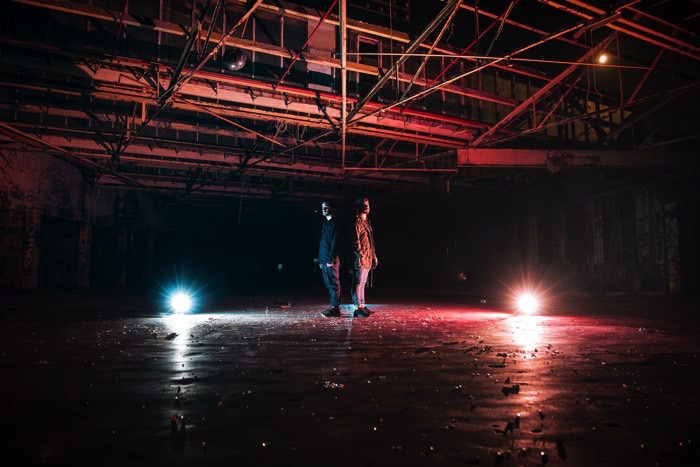 Hailing straight outta Sydney, Australia, Criz and Steve make up hip-hop duo De'Kcuf who just dropped their latest EP #WECOMING which you can stream here.
Check out our interview with the duo below where they talk about linking up, their diverse musical influences, promoting themselves independently, the best moment in their career so far and more.
1) Tell us a little about yourself and your background.
Well both of us had mutual friends with each other and knew both of our styles could work, Criz went to watch one of Steve's sets he loved the performance hit each other up and then we actually made a 2 hour mix together called ' melt my face' haha it took maybe a month after that…we created our first song Bane
2) Who were some of your musical influences coming up?
Too many to list! Lots of hip hop/electronic music influences like anyone whose literally made good music over the years and coz we're a duo its influence from rappers like Nas or Biggie to the likes of Kendrick then even ignorant anthem like 2 Chainz as long as its something we can vibe to.
Even electronic music from old school start off people like Kraftwerk, Justice or Daft Punk to all the artist like Skrillex to UZ and MR Carmack pretty much anywhere we can pull inspiration from.
3) How would you describe yourself as an artist? Has your style changed much over the years?
As artists we would describe ourselves as unique, raw and energetic. We'd say it's constantly evolving you never want to restrict yourself as an artist so we never really know what's going to come out of the studio when we're in so it's definitely changed but never loses the main idea which is just "Straight Vibes"
4) What's your process like for making music? Do you have a set routine or does it vary track by track?
Our process on making our music varies but it all starts listening to different types of music for inspiration making sure there's no distractions and in the right mind set to create our music, we also make sure we have enough food and bud to last us.
5) Can you run me through the making of your latest project? Where were the studio vibes like?
Yeah for sure! well this latest project is just about wrapped up but it started by listening to our old tracks and we started a variation in production then after a couple of hours scrolling through sounds to find the right one…. we found it.
The turn up was real in the studio after that and we started dancing and our trap arms took a big workout. After we were done we started bombing our snapchats respectivley. after that we bounced the project off Ableton onto a cd and drove around Sydney with it on repeat. The studio vibes were real once we found the right piece to tie our project together
6) What sort of independent hip-hop promotion and marketing are you doing to differentiate yourself from other artists?
We market ourselves as a vibe rather than marketing ourselves individually. we want people to be themselves when they are around us as well as listening to our music without anything holding them back by being bound to a specific genre and being judged.
It's a complete expression of ourselves and what we want to be perceived as because no matter who its by or who has signed the song "if it sounds good who fucking cares" thats what we aim to achieve with our 'Fucked' approach. Basically we don't want people to just listen we want them to express themselves through it.
7) What are you thoughts on the current state of hip-hop music today?
The current state of hip-hop music today to us is extremely diverse, we feel as though every individual that is succeeding today are doing it very well, we also like that the independent artists growing in popularity are actually quite large by themselves rather being supported by big heavyweight labels in the industry, which also allows the new artists to not be bound by rules and pushes the creative envelope.
8) What music are you listening to these days? Anyone in hip-hop really blowing your mind?
We listen to alot of music from Skrillex to Mr Carmack to Uz but we really fuck with anything that sounds good. in hip-hop? we would have to say Ab-soul and Meek Mill.
9) If you could work with any artist you wanted, what would be your dream collaboration?
Wow that list could go on for years. but for us both we would love to one day collaborate with the whole TDE crew.
10) What has been the best moment in your music career so far?
Driving to our 9-5 jobs turning on the radio and hearing our song being played .we will never forget that.
11) So what's next for you?
For us we are finishing off all our new music we have collaborations with Sydney producers coming through, originals remixes and bootlegs for everybody to hear we are currently sitting on 30 unreleased projects.