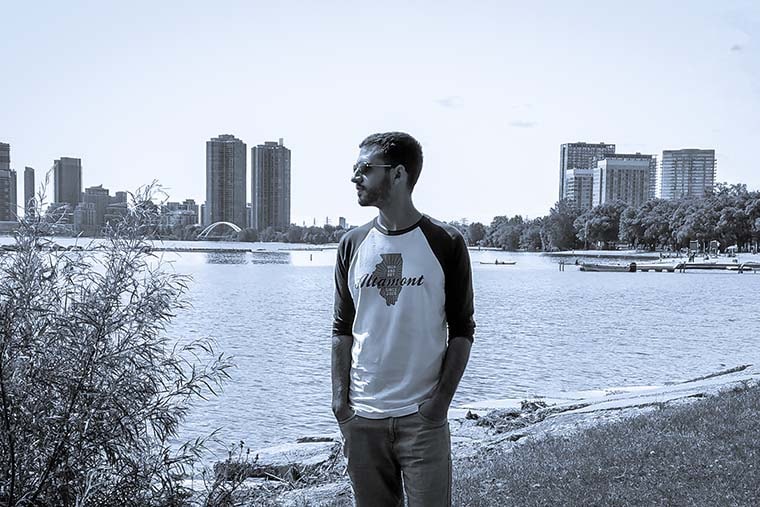 I am 32 years old sound engineer, beatmaker and artist producer from France. I started making rap music at 11 but I really invested myself in the music industry at 20. In 2008, I released my first EP and album that I fully produced.
Thanks to that, I discovered the mixing and mastering processes. I did an internship in a recording studio and I realized I had a passion for the mastering. In 2010, I decided to stop the rap to focus on sound engineering and producing. I launched my first recording studio in 2012 in Avignon and over time, I specialized in mastering.
I opened my first dedicated mastering studio in 2014 in Tours and a new one in 2016 in Montpellier where I'm currently based (alm-studio.com). In parallel, I launched my independent record label in 2015 to release my own projects and to produce emergent artists (almproductions.bandcamp.com).
Since that, I produce the rapper Vaskez Malakay, the reggae band Shaïan and since 2018 the modern soul singer Noür.
1) What inspired you to be a part of the music industry?
I'm a big fan of hip-hop music since my childhood and I practiced music very early. I really involved myself in the music industry when I realized I could produce my own music and learn how to make it better and better. Today I'm passionate by the creative processes but also, as label manager, by all the business parts as management, marketing…
2) Talk to me about the making of your latest project. What was the inspiration behind it?
In 2017 I released an international chill music compilation called 'Above the Clouds' (https://www.feiyr.com/x/BNTR6). After that, I decided to release in the same way an international project but only with my own beats.
I wanted to release an album with talented artists that I have chosen. To do so, I've been inspired by hip-hop producers like DJ Khaled, Mike Will Made It, Dr. Dre, Timbaland and so on. For the moment, I can't invite Nas and Kendrick on my album but perhaps one day? lol
3) What was the process behind making the project?
I activated my network and prepared a selection of beats. Then I sent all the beats to different artists around the world and I selected these five songs because I felt something special, something coherent.
They recorded the vocals and sent me everything for mixing and mastering. Thanks to the internet, it's very easy to work like that now. I founded the project title "Beauty for Freedom" the first time I listened to the bounce of "Just Begun". It was a special moment!
4) What are your thoughts on the hip-hop industry at the moment?
Well, I think it's a huge question, mainly if we talk about the international hip-hop industry… Today hip-hop is so big. You can find a lot of awesome hip-hop artists in all countries. To record a rap song is now very easy but to be on the top is very hard.
The competition has never been as hard as nowadays, isn't it? Anyway, the good point is we can now easily produce music. My objectives are to have fun and make projects better and better until I am at the top!
5) Do you enjoy grinding it out independently or would you prefer to be signed to a major label?
Both ways have his proper advantages. I enjoy grinding it out independently because I master everything in the production. I don't have any restriction apart from the budget. I also would like to be signed to a major label as a producer to increase the creative potential.
I would like to work with artists at the top level, develop my network and increase the audience…In this game, the network and the budget are two fundamental parameters.
6) What do you think goes into building a loyal fanbase?
To develop a loyal fanbase is very important for the artists as for labels but thanks to the internet, some things are changing… We have to build a local fanbase (in the city or country) but we can also develop the audience around the world thanks to the streaming platforms, playlists, bloggers.
For example the last EP of the rapper Vaskez Malakay that I produced had more streams in the US than in France, it's crazy. Another example, in France, we listen to afro-pop artists from the west and center Africa. This is so dope!
7) What sort of online promo and marketing are you doing to reach your fanbase?
I mainly try to develop my network and work with bloggers, radio manager, promoter and so on… Sometimes I pay a few money for streaming promotion but I'm not a fan of that. I would rather work with peoples than algorithms.
I also pay more attention to the feedbacks than the number of views. I don't produce music for the statistics but to share vibes and emotion. Obviously, it has no sense to produce good music if nobody listens to it so I try to find a balance.
8) As an indie artist, how do you brand yourself and your music to stand out from the rest of the artists out there?
From the beginning and until now I bet everything on quality. I'm not looking for quantity or buzz. My goal is to produce the best music ever and share it with people around the world.
In the same spirit, I always choose artists for their talent and not for the buzz. In my last project, you can find emergent artists with almost no fanbase, and artists making 50k of views on a clip. I'm a music lover before businessman.
9) How do you currently make a living as an independent hip-hop artist? What sort of income streams do you have?
I don't live thanks to the label. In parallel, I'm mastering engineer and professor at the university. As an independent hip-hop producer, I mainly work to develop an autonomous label and it's the case now. My objective is to be able to invest more and more in the production without spending personal money.