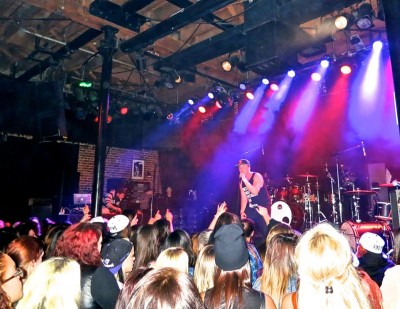 San Francisco rapper and producer, The Wilde, recently dropped his latest project The Space Invader Mixtape on his Bandcamp page.
Released in June of this year and featuring outside production from beatmakers like Riley Lake, Budo, Madluv as well as guest appearances from milo, Open Mike Eagle, Natalie Sullivan and Authentic, The Space Invader Mixtape is a mad chilled album, soaked in atmospheric production and Wilde's abstract rhymes.
Check out the interview with The Wild below. Make sure you also stream The Space Invader Mixtape and go cop the project on Bandcamp!
1) You were formerly a punk rocker and slam poet, what made you want to move into hip-hop production?
I was in a band called The Summer Knights in high school and I was a year older than my drummer so I realized that before going to college I was gonna need to learn to produce my own music if I wanted to continue to create.
I basically wanted to work my poetry and singing over guitars and I realized that I was a much better beatmaker than I was a drummer so I decided to go that route.
Plus, all I was listening to at the time was punk and indie hip-hop so I had plenty of interesting influences.
2) How did you start learning to produce your own beats?
I had a teacher in high school who showed me how to use Logic. Every week I'd spend hours in our school's studio before our one-hour classes and he'd critique all my production choices and help me with any issues I was having.
3) What's your process in the studio? Does it vary track by track or do you have a routine?
It's changed over the years but lines and verses used to pop up in my head while I was walking around or doing stuff and I'd end up writing an entire song before I had any concept of the beat and then I'd craft tracks around that.
Now it's the other way around. Usually I'll hear something in my head and produce it as a loop till I have a verse then I let the song build organically from there.
I usually have kind of creative spurts where I'll write 15 songs in 3 weeks and then nothing for a few months to contextualize what's happening in my life until I try to break it down again.
4) What has it been like working with other hip-hop artists like Open Mike Eagle?
Mike, Rory (milo), and Scarub have all been hugely helpful to me. Obviously their names help me get my own out there but more importantly they've all taken the time to kick it and give me advice.
I've been lucky enough to meet a lot of my favourite musicians and for the most part the experiences have been underwhelming or disheartening, but those three especially have been awesome.
I try to work with people that influence me because it forces me to push myself, and I think they've really helped me do that.
5) How do you feel about hip-hop today and where it's headed?
I don't know if there's one answer to that question since hip-hop is nebulous and going in so many different directions, but here's my two cents.
On the one hand, there's more amazing stuff than ever to listen to and underground artists are churning out gems every week (much of it for free).
This is great because it subverts existing models of music distribution and production, but also makes it really hard on the artists who want to be heard above the noise as well as get paid.
At the same time, you hear the same artists on the radio as 3 or 4 years ago, and none of the stuff I hear there or in clubs seems any more relevant now than it was then.
I guess I'd say the Drakes and Kanyes of the world aren't doing anything I care about and hopefully other people feel this way too. Hopefully casual fans will start to dig deeper into hip-hop's underbelly to look for things that speak to them.
6) Which 3 rappers would replace in these lyrics: "Argue all day about who's the best MCs, Biggie, Jay-Z or Nas?"
The best and my favourite are two different things. If you're asking for my favourites then I'd have to say Aesop Rock, MF DOOM, and k.Flay with honourable mentions going to Hellfyre Club, Run the Jewels, Living Legends and Chance the Rapper. But I don't know if I could say who's the best because it depends what they're the best at.