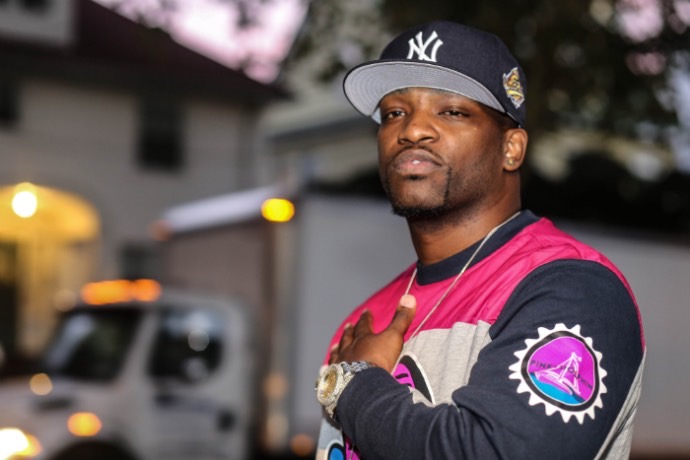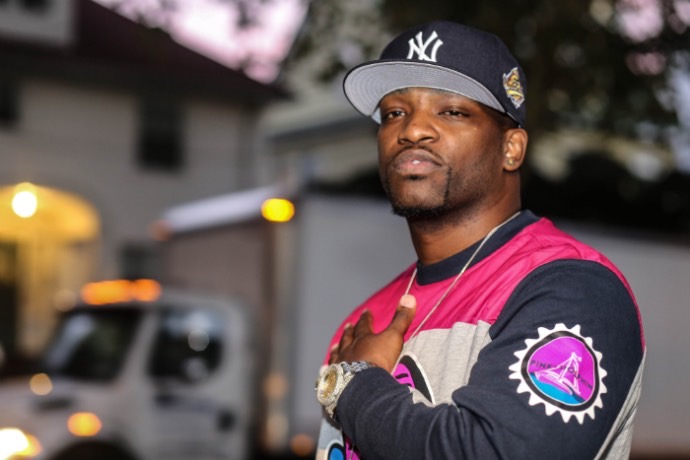 No days off for Moka Blast. After making a lot of noise last year with Ladies Love Moka Vol. 3 the Queens rapper has dropped the visuals for "He's My Drug" and will be  performing at SXSW this year.
Check out our interview below where Moka talks about his clothing line, his project's reception, touring with Coast2Coast, performing at SXSW and more.
1) So what's been going on since we last spoke man? How's things?
Since we last spoke I have been working on my clothing line.  It encompasses men, women, kids and even newborns.  I've been testing out samples and the line is catching fire out in the streets.
Things with me are great, I am on track for a very successful 2015. I have launched my own production company, Blast Offf Television and I am getting ready to hit the road again.
2) You said that you wanted Ladies Love Moka Vol. 3 to be different from your other projects by having songs that catered to all sorts of demographics. How has the project been received by your fans?
It's definitely my best work and they loved it.  I made sure to cover everyone's taste in the hip hop genre.  They are so happy with the mixtape they want an album now. They are saying that Ladies Love Moka 3 is a classic.
3) What have you learnt since dropping that project?
I have learned that you can please the masses but the song selection must be well thought out and be captivating.
I also learned that you should not spread yourself too thin.  From having a budding clothing line, a production company, to running my label, I realized I needed help.  I have been running everything, then I have to tour, record music and find time to write and it all almost became overwhelming.
So I had to start delegating roles to people who I know that are hungry like myself so I don't have to worry about getting the job completed.
4) You have a tour coming up with Coast2Coast in March. Can you tell us a little more about that?
This tour is my second one and I am super excited.  This one in March will hit areas that I have wanted to go to for a while.  The best part about it is that it covers the South and finishes in NYC.  The finale of my odyssey will be in my backyard.
5) You're also performing at SXSW – will this be the first time for you?
It is going to be one of the highlights of my career, as I have always dreamed of performing at SXSW.  Yes, this is my first time but it's definitely not going to be my last!
6) How did you get the gig at SXSW?
Those boys at Coast2Coast are movers and shakers and they handle all the bookings.  I just show up and tear stages down. That's my job and I am here to make sure that you leave very much entertained.
7) How would you describe your musical style evolution over the years?
I would have to say that I have mixed all my styles into one.  I used to flow real fast when I came out and then as the years went on I started slowing it down with punchlines.  Now I mix it up and add crazy word play and some rhyme schemes that are totally different than any other artists have out there.
8) If you could work with any artist you wanted, what would be your dream collaboration?
I would say LL Cool J and Ne-Yo. To me that will be the icing on the cake to work with either of them and my female support base would absolutely love that.  I like both guy's work ethic and have always admired their respective paths they have taken to get to the top.
9) What did you think of last year's music? Did you think 2014 was one of the worst years for hip-hop?
I try not to give my opinion on such stuff but I loved the new talent that emerged.  The younger generation is killing it and I salute them as they are carrying Hip Hop forward.  2014 was more of an evolution and even though it seemed stagnated I think it was a success.  It really determines what you judge success by and I just love the fact that the creativity in hip hop is re-surfacing.
10) So what's next for you?
I look forward to becoming a household entity and branding Fly Guy Committee Media Group.  I will be heading on tour in just a few weeks and I am consumed with the every day operations of my company.  Building an empire is no easy work, but I finally have the blue print I needed and don't want to rush greatness.  My time is here – I AM DESTINED!