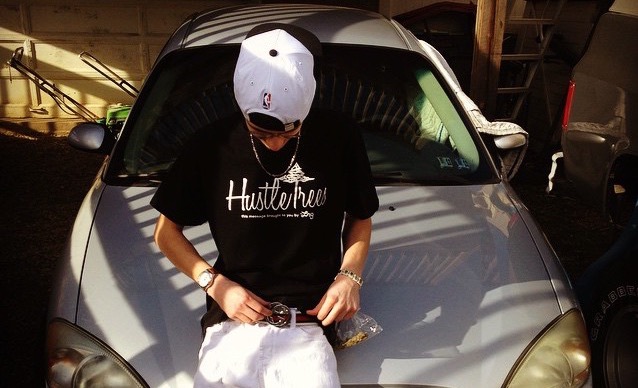 1) What inspired you to be a part of the music industry?
Pittsburgh has a very big music scene especially with hip hop so I would say my city is a big inspiration on me big time to make it far. The music has been my only mindset for years low key and I'm determined for the better.
2) Talk to me about the making of your latest project. What was the inspiration behind it?
The making of this project and along with my debut was to get my message around, and I like to switch up flows and styles constantly, I put so much dedication into these projects just planning out the promotions and the singles to make everything perfect. I love how its coming out so far.
My flow and the beats on this album was really inspired by a lot of artists, Mobb Deep, Nas, A$AP, J Cole, Earl Sweatshirt, Da$h, RetcH, Devin Miles, Mac Miller, & Wiz Khalifa, mainly those were my listen to artists during the making of it. You can stream and download it for free on Soundcloud & Datpiff.
3) What was the process behind making the project?
I had been writing all these verses and putting them together the right way for a while before the tracks were officially made. A lot of faded moments, a lot of Marlboros and Fanta too. Getting the beats together was the best part of stepping this mix tape up man.
4) What are your thoughts on the hip-hop industry at the moment?
Well there are a lot of big people nowadays that shouldn't have the shine they are getting right now. I mean it doesn't always have to be a good example your setting but make sure you have a point or else its just gonna be trash. Other than that I see most of the industry doing alright with their music this year so far. A lot of good artists getting discovered as well.
5) Do you enjoy grinding it out independently or would you prefer to be signed to a major label?
Honestly I love being an independent artist. I love having power with my own music unlike with a major label, they try to take control over the music you make sometimes. Shout out to 1700FTGMusicGroup For The Glory 412
6) What do you think goes into building a loyal fanbase?
Faith is the main key. You gotta respect certain fans, but not the ones that didn't believe in you from the jump. Keep a good social rep always and keep it as chill as possible. Also, always give the fan base your best music, maybe they will relate to it. All I appreciate is that they listen to the music and like it.
7) What sort of online promo and marketing are you doing to reach your fanbase?
I am on twitter @JTLoco412FTG and on SoundCloud @JTLoco1700FTG where I give out some new music every once in a while. If anyone is ever open for bookings, collabs, or feedback I may reply on Twitter or Soundcloud if I am interested.
8) As an indie artist, how do you brand yourself and your music to stand out from the rest of the artists out there?
All my songs speak the truth, and I always will speak the truth in my songs. I feel like my style is very unique and no one has ever really heard a rapper like me yet or in a while.
But I will make any style of rap music. I make trap bangers, club bangers, trippy experimental psychedelic hip hop, futuristic rap, boom bap music, all that.
9) Where do you distribute and promote your music and why do you think this channel works best for you?
I like to distribute my music through SoundCloud most of the time because its free streaming, and for free download I recommend DatPiff.