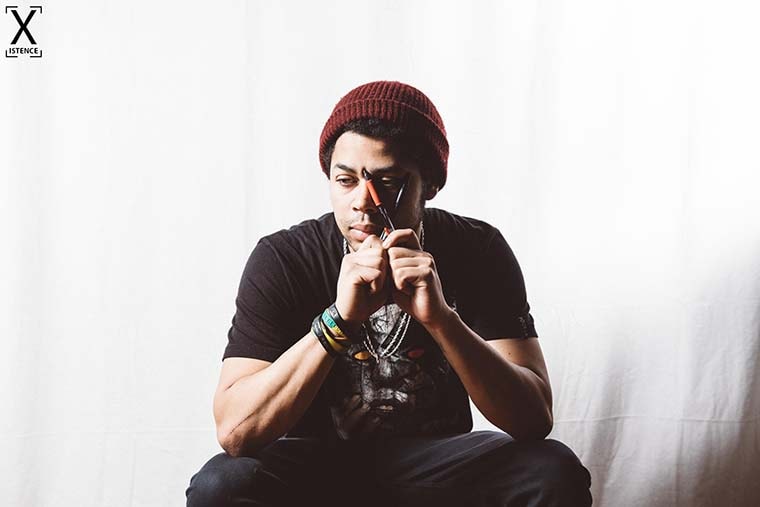 Katiah is set to release his new mixtape this fall via J57's FiveSe7en Music. Katiah recently produced one of the most talked about songs on Homeboy Sandman's new album (song title "Underground Dreams"). He speaks on that as well as his friendship with Redman, Brown Bag AllStars, living in the Bahamas and growing up a New York City kid!
1. What made you want to start making music?
I wanted to make more stuff for me to listen to, or things I wanted to hear but hadn't heard yet.
2. I saw Redman post a picture of you on IG and I saw him in one of your music videos. How did you 2 link up?
Shouts ta Funk Doc! Do Work! We linked up through one of my best friends Reed Silberman. I was his driver for one of his shows out in Denver for a few days and got the blessing from him to control the Aux cord. I didn't fan out over him but in my mind I was like yo RedMan just gave you the Aux, don't f**k this up. He Liked my music choices and we kicked it the whole time he was there and the rest is history.
3. How did your track with Homeboy Sandman "Underground Dreams" come about?
I used to Intern at FatBeats and he would always come in so I kinda knew him from that but it was really through The fam J57, he was like "yo I'm sending Homeboy some beats you wanna throw me a couple of yours ta send as well". I think I gave him 3 or 4 and next thing I know is J is telling me he liked one. Boom "Underground Dreams".
4. What equipment do you use for production?
I use a OG Akai MPK49, or MPD32 and a bunch of programs.
5. What was it like growing up in the Bahamas as well as NYC?
I didn't really grow up In the Bahamas, Shouts to all my fam down there and in Miami though. I was born there and went to preschool there, K-12 I was in NYC. When I was down there I lived in Nassau and It was definitely different from what I do remember. I mean its a Caribbean Island vs New York City. Beach everyday laid back vs no real nature and heavy hustle and bustle.
6. If you could live anywhere in the world, where would it be?
Where ever most of my friends are, which just so happens to be NYC.
7. What's your favorite movie?
I debate on this all the time. Different movies for different genres. Lets go with "I heart Huckabees" for now.
8. What's your creative process like?
I don't know. You'd have to watch and explain it to me.
9. Who's your favorite rapper?
Blu.
10. Your production style is so unique, I have to ask; who are your biggest influences on your production?
Hmm. People like Jon Brion, Dilla, Noah 40, J57, DeeJayElement, Freddie Mercury, Issac Brock, Mr. Porter, Heat Makers, Clams Casino, I dunno there's a lot but lets say Dilla because he the G.O.A.T in my books.