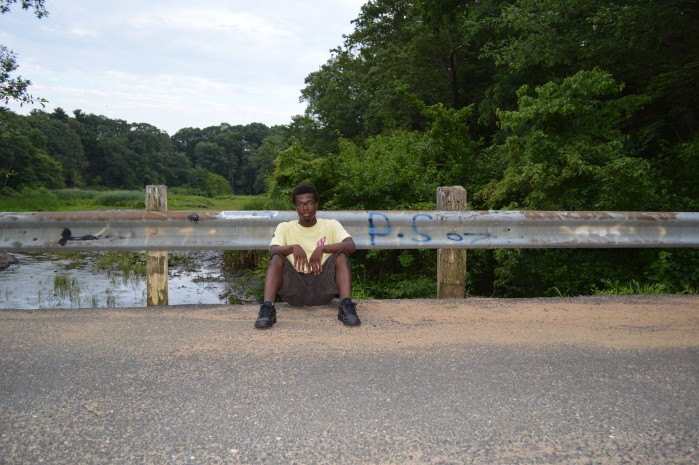 1) Tell me a little about yourself and your background.
I am MCGtherapper Marcus Cyrus Gabeau from New Jersey. Im not much of a talker quiet awkward kid and kind of a nerd. I have been rapping for 5 years and have really developed a unique style. Ive recorded everything own my own and have worked with rappers from New Jersey, Ohio and a singer from England.
2) Who were some of your musical influences coming up?
When I was younger my influences where Lupe Fiasco, Curren$y, Charles Hamilton and XV. Now I find myself listening to more Tyler the Creator, Run the Jewels and Childish Gambino.
I didn't really get into music because I grew up in it. I've always been aware of rap and hiphop because of my parents. They listened to the old school and I listened to the radio growing up. Now I'm deep into the underground because thats where I'm headed. I found that there is much more heart in the underground.
3) What's your process like for making music? Do you have a set routine or does it vary track by track?
I don't really have a process I just make music about my life and put it together on mixtapes. I have no real direction or anyone to tell me what to do so I do what i want. Ive learned through my many mistakes making 4 mixtape over the course of 4 years.
4) Can you run me through the making of your latest project? How the idea came about and what the studio vibes were like?
Making my last mixtape I just took a look at my life and began to write. All of the weird things that happen to me, the good, the bad, and the sad everything came out in "Odd Kid 2" I look at this mixtape as a improvement on the first tape and a self portrait of my self that I made through rhymes.
5) As independent artist, what are you doing in terms of promotion and marketing in order to differentiate yourself from others?
Promotion? Not much hahaha. Im doing this I guess. I wouldn't say that I'm different from any rapper. We all have a story to tell that is what make the music relatable. Rappers tell the stories that everyone's is going through. My story is kind of weird but I know there's others like me.
6) What's the number tip you would give to someone who's looking to get in the music industry?
Work hard? Don't give up on your passion? I'm not sure it hasn't exactly work for me yet. But if you love what you're doing good things will happen.
7) How do you feel about hip-hop today and where it's headed?
I don't want to sound like a hipster but I don't really pay attention to the industry. I don't know whats going to happen but I can tell you that I'm not going away anytime soon. I wish I knew but I'm to busy filling my iTunes up with mixtapes from other rappers like me.
8) What music are you listening to these days? Anyone in hip-hop really blowing your mind?
Right now Logic's new album Under Pressure and Run the Jewels 2 are in heavy rotation. Both of those projects where damn near perfect. I can't really think of anything else because I've only been listening to those projects. Im excited for J. Cole's new project and I'm still patiently waiting for Frank Ocean to drop another classic album.