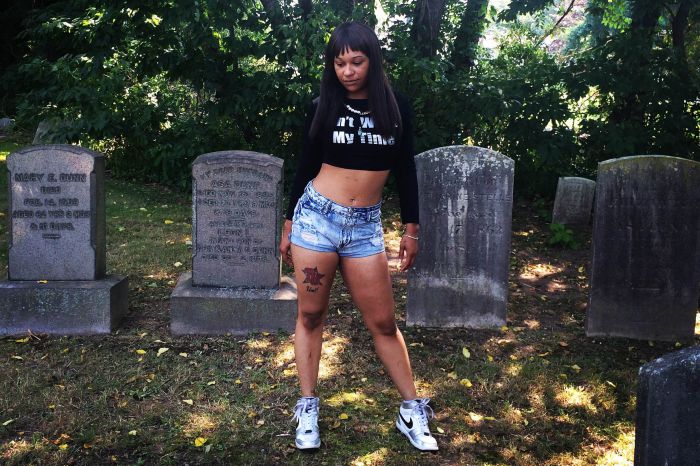 1) How long have you been doing what you're doing and how did you get started in the first place?
As I stated previously, I been rapping since I was 12. I started because I was very unsocial growing up. My mother was worried, so she took me to a psychiatrist- where I learned how to take my thoughts and put it on paper.
Then in high school I started running with a team called Royal Spades, at 13 I was in the studio for hours with these ninjas creating music. I kept pursing it and my education, graduated college from DSU a month later met Ghostface Killah in Atlantic City, at a club- I spit for him and the team and from then on out its been Theodore Unit.
2) What sort of hurdles and obstacles did you face to get to where you are now?
Ha, you wouldn't believe the shit I been through. People think , Oh- she's got it easy, shes a female, she's with Ghost- little do ninjas know- that shit is harder!
First of all, ninjas don't take female rappers seriously, and then since I am running with Ghostface and he's a legend I have to maintain my darts at all times to stay on their level, so yea I would say that helped me.
I was put in a lot of positions where I was forced to rap on spot, – and that shit made me 1000 times stronger. Even now when somebody says,oh you rap? Then go ahead and rap—I really half the time don't want to do it, but now I force my own self to do it to prove to ninjas I do have talent.
3) What's the hardest thing about being an independent artist?
You know, its hard to call myself an independent artist because im running with Ghost team, but I do a lot of things independently because I never have been the one to ask for a hand out, I know if you want something, you got to work to get it. Its not going to come just cause your pretty, or got a fat ass, its going to come if you got it.
4) Are there any independent hip-hop artists out there who inspire and motivate you?
Definitely, my ninja Dac Flamez, he's reppin Hawaii hard, he actually is an artist, song writer, videographer, producer and engineer also was a member of the Royal Spades.
Other than him, my homie 8lue Kane, and really any other artist I meet that got bars and pushing it like their hungry for it. I try to support everytime I go to event, I see a ninja selling shirts, ima buy 6- cause I been there, – right at Ghostface shows selling my Hayze shirts and Ghostface cds, so I know both sides of the game.
5) Where do you see yourself in 5 years?
5 years, I see myself kicked back on the beach drinking an margarita, while my music playing on the radio in the back ground, something like that Bitch better have my $ video, lol Rihanna is the shit too!
6) Who were the first influences on your music and style?
As far as influence, I wouldn't really say anybody, because I have always been really creative and personal with my music. But when I did first start listening to hip hop, some of my fav artist were the WuTang clan, Queen Latifah, Salt & Peppa, 36Mafia- and definitely Eminiem.
7) If you could choose to collaborate with 3 other artists on the same track – who would they be?
Ghostface, Eminem and Sheek Louch
8) What makes your music different to other artists?
I am down to get creative. I like party music, club, rock, classical, – so I try to incorporate all of that into my music- some artist stick to the same style- which me I like to switch it up- I think it leaves people wondering what I am going to do next.
9) What are you hoping to achieve with your music?
Ive always felt music was a way to express yourself, so I want to make songs that people can listen to and relate to, not just the girls, not just the guys- and I don't want it to be just about sex. Because now in days, female artist, are acknowledged for their ass, or boobs- do ninjas even listen to females lyrics anymore?
10) What do you think is the biggest barrier an artist like yourself has to overcome, to gain commercial success?
The biggest barrier is making music that everyone can listen to, not just the black people, not just the white people but everybody. Ive studied Ghostface for a long time, and he has managed to become accepted by many different races and nationalities for being himself, but also has gained legendary commercial success by being different and creative.
I want to do that, I want to be able to have other rappers try to sound like me. (NO SHADE BUT FACTS AB) I want to be the leader, the biggest barrier is being the leader and not the follower in this rap shit, once you're the leader the commercial success will follow right behind you.