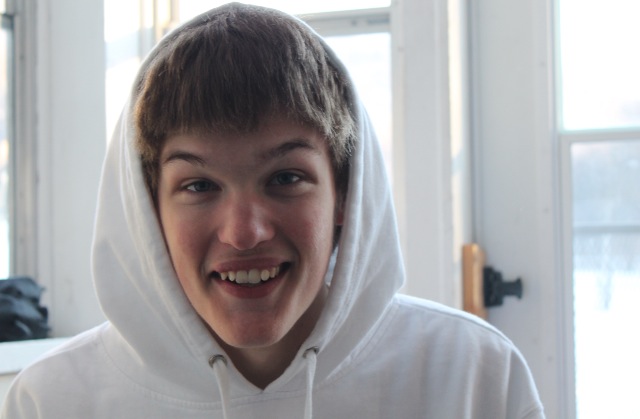 BMG might only be 17 years old but he's a hip-hop head to the core and speaks about the music like a veteran. BOOS EP is his latest project, a 5-track tape featuring production from the likes of 3 Point Beats, Amazing Prophet, Ghost McGrady, Lirker and Shamana.
You can stream or download BOOS EP on DatPiff. Make sure you also check out our interview with BMG below where he talks about being inspired by Ghostface, his latest tape, growing as an artist and his top 5 dead or alive.
1) Do you remember the moment you wanted to be a hip-hop artist?
Yeah, I was sitting in study hall period my sophomore year of high school with nothing to do so I started listening to music. An instrumental ("I Declare War" by Ghostface Killah) came on and I just started thinking of lines in my head and writing them down. I didn't take it completely serious at first, but the hobby became a dream I want and hope to achieve down the road.
2) What was it like creating your latest project?
Stressful, man. I'm still struggling getting that "perfect sound" down, but I'm having fun during the process just not everything in the project.
3) What are you trying to achieve with the project?
What BOOS is is basically my life up until this point. The word itself is all the alcohol I've seen around me since I was a kid. My mom and my aunt both died due to their alcoholism, abruptly too.
Times were real tough for me, I never really got to know my mom and my aunt acted as my mom to me when I was younger. I wouldn't say I was depressed, but real down. REAL down.
I'm not advocating against alcohol, it's just been a huge negative in my life. The acronym, B.O.O.S, stands for Bent Out Of Shape and the meaning behind that is what I've been told since birth.
Things like Jesus and God are real, the good guy always wins, and that you'll go no where in life with bad grades, most are told this but is it all completely true? I'm just raising the idea that parents can influence kids a little too much.
4) What are your thoughts on staying independent or signing to a major label?
I highly respect independent artists. If you can promote yourself and rise from the ground up by yourself, that's amazing, but if TDE or Fool's Gold hit me up asking to make music for them I'd sign point blank, you know? Hip-Hop idols and icons are on those labels, I personally wouldn't pass it up.
5) How do you feel about the independent hip-hop industry right now?
It's filled with too many rappers and not enough musicians. Most fans aren't looking just for lyrics or just flow, you've gotta bring musical aspects to the table nowadays.
6) As an independent hip-hop artist grinding it out, what sort of promotion and marketing are you doing to stand out from the rest?
Right now, I'm just submitting to blogs and working with other artists and producers. I hope to open and perform in the up coming months.
7) How do you think you've grown as an artist?
I've been slowly progressing musically and lyrically over the years. As I said, I'm still not hitting that "sound" I want to, but I'm getting there.
8) How do you feel about hip-hop today?
It's on the rise, if you ask me. There are so many good artists out there I don't know how people can say hip-hop's dead. I'd also say it's filled to the tip with rappers and artists, which isn't a bad thing if you're a fan but for artists it makes for a lot of competition and a lot of people to work with at the same time.
9) What artists in the game today do you look at for inspiration?
Isaiah Rashad and Capital Steez are my biggest influences right now. I'm trying to make smooth music with a lot of lines thrown in the mix. Without their music, I definitely end up quitting rap.
10) Who are your top 5 rappers dead or alive?
Maaaaaaaannnnnnnn, I always change this depending on the mood I'm in but right now, 1. Nas 2. Mos Def 3. Ice Cube 4. Talib Kweli 5. Common. Pac and Biggie are in their own separate category if you ask me.