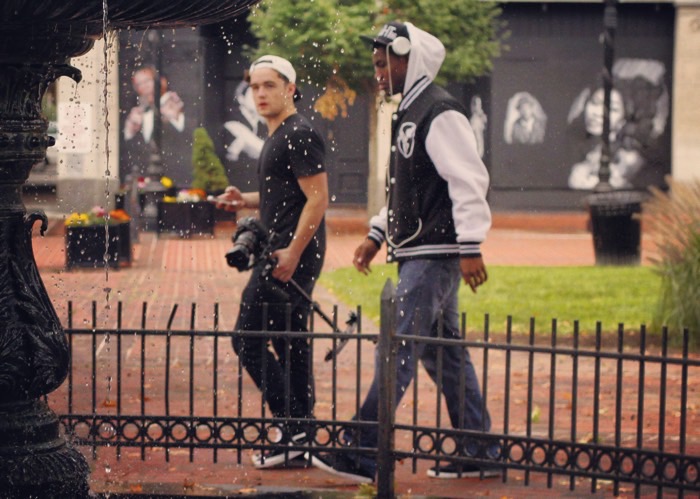 Hailing from Springfield, Massachusetts, rapper Ze'Nero has dropped the follow up to his 14-track debut mixtape Superhero Muzik Vol. 1: A Hero Rises.
Dreamer EP is a 9-track tape featuring production from HDXMULLA, MG Exec and John E Daise as well as guest appearances from Nyonda, Exec and Nate Santana. You can stream or download Dreamer EP here.
1) Tell us a little about yourself and your background.
My names Jose Nero, I'm 28, half African American half Puerto Rican friends call me Ze'. I'm the middle child of 7. My mom's name is Lou Doris Nero. I grew up struggling in the foster care system. Music was always my escape, my therapy as I like to say.
2) Who were some of your musical influences coming up?
Growing up I had many influences as far as music goes always zoned out to Eminem, 50, Jay-Z, Kanye West, Biggie, Big L and many more (lol). As I got older I started to listen to different genres incorporated rock into my musical pallette, pretty much anything that invoked raw unfiltered emotion/energy.
3) How would you describe yourself as an artist? Has your style changed much over the years?
Far as my style goes it's definitely a blend. Ranging from in your face prove em wrong hard hitting tracks to having a good time vibe out songs, all the way to pretty mellow deep thought take a walk in these shoes type of songs.
Throughout the years it has changed, but the foundation of bringing what I feel to my music has stood. If anything it's more so me polishing my different approaches to music and life in general.
4) What's your process like for making music? Do you have a set routine or does it vary track by track?
My process consists of zoning out listening to beats for days, weeks sometimes even months,driving, being around different scenes soaking in my environment writing anything that comes to my mind. From there it's more so what am I feeling.
Am I feeling up or down, energetic or mellow. It's whatever the mood is. Often times I work on a melody/hook/chorus scheme. Lastly I plug in play as far as verses go ,again it's whatever I'm feeling that's what I'm aiming to unleash.
5) Can you run me through the making of your latest project? Where were the studio vibes like?
My latest project Dreamer came to me after a very turbulent year. My mom was diagnosed with cancer, add on major relationship issues, and overall feeling stuck in life. Everyday I woke up was just a monotonous routine that drove me insane.
I decided to write down every single emotion I was feeling that year. My producer Exec was a huge contributor to supplying me with the beats that would feed my angst, my rage, my disappointment, my hope.
Dreamer means a lot to me because it showed me how much I'm like my mom in being able to overcome adversity. It showed me how blessed I am to have that sort of grit.
6) What sort of independent hip-hop promotion and marketing are you doing to differentiate yourself from other artists?
As far as marketing I try and sit down with my inner circle and hash out innovative new techniques to get my brand out. Especially coming from such a small market like Springfield, Ma. Everyday it's a grind to get on blogs, come up with outstanding visuals that will bring my music to life. Always networking with out of city connections. Remaining humble and staying true to myself.
7) What are you thoughts on the current state of hip-hop music today?
Honestly I feel like this is a great era for hip hop. Being that it's so diverse, fans can hear anything. Hip hop is like a gumbo, so many different ingredients combining to make a bomb ass dish. Also
I feel people want variety when it comes to music. Hip hop has evolved. Sorry (lol) I can talk about this all day.
8) What music are you listening to these days? Anyone in hip-hop really blowing your mind?
A lot man alot of different stuff, I really dig pretty much anything metro boomin produces, uh Travis $cott , g.o.o.d music,Big Sean, Mac Miller,Rae Sremmurd, TDE, Cudi,J.Cole. Right
now J.Cole and Kendrick Lamar, everything they put out is dope real motivational joints that inspire in a time where we need inspiring.
9) If you could work with any artist you wanted, what would be your dream collaboration?
Meng gotta be Cudi on the chorus , Yeezy produced and Kendrick/ J. Cole/Jay-Z
10) What has been the best moment in your music career so far?
Honestly every moment is special to me can't rate them, just striving for my dreams is a moment in its self not everyone has the courage to chase the unfathomable. At the end of the day I'm blessed just for these opportunities to do what I love
11) So what's next for you?
Continue to build , stay humble, and let God do his work meng, thanks this was fun.