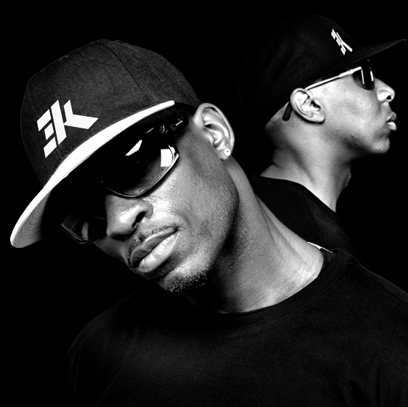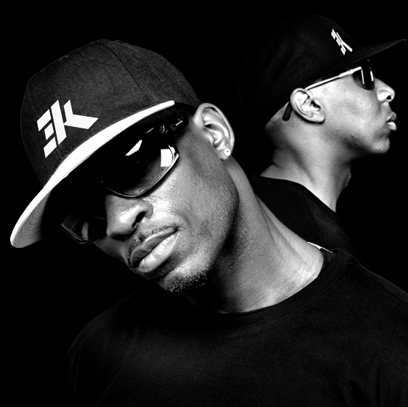 1) Tell me a little about yourself and your background.
My name is Brockout aka Brocks. But before we begin the interview let me please apologise on the behalf of the team at Empirikal K and myself for Terrif's absence for this interview. His away at the moment and couldn't attend.
Back to the interview, I am Brockout I am a Rap / Music artist from London England. My reason for adding Music artist is due to my different tests in music. But Rap is my main thing it's what's dominant in what I do in terms of vocally.
Having started MCing to Bashment and Drum 'n' Bass I later found myself experimenting with Rap after hearing Nas's Illmatic album, Snoop Dogg's Doggy Style album and Method Man's Tical album just to name a few. This is truly when I started to develop my style and became more passionate about MCing, performing at parties, raves and for underground radio in order to express my talent.
Terrif who features on the NEW No Guts No Glory ep and myself met at East London's St Bonaventure's Secondary School, a school where grime heavyweights such as Tinchy Stryder and the legendary D Double E who makes a special guest appearance on the NEW No Guts No Glory ep also attended.
For both of us music has always been a part of our lives and we both grew up listening to a wide variation of music. A couple of years later both me and Terrif found ourselves at Empirikal K Music back in 2010 at the birth of Empirikal K, which has been our home till this day.
2) Who were some of your musical influences coming up?
The late king of pop Michael Jackson (R.I.P) was definitely the first artist as well as the first piece of music I ever heard, that touched my soul moved my spirit made me a fun, not just of MJ but of music. I later came to discover other genres of music and artists.
From Reggae, Bashment, Jungle Drum 'n' Bass, R&B/Soul the list goes on. But with Hip-Hop Rap I truly found my voice. Just like MJ had that impact on me when I discovered his music, these Hip-Hop Rap artists from 2Pac, Biggie Smalls, Big L, Nas, Wu Tang Clan, Mob Deep, Jay-Z, Dr Dre, Capone-N-Noreaga, Flip Mode Busta Rhymes, DMX, Big Pun, Fat Joe and The Terror Squad, Snoop Dogg and Tha Dogg Pound, Ice T, Ice Cube just to name a few made that same impact on me.
3) What's your process like for making music? Do you have a set routine or does it vary track by track?
No there's no set routine it definitely varies track by track. For me personally that makes producing music exciting. Some tracks have come to exist through an idea that popped into my head while walking down the road, chilling in the house doing some work or in the studio, it really varies.
It could be a hook idea, beat idea, a beginning of a verse on some occasions a beat has been presented to me, on hearing it, it inspired an instant chorus and verse right there on the spot. The thing I don't ever like to do is to force the music, I prefer the free flowing approach, letting the music flow to me.
4) Can you run me through the making of your latest project? How the idea came about and what the studio vibes were like?
After a number of single releases and the last release back in November 2013, a decision was made by the team at Empirikal K for me and Terrif to collaborate on a Mixtape. Where some tracks would be a collaboration of me and Terrif some featuring us and other artists, for example track 4 on the ep featuring legendary Grime artist D Double E and some tracks would be solos, me on my own Terrif on his own. The Mixtape would be released for the coming year, to be exact 2014 this year.
So late November 2013 we started recording all way up to Christmas eve. Had a little break for Christmas and after New Year's we hit Studio again. The aim was set from the beginning for us to produce a classic Mixtape in terms of production quality, content and the overall feel of the Mixtape.
At that stage we didn't even have a name or title for the Mixtape when we set out to record and the recording process took place in three different Studios across London. That alone was a challenge in itself and on top of that Terrif was going away in May forcing us to try and record as much music as possible in the five months prior to Terrif's departure.
In terms of studio vibes they were good but we hardly recorded together in the same Studio. I personally recorded in three where Terrif recorded in just the one Studio. It's only when we came together in the same Studio we kind of had a vibe going. One of the Studios was a first for me recording in, but it's an award winning studio and the staff, were great so that made it easy for me to focus.
Come May Terrif was gone but I carried on recording till the end of May when I got news of my Aunty losing her battle with lung cancer which disrupted the whole process for about two months or more. Came back to the project at the beginning of September, looked at what we had in terms of tracks and decided to stop recording as I had more tracks on the Mixtape than Terrif.
This was an issue. The team felt we didn't have enough tracks to go ahead with the Mixtape and me having more tracks than Terrif caused an imbalance where the collaboration idea no longer worked. That put an end to the Mixtape collaboration idea meaning possibly the end to the project and we had no name or title for the Mixtape.
Out of everything that had happened, an ep idea came about and not long after No Guts No Glory The Journey Part 1 name or title for the ep was born. It gave us a whole new prospective and direction. We had saved the project by creating a whole new concept. The concept being a journey hence the subtitle "The Journey" that would be a theme of three parts.
The first being "No Guts No Glory The Journey Part 1" which later will be followed up by a part 2 a continuation of that journey in part 1, and then part 3 will follow. On the run up to the release of Part 1 this November I suffered further loses, another two people died. Which confirmed to me "No Guts No Glory The Journey Part 1" a suitable and definite title for part 1, for me it gave me this meaning. If not due to sheer determination (Guts) Part 1 of this epic journey would have never happened.
Secondly the release and this interview in itself wouldn't have taken place. That in itself is the (Glory). And I guess now the entire journey in all three parts is the battle to make a career for myself, and raise Empirikal K Music profile to a global status…….. No Guts No Glory!!!
5) As independent artist, what are you doing in terms of promotion and marketing in order to differentiate yourself from others?
Our promotion and marketing strategy consists of both online and offline promotion and marketing strategies. Online it is social media, your Facebook, Twitter, Instagram plus established blog sites, online radio stations and getting some established artists / professionals that we have relationships with to also support.
Offline it's handing out FREE copies of the NEW ep to people in clubs, Universities, Colleges plus leaving some FREE copies in a network of stores that we have relationships with.
6) What's the number tip you would give to someone who's looking to get in the music industry?
Have love for the music and don't let money be the main motivation.
7) How do you feel about hip-hop today and where it's headed?
Personally I feel Hip-hop is still going through a transition, which I believe is normal. When you look back from origin it's never remained the same. Probably for Hip-hop to become commercially successfully as it is today, it's had become what it is.
But I would love to see more substance come back to the music, in beat production, lyrical content and visually in terms of video. Truth is I haven't heard a classic album or single in a long time.
8) What music are you listening to these days? Anyone in hip-hop really blowing your mind?
To be honest I haven't been listening, I don't have a clue to who is doing what. If anything I would say two years ago or last year Kendrick Lamar had my attention, but I haven't been listening to be able to give an honest answer or opinion on that.