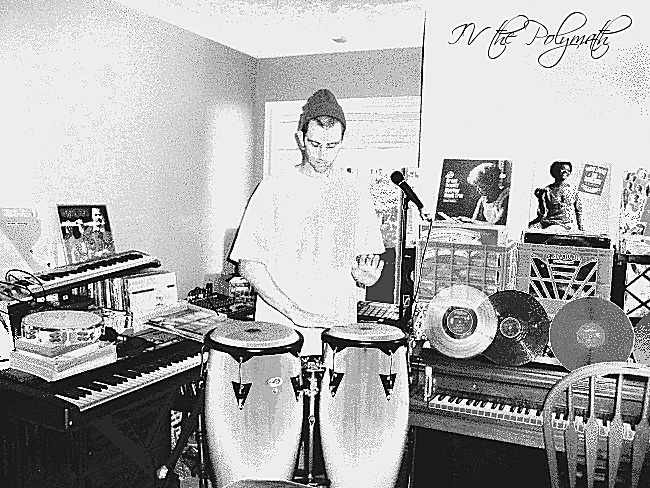 IV the Polymath is an American instrumental musician and hip-hop producer who has just recently dropped his latest release The Mono EP earlier this year.
Despite over a decade of experience as a drummer, guitarist and pianist, he is primarily known for his instrumental projects where he combines live instrumentation with traditional hip-hop production techniques to provide a unique blend of sounds and styles. 
1) Who are some of your musical influences?
I'm a big jazz and funk head: Grover Washington Jr. Rahsaan Roland Kirk, Herbie Hancock, Roy Ayers, Deodato, and James Brown, etc. are some of my favourites.
I like a lot of the underground downtempo and lounge stuff too. If it's got breaks and a rhodes then it's alright with me. Basically anything that's honest and has an authentic vibe. I rarely, if ever, listen to hip-hop.
2) The Mono EP was recorded in mono with various instruments, synthesizers, samplers and drum machines – what made you decide to record in mono?
Well it was originally by mistake. I was having some issues with my gear and accidentally recorded a bunch of songs in mono.
When I went back and listened to them, I loved how they sounded, so instead of re-recording in stereo I picked the best tracks and made an EP out of it.
3) You have a unique production style where you combine live instrumentation with more traditional hip-hop production techniques – can you speak a bit about your production style?
For sure, I don't use a computer when making music, so everything is analog. I use keyboards, synthesizers, drum machines, percussion instruments, guitars, voices, records and whatever else I can get my hands on to create the layers I want.
Then I use an MPC to sequence everything out and manipulate the layers in various ways. So basically I'm creating and playing my own samples, but then putting the beats together using the traditional hip-hop methods of triggering the samples and drums on an MPC, if that makes sense.
4) Who would you say are your top 5 hip-hop producers of all time?
Without a doubt I would say Pete Rock, Damu the Fudgemunk and J Dilla. From there it's wide open. I guess I would throw RJD2 in there along with Shawn Lee to round out the top 5.
5) What's your process like in the studio? Do you stick by a routine or does it vary track by track?
It definitely varies from track to track. Most of the time I do start out with some real basic drums to get a nice groove going. Then I'll jam on the keys until I find something I like.
From there it's just adding in the bass, other instruments, scratches and of course more drums, etc. Other times I just jam on the keys or a synth with no intention of making a beat, but then once that progression starts to flow it's impossible not to turn on the rest of the gear and let the idea complete itself. Also, if I have a new piece of gear then I'll usually start with that and build from there.
6) What artists are you currently listening to now?
Right now I'm listening to some dope instrumentals by Insightful. I've been following him since the myspace days and he continues to evolve his sound and push the boundaries.
I also really really like BADBADNOTGOOD. They're probably my favorite band in the world right now. Other than that I'm pretty stuck on early 70's jazz and have also been picking up a lot of classic punk rock LPs as well.
Make sure you stream The Mono EP below and go check out more about the project here.