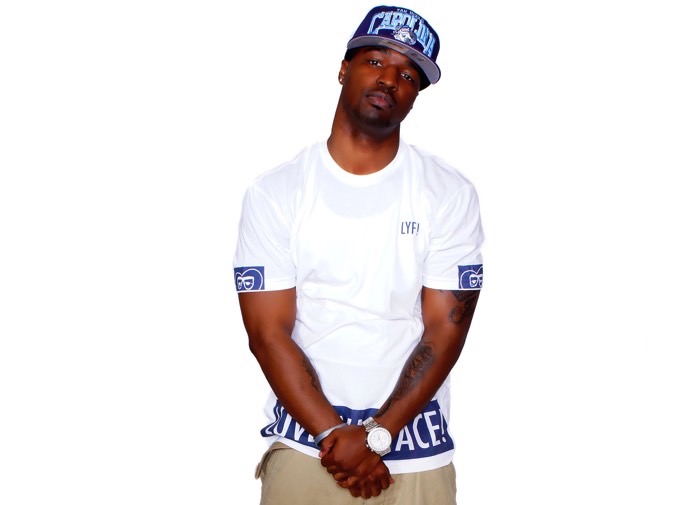 New Jersey born and raised T. Dot is making big moves and on his way to having a big year in 2015. With his upcoming album, Thoughts of Ambition, set to drop in March or April, the Loyalty Ent. recently released the visuals for his latest single "Tell Me."
You can check out the "Tell Me" video and buy the singles from iTunes here.
1) Tell us a little about yourself and your background.
I was born in East Orange, NJ and then my family moved to a small town called Maplewood, NJ where I spent the majority of my teenage years. I lived literally around the corner from Newark, NJ. Everyone is more familiar with that city.
When I say Maplewood everyone draws question marks. I moved to Buffalo, NY for school and I kinda got stuck up here (laughs). I learned a lot about life up here though. Buffalo and Maplewood are two completely different towns filled with people that have completely different mindsets.
2) Who were some of your musical influences coming up?
When I was younger I kinda wasn't really allowed to listen to rap which is why it's so ironic that I rap now. My Aunt had bought me Ma$e's 1st album, Harlem World, when it 1st came out and my Mom told my Aunt to take it back to the store. I was so pissed back then (laughs) Ma$e was the hottest thing out around that time too.
My mom listened to nothing but Whitney Houston, Luther Vandross, and Soca music. She's from St. Thomas V.I. so I been around Soca and Reggae all my life. When I got older and discovered 50 Cent it was a wrap for everything that I listened to. All I listened to was 50. I grew into liking Lil Wayne, Juelz Santana, T.I., and Fabolous. That was my entire Napster library.
3) How would you describe yourself as an artist? Has your style changed much over the years?
I'm very expressive in my music. It's funny because the people that know me know that I'm quiet and soft spoken. So when they hear my records its like yo was that really you? I made music for me honestly, not caring about what other people thought about it.
Everything I rap about is 10000% real. I think my style changed when I noticed people could relate to what I was saying. It turned from making music for me to making music for them. Once I learned how to make my music a little more universal without really altering my art I knew this was exactly what I wanted to do.
4) What's your process like for making music? Do you have a set routine or does it vary track by track?
Man, it depends. One thing thats a requirement is liquor (laughs). Preferably dark. Preferably Remy Martin. If I'm with the team we usually all just brainstorming on the track until something dope comes out.
If I'm by myself I like to get in tune with my thoughts and what I'm about to write about. I'll be really melo until its time to record. Once I figure out what the track needs I'll get turnt! Or I'll stay in chill mode. Whatever the song needs me to be.
5) Can you run me through the making of your latest project? Where were the studio vibes like?
The content for this album were all real life experiences whether it was something that happened in my life or someone that was close to me. Ideas always pop in my mind and I try to put it all in a song. My sessions has lots of Remy Martin 1738 or Dusse. Lots of Cranberry Red Bull.
They need to sponsor me (laughs). Umm, the studio was lit up with candles for most of this project. I don't know what it is but theres something about candle light that just puts me in a real artistic, creative mode. And from there I just got in my mode to create.
6) What sort of independent hip-hop promotion and marketing are you doing to differentiate yourself from other artists?
I've done things like if they bought my single then they could get a ticket to my show 50% off. When the album becomes available for pre-order, those who pre-order the album will get a percentage off of my Merchandise. (T-shirts, Hoodies, etc.)
You'll have to follow me on Instagram, @TDotTheRawest, to know when that happens. I haven't figured out all the numbers for that just yet its still in the works. Also, I'm doing a mini-movie for one of my singles before the album drops.
And whats dope about it is that the videos before the upcoming mini-movie are like preludes to it, so my videos are in chronological order.
7) What are you thoughts on the current state of hip-hop music today?
I think its very trendy and if you don't sonically fit in whats hot your music possibly can get lost. No matter how good or bad it is. But the good thing about good music is that it's undeniable. So once its heard it'll get its recognition.
It may take a little longer because just about everyone wants to be an artist and its so easy to put material out but I guess thats what sifts out the ones who truly do this for their art versus the ones who do it because they think its a quick way to get rich. So I guess Hip-Hop's current state is a gift and a curse for artists who haven't hit mainstream yet.
8) What music are you listening to these days? Anyone in hip-hop really blowing your mind?
Right now this J. Cole guy is pretty amazing. Although this wasn't my favorite project from him I appreciated his art and his body of work. It was dope. And of course you can always expect him to snap on his tracks.
These days though I've been really random. I'll pop in Nipsey Hussle's Mailbox Money and then switch over to Jhene Aiko's Sail Out. I'm tryna find some time to find some time to listen to this new Yo Gotti – Concealed. I heard that joint goes.
9) If you could work with any artist you wanted, what would be your dream collaboration?
Aww man just one?!? Man that's hard. It's so many people I want to work with. Right now, if I had to pick just one, it probably would be Kanye West. I truly believe he's a musical genius and he's always trying to break barriers. I think us upcoming artist are fortunate to have someone like him in the industry.
10) What has been the best moment in your music career so far?
I think the best moment is every moment that some feels my music. I don't think there's any better feeling than someone appreciate something that you work so hard at. I can't really just pinpoint one moment.
Everytime I get on stage with my team, Loyalty Ent., I always say "Yo, that was our best performance!" So right now I'm just enjoying the journey.
11) So what's next for you?
I'm going to put out 2 more videos and then drop the album, Thoughts of Ambition. The features on my album are all people from Loyalty Ent. They also working on their projects and its sounding crazy! I got some shows lined up but I'm trying to get some more and turn this into a tour.
Also me and my boy Kyle Justice will be working on an EP together. For those who don't know him, he produced J. Cole – Dollar and a Dream III. His tracklist is long I just can't think of all the songs off the top of my head. I'm excited to get to work on that. Even more excited to drop this album. Should be coming to you guys in March/April. I hope y'all enjoy it!