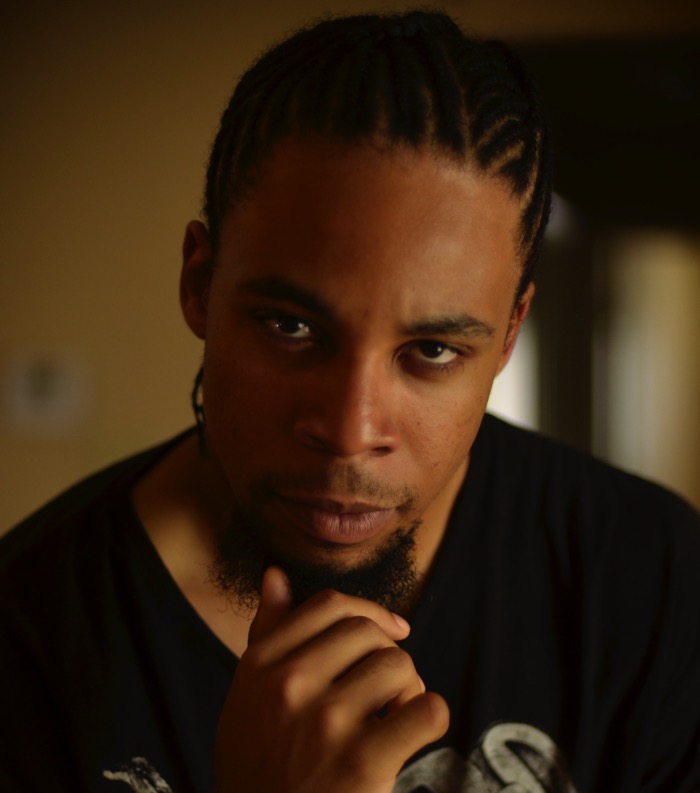 1) Tell us a little about yourself and your background.
Well, the name's JaMerv but most people know me by my stage name, "Smerf". I was born in November 30, 1993 in Houston, TX. I moved around a lot when I was younger, partially due to hard times and financial issues, but I always came back to the city.
I've been rapping ever since I was 14. I actually started out freestyling in the beginning. A lot of people knew me for bustin' off the top on the spot , whether it was a cappella or with a beat. It was really fun though, being in cyphers with different artist and what not. People would always circle around us to listen.
You meet a lot of interesting people that way, ya know. I've always loved music. I use to play in my school orchestra from violin all the way up to bass and later upgraded to bass guitar. Before hip-hop though I was real into, and still am, rock! It was mainly classic rock, ya know, I loved Phil Collins works back then. I listened to Nickelback, Linkin Park, Greenday, American Rejects, etc. Never liked death metal though.
Besides the music though, I'm an actor. Acting is in fact my first passionate love. Everything about it intrigues me. I could go on and on talking about it but that's for another point in time.
2) Who were some of your musical influences coming up?
Right off the back man Eminem is the one, ya know, he's "Neo" if ya catch my drift. I've listened and studied all of his works from the ground up. He's the one who inspired me to write and freestyle early on.
I've also studied Nas, Ludacris, OutKast, Slaughterhouse and of course Kendrick Lamar. Those are the artists who really keep me going. I listen to a lot of Michael Jackson too man. He was really the whole package. A lot of heart and soul went into everything he did man. That's what the best artists all about.
3) How would you describe yourself as an artist? Has your style changed much over the years?
I would describe my artistry as something that likes to experiment and try new things as long as it works, and we'll know whether or not something works, my camp and I. I've found that stepping out of your comfort zone helps you grow as an artist.
You don't want to stay stagnant doing the same thing, especially in the early stages of developing your style. My style is steady being polished and honed. I've only been rapping in an organized fashion for about a year and a half now. I used to suck ! Thanks to my camp I've grown exponentially. What I can do now I wouldn't have been able to do a year ago.
4) What's your process like for making music? Do you have a set routine or does it vary track by track?
It varies from time to time. My good friend and producer, Casp3r, usually hits me up about a beat he thinks suits me. If I'm rockin' with it I'll meditate on it and let the ideas flow. I don't really like to force myself upon it.
Sometimes I'll be listening to the beat, ya know, vibin' with it, and an idea for the hook will pop in my head. There are times when I go straight to the verse. I'll be rapping out loud until something sticks, whether it's the flow, subject matter, tone etc.
I've recently found out though how moving around helps the process. It gets the blood flowing and brain working more efficiently, ya know.
5) Can you run me through the making of your latest project – Smerf Terf Lvl 1? What were the studios vibes like?
The vibes were great. There were some glitches along the way but we got through it. I was still in the early stages of rapping, trying to get the basics down and what not. As I was doing that I was incorporating those lessons into the mixtape.
I was working with Casp3r as much as possible throughout the weeks. As time passed by I continued to get better and was able to work at a higher level. Mmm that's all I have to say for that.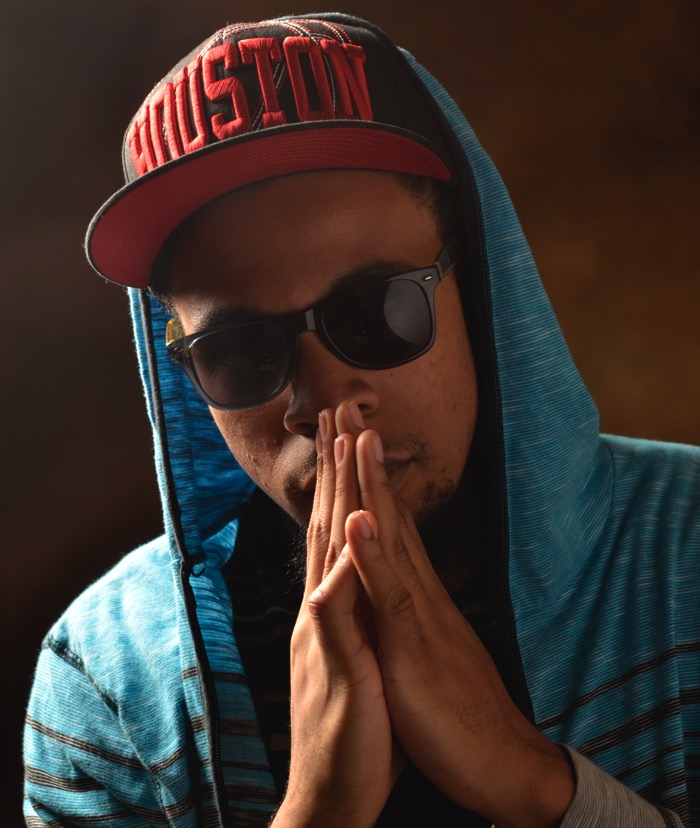 6) What sort of independent hip-hop promotion and marketing are you doing to differentiate yourself from other artists?
I'd say nothing spectacular or that different from anyone else who's grinding right now. We've been really honing our skills as artists and in the midst of that trying to find a suitable manager to handle those types of endeavors.
Someone who we can really trust with handling our affairs and has great work ethic. I've made some copies of the tape and handed them out to a few people. The Vill and I have promoted the tape on our social networks as well.
The main thing that I've been doing though is performing whenever and wherever I can. I love performing man. It reminds me of when I'm acting on stage. I love acting so it all goes hand in hand.
7) What are your thoughts on the current state of hip-hop music today? What are my thoughts?
Man look that question comes up a lot in some form or fashion in my camp and through other artist I know. I'd tell a group member of mine how I feel about it and he'd just say "man Smerf hip-hop is fine the way it is…"
So, I'll say this. Hip-hop is heading in a direction as fast as technology is being developed, and the direction it's headed in is leaning toward the wrong side. I don't want to get too deep in it 'cuz ya never know whose listening, however.
As long as those who respect and cherish its art form keep it going then we'll be alright for the most part. You'll start to see the change in hip-hop though. The change many of the pioneers of hip-hop spoke on. It's going to be war bro. "I'm goin' to get my gun!"
8) What music are you listening to these days? Anyone in hip-hop really blowing your mind?
Man, have you checked out Kendrick's "To Pimp A Butterfly"? That shit is crazy bro! I've listened to it a few times. It's really what the game needed in this point in time, a breath of fresh air.
I've also been listening to a few underground artists. Mick Jenkins is one I really enjoy. The things he can do as far as rap and lyrics go are really dope. He was actually introduced to me by my group members. I like Big Krit too. I love "Mt Olympus", oooh shit. Man when I heard that second verse I nearly lost my mind. I've never heard that flow pattern before.
I love when artist introduce new and intricate flows like that. Other than that I've been studying up on some of the old classics, golden era of hip-hop. My boy Chrisis Blaque, one of my group members, recently gave me a load of old shit that he suggests I listen to just to up my hip-hop IQ.
9) If you could work with any artist you wanted, what would be your dream collaboration?
I'd like to work with Em man. I want to see how he operates in the studio. As far as collaborations go mmm no one at the moment really. I figure I'll collab with anyone who I like and also is a fan of my music, ya know, however.
If I had to give ya an answer for the sake of the question and clarity I'd say Ludacris or Big Krit. I feel like working with them on something would be extravagant. I just got a real good feeling about it. I don't know man, we'll see.
10) What has been the best moment in your music career so far?
I can't quite single out any one moment in particular. I will say I've really enjoyed working and growing with my camp. We've come a long way and still have a ways to go but we're almost where we need to be in order to take over.
I'd encourage all of those who've been rockn' with us to continue to spread the word cuz' its tough getting people to listen to good music and I know that sounds ironic but it's true. I guess people are used to the norm instead of boundaries being pushed. I sincerely believe in rules being broken man. Does that make me a rebel?
11) So what's next for you?
What's next for Smerf? I'll say this: Smerf Terf Lvl 2 is in fact in the works. I'm taking my time with it, making sure everything is firing on all cylinders. There's going to be a variety of energies revolving around the main focus as far as the feel of the project goes.
My homie Casp3r has been on another level with the productions lately so prepare for the new and different. I want to work with more artists as well, ya know, and grace a variety of productions. You might see some of that on their but it's not certain. Smerf got a lot of soul and energy bro. I want to share it with everyone.