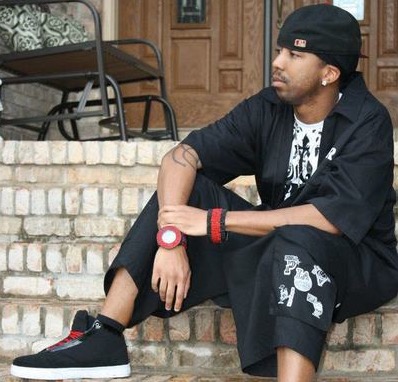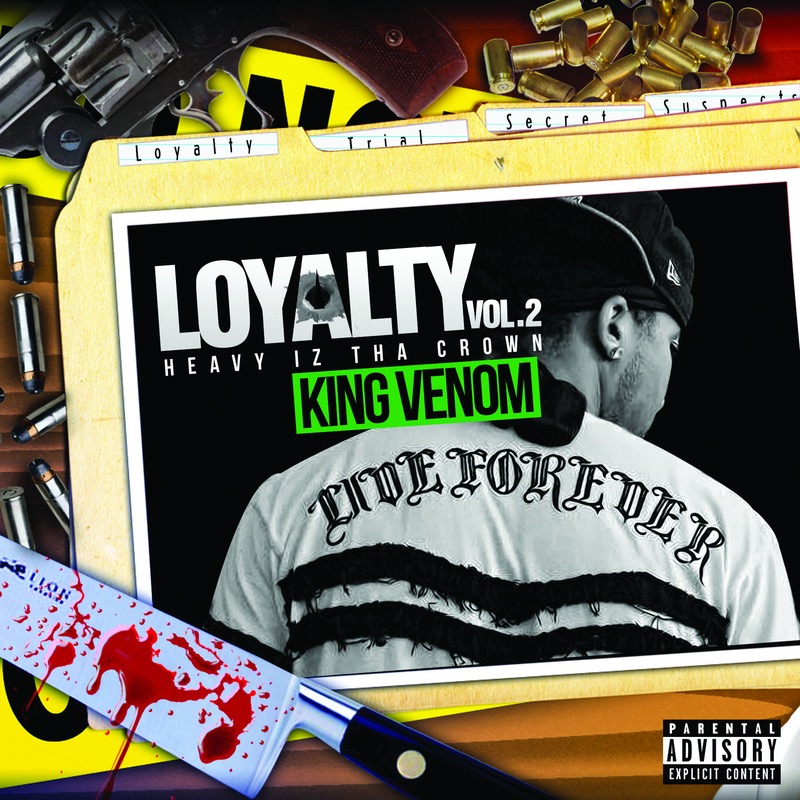 1) Talk to me about the making of your latest project – Loyalty Vol.2. What was the inspiration behind it?
The entire Loyalty series is a look inside the mind of a man charged with leadership in the streets at a young age, and choices he has to make to grow as a leader. While giving a honest representation of the good and bad outcomes, and showing honor to his bloodline by sticking to his grandfather's code: Loyalty Over Everything.
Loyalty Vol.2: Heavy Iz Tha Crown is a look into my dark origins and the chaos that forged my foundation. While touching on the mindset of what it takes to lead from the front lines both past and present.
From the traumatic death of my O.G. and big brother figure Smoke, introduction into street life, close friends deadly betrayal, both the ups and downs of love, the inner struggle of being the rock of the family without showing weakness, and the effects of bottling up my inner demons.
My art is a no filter reflection of my life. My music is meant to show the truth of what its like coming from Laurel, MS aka Baby LA, and hopefully if confronted with the same or similar situations my supporters (I don't consider my listeners as fans, but instead as supporters.
Because I feel like I went through my struggle for them and we support each other) can learn from my mistakes and triumphs. Also I hope by exposing the deepest of scars on my soul my supports know no matter how dark it gets someone understands them and is there for them.
Crafting the mixtape was the easiest part to me. Mainly because I write at least 7 songs a day, and record at least 3 a day. I try to make each mixtape have an overall story arc told in episodes. I also try to continuously switch the pace of the story as they will do for a movie script. While attempting to approach every concept as lyrical as possible, because to me an MC is nothing without bars.
2) With the music industry tanking and record sales falling, how do you envision yourself earning a living as an independent hip-hop artist?
I was just having this discussion with a few of my artist from Theta Boy Ent., and my business partner Sip from Hoodz Connect Music Group. I feel record sales is no longer the life blood of this industry. The money is in touring, doing shows, and merchandise from your brand.
As long as I stay true to my core supporters, give them that in-depth look into my life and vantage point on social issues, give every once of energy I have in my body and soul on that stage to them, remain humble, out work the competition, and continue to invest in myself no matter the obstacle my team and I will eventually have more bread than under the baker's thumb.
3) From a business point of view, which artists in the game do you think are really pushing the boundaries and changing it up?
First I must salute my fellow Mississippi Native Big K.R.I.T. Him and David Banner has shown the world that Mississippi is no longer a state to be skipped over, but instead respected. We are the home of the blues the foundation for all forms of popular music that's out right now. That being said its a certain soulfulness that come out of our music that you just don't get anywhere else.
Tech N9ne has been crushing the underground for decades now, and has shown the world you don't have to be mainstream to become one of the top 3 artist touring, and create your own label that plays by your own rules. I look up to him and the whole Strange Music camp for that. R.I.P. to Doe B he had crushed the underground and was in transition to becoming a full fledged superstar before his life was cut short.
Immortal Technique has become one of the most influential MC's provoking deep thought and consciousness as a culture. Proving you don't have to dumb down your lyrics to be accepted world wide. I truly look up to him for all he has done.
I respect artist that push the bar lyrically Kendrick Lamar, J. Cole, and Lupe Fiasco have been doing just that. By the way people are sleeping on the fact that J. Cole went platinum with NO FEATURES and no one else has done that in 25 years.
4) What business lessons have you learnt from the music industry so far?
If you are not investing into your own business and putting your own money up for your career in the long run you are stealing from yourself. Always make sure you have your paperwork in order. Never reveal your intent until its time to make your move.
First impressions can make or break a business relationship. Stay hungry because no matter what you achieve their is a new plateau to reach and their is always someone gunning for your spot. Above all remain loyal to your team and all ways show love to where you come from. Salute to all the artist from Baby LA and surrounding areas.
No movement is one man its the entire hip-hop community that supports each other that becomes the movement.
5) What do you love about hip-hop music?
My love of hip-hop comes from 2 places. The first being a form of release therapy. Due to my situations growing up I had to mature faster than others and because of that I was an extremely misunderstood adolescent.
Hip-Hop gave me an outlet for my pain, aggression, frustration, and inner thoughts that otherwise would have been bottled up and I probably would have self-destructed along time ago. Also I fell in love with the competitiveness of Hip-Hop.
I remember coming up listening to 2Pac, Bone Thugs-N-Harmony, Outkast, Eminem, Scarface, UGK, B.G., Mystikal , 8 Ball & MJG, Z-Ro, and Trae Tha Truth waiting for that yuck face moment in every song where they just slaughtered the track. Then going to a cypher spitting a style I've crafted myself and watching my peers have that same moment.
6) What still surprises you about hip-hop?
The new ways artists phrase a concept and structure their bars. Even though our culture inspires rivalry to an extent no matter where I go true Hip-Hop Heads always show love and respect when they see you're serious and passionate about your craft.
7) If you had the power to change one thing about the hip-hop industry to help independent artists – what would it be?
A lot of people are afraid of losing their so called spot to a new artist so they try to horde knowledge of the industry from each other, and try to hate on the next camp. I try to teach my artist everything I know and lead by example.
That way they are prepared to one day have their own label, film division, production company, etc. Then they can give back and change the lives of the people around them as well. Its about building a movement and staying consistent.
Unfortunately there will always be someone with the crab-n-a-bucket mentality, but they always cause their own downfall.
8) Who do you think are top 3 rappers doing it at the moment?
Big K.R.I.T., Kendrick Lamar, and J.Cole.
9) So what are your plans for the future?
First we will be releasing visuals for Loyalty Vol.2: Heavy Iz Tha Crown over the next few months. Loyalty Vol.3: Godz & Kingz will be released around the 4th quarter of this year.
1st quarter 2016 my artist RedZone Reaper will be releasing his debut mixtape Krimson Underworld, and my artists S.T.A-R and Babiii Ahk are currently in the studio developing their debut projects as well.
Other than that we are focused on doing shows along side our business partner Hoodz Connect Music Group, and the upcoming documentaries "From Nothing" & "Hottest N Tha City".