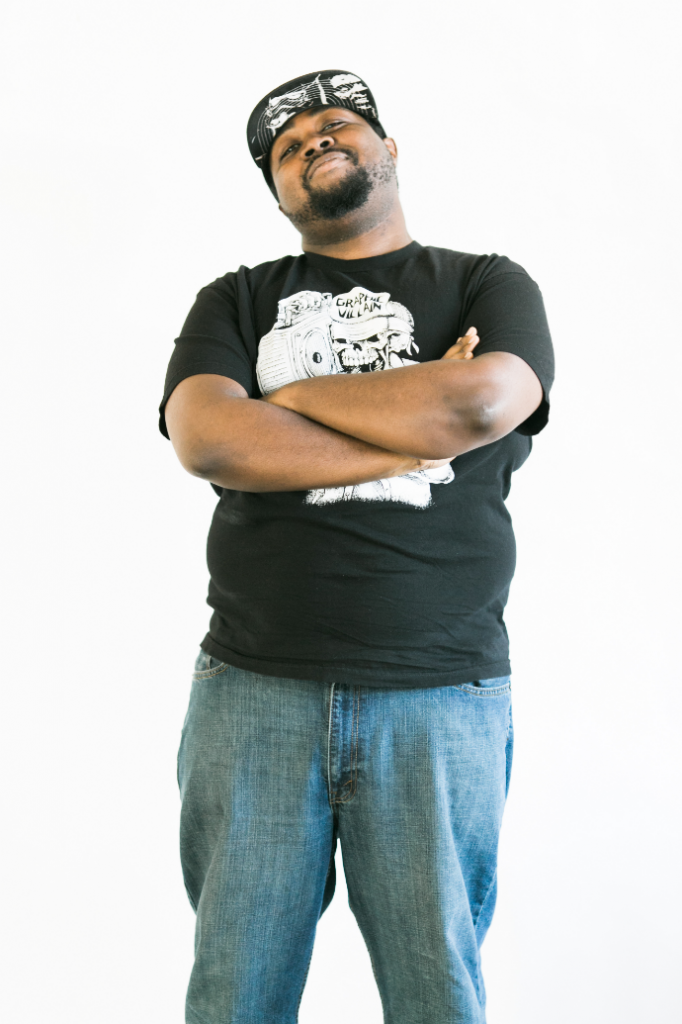 Elwin G. Williams, III is the creative force known as Darealwordsound. He is a trained bassist with more than 10 years of experience playing funk, rock, and hip-hop.
From humble beginnings in the Bay Area of Fairfield/Vacaville, Wordsound has transitioned into a producer and rapper using live instruments and samples to create funky, dynamic, memorable beats.
As a solo artist, Wordsound opened his own studio, BeatLayers Studio, in Vacaville, CA to produce and record local up and coming artists. As a true musician, his instrumental background also includes electric guitar, keyboard, and drums.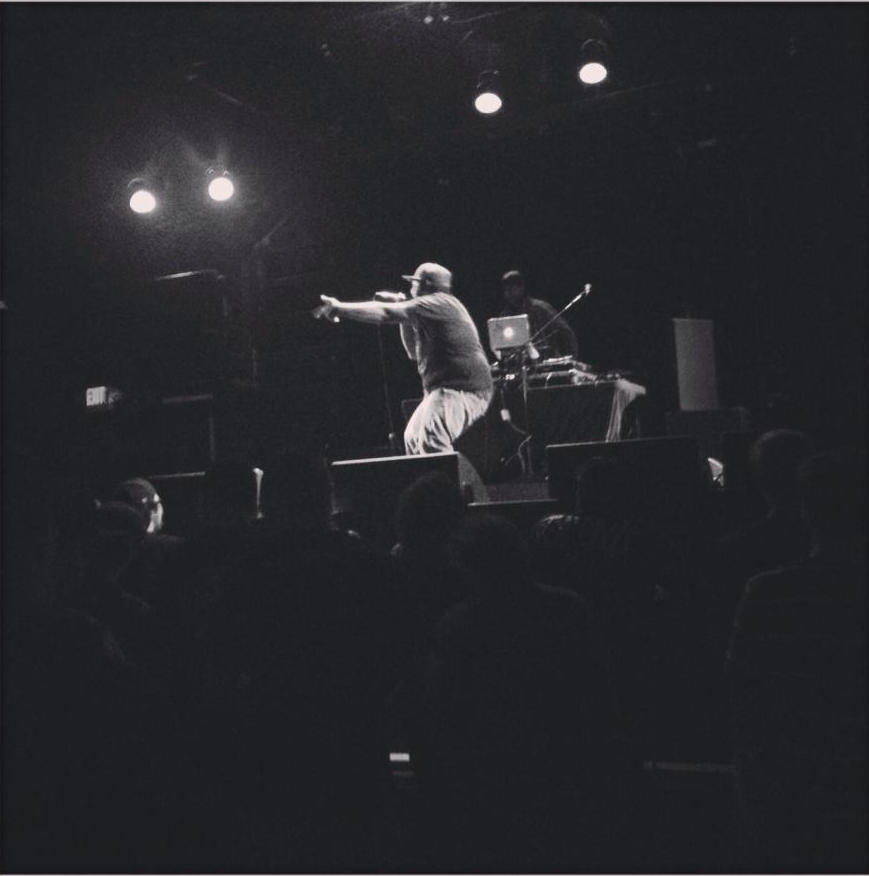 1) To kick things off, can you tell us a little about yourself and how you got into hip-hop?
I am the oldest of three kids from Fairfield/Suisun, Ca. I grew up with music – my mom was a singer and my dad used to be a college radio DJ. I remember sitting out in the garage coloring in my Teenage Mutant Ninja Turtle coloring book while my dad would play Tower Power, Con Funk Shun, War, and other funk records on his record player.
Before I got into rap, I was into rock and funk. I started playing bass at age 11. My neighbor, Jackie Rogers, would teach me right after school. I would practice for hours. The very first rap song I heard was Busta Rhymes "Woo Haa! (Gotcha You All In Check)."
I remember asking my bass teacher if it was possible to play bass to Hip Hop. He told me that you can play bass to anything. From there my love for Hip Hop grew.
My mom didn't like rap music in the house so I would sneak in Jurassic 5, Wu Tang, Pharcyde, Little Brother, Del The Funky Homosapien, Dr. Octagon, The Roots, DMX, Ice Cube, and many other CD's into the house and practice playing bass while listening to these artists.
I started writing my very first raps in High School but I wasn't really serious about it. I just did it for fun with my friends in my church youth group. My old youth pastor Greg Milk was a big Gang Star, A Tribe Called Quest and De La Soul fan so he would always play them for us on trips to different church functions.
I didn't really get serious about music until after my band, Black Lotus Order, broke up. It was a dual bass band and it was awesome! But we were young, living it up in LA, and really didn't have direction.
I moved back to Fairfield in 2010. That was the year I meet Bukue One and rekindled my love for Hip Hop and performing. Bukue One would talk to me about the industry and the art of rap with such passion that it made me want to start practicing again.
I doubted myself at first but Bukue put me through a Hip Hop boot camp and showed me the art of rap and the science behind it. Later when I started to intern for Del the Funky Homosapien, Del would sit with me and have me read a bunch of literature books as well as watch old Dolomite movies to help me with my flow.
I kept practicing and later started to learn how to produce my own music because I didn't want to have to pay for beats. So Del would also teach me how to produce. I remember when I went with him to Canada, he told me that I had to make 5 beats a day while we where on the road and write a 16 a day.
I would sit in the Van writing and nodding my head to my music the whole trip. After writing for a solid year straight, I was encouraged to start recording my own music and just go perform wherever I could.
2) What was it like growing up in the Bay Area and how do you think it influenced your sound?
Growing up in the bay differs depending upon where you are. I grew up in Fairfield/Suisun so I was right outside Vallejo. It wasn't uncommon to run into E40, Too $hort, Mac Dre (RIP), and other Bay Area artists, and even actors, who would drive through and stop in Fairifeld-Suisun.
I remember going out to Berkeley or San Francisco all the time for field trips and I always loved going to museums and taking hikes. Ever since I was young, I really enjoyed the outdoors and science. Fairfield-Suisun was a lot quieter then it is now. I remember playing outside until midnights during the summer time.
Now you have to keep your kids in doors and know where they are at all times. My city truly has changed. Growing up there was a lot of fun for me. We used to walk the railroad tracks to school and hang out in the parks.
Diversity was normal since Fairfield-Suisun is a military town. We never really had gangs up until recently. It still is new to me to hear that people are trappin in Fairfield-Suisun. Of all places, people want to be trappin there.
3) Who would you say are your top musical influences?
This is in no particular order so please do not get mad at how I list them (LOL).
Jimi Hendrix and the Band of Gypsies: The music was raw, exciting, and had soul for an all black rock back that truly was unheard of.
The song "Machine Guns" is my favorite song because you could hear the bullets rip through the blood soaked air in Vietnam when the drummer would hit the snare.
Jimi on the guitar was like hearing the death curling screams of the soldiers dying for a war we had no business being apart of. And the bass player just carried the whole song with such a steady groove.
The Roots: To hear an all-black Hip Hop Band is what blew me away. Not only did they have one of my favorite emcees to this date (Black Thought) but that bass player, Leonard Hubbard and QuestLove on drums.
Man…I am a huge Roots fan. When I found their very first CD, Organix, I played it for a month straight. The Roots to me are the best example of how live music gives you an extra element to song writing within Hip Hop.
Del the Funky Homosapien: What struck me the most when I first heard Del was just how versatile he really is as an artist. To learn how he pioneered "Nerdcore" music with his song "Proto Culture" and how I would always find a Del track on 'Tony Hawk" really showed me that Hip Hop doesn't have to always be about gang banging, sex, and drugs.
He showed that you can have fun with Hip Hop. My favorite song by him to this day is "Press Rewind" He just went HAM on the track and is punch lines are hilarious.
Busta Rhymes: This guy is one of the most prolific rappers ever. He introduced the "Boom" to Hip Hop that to this day not many emcees can match. Even his music videos were on a whole different level.
Busta is one guy who makes me work hard on my lyrics whenever I hear him drop a new song. Seriously, there is nothing he cannot do. The guy is a lyrical monster!
J.Dilla: These two producers inspire me hardcore when it comes to making my own music. J.Dilla was such a lax intuitive producer that he never was big on making the track flash but just in the pocket.
This would force the artist to have to write and perform at their best when working with him. That is something I try to do with myself when I am producing for other artists.
Timbaland: This guy has no limits when it comes to creating a new sound for any artist. From Missy Elliot, Justin Timberlake, Nelly Furtado, One Republic, to even Jay-Z, this guy hears music in an amazing tribal abstract way that makes you stop and focus on his music. Then you will play back again to try and listen to what instruments he used when he made the track. I hope to one day sit with him and learn.
Incubus and Rage Against the Machine: These two bands are my favorite rock bands. Whenever I hear them I just get inspired to make music or go start a riot. From their creative chord progressions to lyrics, they truly inspire me as an artist to always write and record with passion.
4) What is your process when making music? Do you have a set routine or does it vary track by track?
Step 1) Watch some anime or cartoons. Right now I just finished Tokyo Ghoul and Hunter x Hunter. This inspires my creativity when it comes to writing lyrics as well as producing tracks.
Step 2) Drink a smoothie or slurpee. I just like to drink those when I am working on music. Lol.
Step 3) Have fun. I always remind myself to have fun when I am recording.
5) What was it like touring with Del the Funky Homosapien?
Man, it was truly something else. Del is one of the most creative, intelligent, inspiring artists that I have had the privilege to work for. Del is a very nice person but also very passionate about music.
I remember having a late night debate with him about Melody vs Rhythm. It ended with Del telling me that rhythm can exist without melody and I was left speechless. It was never a dull moment hanging around Del.
6) In addition to making music, you also host a podcast called #MYLANE. How do you manage to find time to do everything?
Time management. I learned that your favorite artists never have idle hands. Season 2 will be coming back soon. Right now I am working with my team on making it better and more engaging.
I created #MYLANE for my friends and me to be able to showcase new material. For it to grow into a hub to help new local artists to showcase their music is something amazing.
7) As an independent artist, what are you doing to differentiate and market yourself in an increasingly over saturated music landscape?
Simple, I am being me! I like being me and I like my music. This is not arrogance, this is me loving and appreciating who I am. Everyone is copying the next person by trying to looking like them, sounding like them, and even trying to use the same exact cadence.
I remember when copying someone used to be made fun of. Now it's normal and acceptable to bite someone else's style. Being original is a lost art and that is why people like my music.
I appreciate a lot of artists and I am even friends with some of them, but I have no plans of trying to sound like be like anyone else. Another thing that sets me apart from a lot of artist is that I enjoy talking to my fans. My favorite artists are ones who take the time to talk to their fans, take photos with them, and even chat with them on Facebook from time to time.
Hip Hop, I feel, has lost that connection with the people. This is why you can always find me after a show hanging out with my current and new fans. I do not smoke but I will have a coke with you and talk about Assassins Creed or Marvel Comics.
Also, if you ever leave a comment on my social media pages I will respond. I do not respond to negativity and I will block you if you're being foul but for the most part I am always reachable and down to talk with anyone.
8) Which 3 rappers would replace in these lyrics: "Argue all day about who's the best MCs, Biggie, Jay-Z or Nas?"
Oh man that is a hard one but honestly, and this is no disrespect at all to Biggie, Jay-Z, or Nas, but the 3 rappers I have to give it to when it comes to bars, creativity, storytelling, and imagery, are Tupac, Eminem, and Del the Funky Homosapien. Seriously those three are on a whole different level and I never get tired of hearing their music.
Check out Darealwordsound www.darealwordsound.com and download his mixtape #OtakuTour on DatPiff.