A dream does not remain a dream for long when you wake up every day with the motivation to achieve it.
Aspiring rapper Handles from the Eastern Shore, VA, brings new meanings to the word "hunger"; consistently displaying his drive to fulfill his appetite for artistic success.
After his 2013 mixtape release titled 'Done Thinking' hosted by DJ Suss-One, Handles was able to live and grow more musically over the years while perfecting his craft and building his fanbase.
That, along with his dedication to the culture helped gain recognition and cosign approvals on the road from many artists major and independent such as: Skyzoo, Talib Kweli, Rapsody, Grand Puba, MadSkillz, and Estelle to name a few.
Handles has also opened for artists such as Beanie Sigel, Joe Budden, EPMD, Cassidy, Keith Murray, Joell Ortiz, Crooked I, Biz Markie, Cappadonna, Vince Staples, Ginuwine and more.
1) Growing up on the Eastern Shore in VA, who were some of your early influences and inspirations?
Some of my influences were my mother, close family and friends in general. As far as inspiration, I would say life in general but outside of that, artists like Jay-Z, Nas, J.Cole and Kendrick Lamar to name a few.
2) Do you remember the moment you decided to become a rapper?
Back in high school when my friends and I had this cypher at a football game. When it was my turn to rap, I had recited a 16 that I had written at home before the game and everyone was feeling it.
I was always passionate about music but once I got that reaction from my friends, I figure that I could give it a shot and started to take it more serious.
3) You recently dropped your latest album 809060 which features Skyzoo, Kori Nicole and more. What was the creation process like?
The creating process was fun yet difficult at times but I loved every minute of it.
Most of the time I tend to start by listening to beats first and once a production catches my ear, I begin to think if I could imagine another artist on it whether another rapper or singer or if I feel that I should be the only artist on it, depending on the direction I was trying to go with it.
All of the artists that are featured on the album definitely knocked it out of the park and help bring the vision out even more so shoutout to everyone that played a part in it: Skyzoo, Kori Nicole, Rone, Charlie Rae, Gabriela Tristan, Kajmir Royale, Ce'Neda, Sanura and Sativa.
4) What are you trying to achieve with 809060?
With 809060, I wanted to put out a well put together project from start to finish for my supporters and do it my way.
The positive responses that I'm receiving are very strong and hopefully I'm able to book a lot of shows and hit the road again this year.
5) What are your thoughts on staying independent or signing to a major label?
Independent would be the best route as of now but I'm not completely against a major label neither.
If the deal is in my favor and I'm able to make it happen my way then I might consider it but independence is definitely a better way to go if you're able to pop on your own.
Although the grind is a little longer and much harder but the reward is way better in my opinion.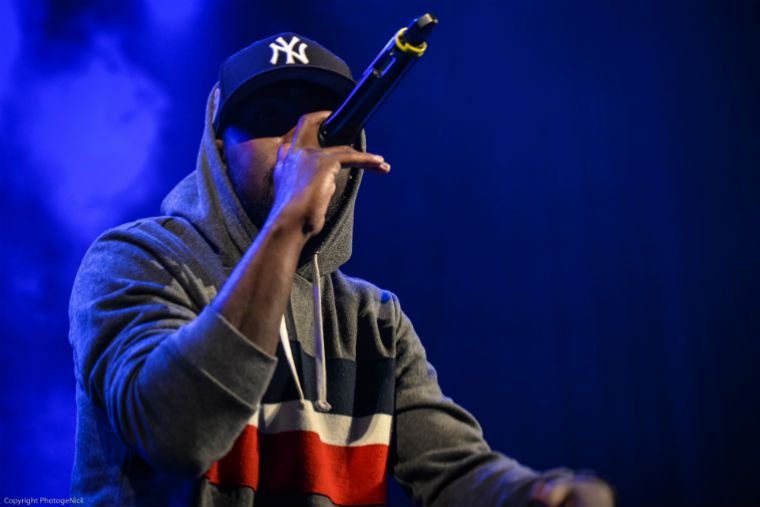 6) How do you feel about the independent hip-hop industry right now?
I think indie is growing stronger each day and artists are starting to smarten up more business-wise. I'm happy to see the direction that it's going so we'll see how things will be in 5-10 years.
7) As someone who has opened up for artists like Skyzoo, Talib Kweli, Joe Budden, Vince Staples and many more, what are your tips for other independent artists who want to become an opening act?
My advice is to put on your best performance each time you hit that stage and make sure that your presence is felt because word travels fast.
If you stay persistent and continue to put on a great show, it'll be noticed and more opportunities will come your way. So focus on your stage presence, kill the stage each time you touch it and build relationships from networking.
8) What do you think is the most important thing to become successful as an independent artist?
Most important thing I would say is ownership. Having the commitment to take the steps you need in protecting your creation is clearly one of the best investments you will ever make. That alone is more important than most think.
9) What artists in the game today do you look at for inspiration?
For inspiration today, I look at artists like: Kendrick Lamar, Jay-Z, Joe Budden, Skyzoo, and Rapsody to name a few.
10) Last question: who are your top 5 rappers dead or alive?
Definitely a tough one. No particular order but I would say right now my top 5 would be: Jay-Z, Rakim, Nas, BIG, and it's hard to decide between Fab and Jadakiss. Top 5 will always be a tough question.