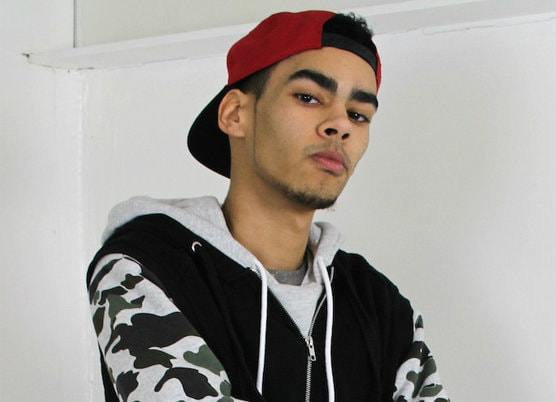 Omar Get Em is CEO of TLMG and is bringing his A game in 2016. With rumors about a mixtape, Omar and The Troopahs are looking forward to dropping more music this year.
1) Tell us a little about yourself and your background.
My name is Omar Get Em and I am a rapper, producer and graphic designer from Northern Virginia. I've been rapping for about 5 years and producing for 3.
2) Who were some of your musical influences coming up?
Growing up my musical influences were artist like Kid Cudi, Kanye West, Lil Wayne and Biggie.
3) How would you describe yourself as an artist? Has your style changed much over the years?
When I originally started writing and recording my style mostly revolved around classic hip hop Boom Bap beats with raw lyricism. Over the years I started to incorporate singing and a complex flow mixed with hard hitting trap production.
4) What's your process like for making music? Do you have a set routine or does it vary track by track?
I'm a stoner, so the process of every song I produce and write mostly consist of smoking large quantities of ganja and kicking back with my squad at the studio.
5) Can you run me through the making of your latest project? Where were the studio vibes like?
In the studio, me and my team "The Troopahs", work hard to achieve a high quality sound in a chill environment. We don't like having mad niggas in the studio while working, we take our work seriously.
6) What sort of independent hip-hop promotion and marketing are you doing to differentiate yourself from other artists?
My team works closely with experienced industry A&R's, local hip hop blogs and world wide internet promotion. TLMG is a growing movement and with me being CEO, I take pride in promoting our artist and spreading the positive vibes in our music.
7) What are you thoughts on the current state of hip-hop music today?
Hip Hop is continuously growing and evolving which is great, but simultaneously becoming infested with a massive amount of meaningless rappers, inexperienced connoisseurs and industry sharks only in it for the money. This is very frustrating for an independent hip hop artist coming up in this day and age.
8) What music are you listening to these days? Anyone in hip-hop really blowing your mind?
Shout out to Tory Lanez and Bryson Tiller. These niggas are changing the game.
https://soundcloud.com/omar-get-em/relax-ft-b-phantom?in=omar-get-em/sets/the-growth-ep
9) If you could work with any artist you wanted, what would be your dream collaboration?
I think PartyNextDoor, Hit boy and I could cook up something dope in the studio.
10) What has been the best moment in your music career so far?
Everyday is a blessing, I cant say any particular moment in my career has been the best. However, I will say being able to make the music I want, with the people I care about and at the same time getting a paycheck is the best thing I could have ever asked for.
11) So what's next for you?
As CEO of TLMG I have a lot planned for my team. From our own radio station, to recruiting more artist, strengthening our online presence, releasing a mixtape and dropping a music video. Let's just say in 2016 we're doing big things.