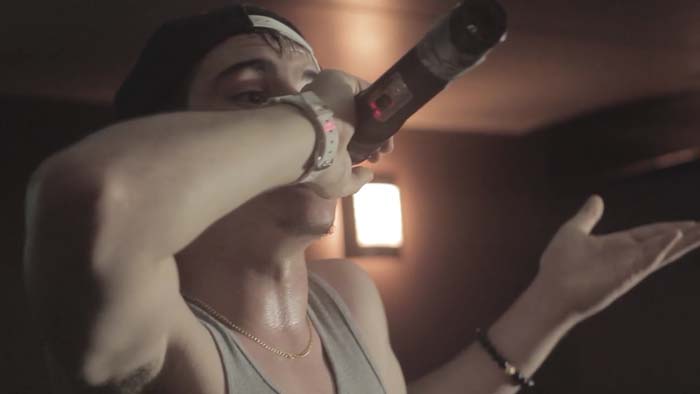 21-year old Chicago rapper Milli is in the thick of the independent grind right now. Hailing from the same city as leading independent rapper Chance The Rapper Milli is determined to make it on his own with no major label input.
From learning how to audio engineer, edit videos, graphic design to music market and setting up his own independent record label, Thin Air Music, Milli is embracing the independent grind 100% right now.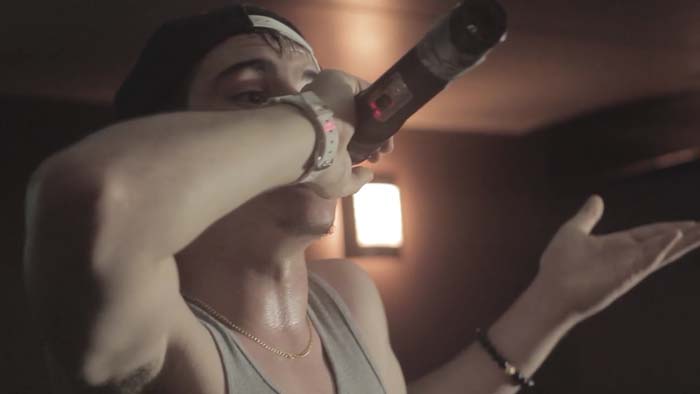 1) Growing up in Chicago, what inspired you to be a part of the music industry?
I actually grew up in the suburbs of chicago, but I spent a lot of time with Rob C & the homies with GMC over on the westside of the city during the first few years of my rap career. They basically took me in and showed me how they did things after my first show with Thin Air at the time.
A lot of people think that if you grow up in the suburbs, you can't be about what you rap about. But even though I grew up in the suburbs, I didn't stay in the suburbs.
You could find me everywhere in the city and the burbs making moves and hustling to make money any way I could. If you wanna validate my music, all you have to do is look up my arrest record.
Having one isn't something to brag about, but as a white rapper in Chicago, it's the only proof I have that I'm not just "another wannabe whiteboy from the suburbs" because unlike most rappers, I don't like to advertise the moves I'm making on social media while I'm making them. That's a quick way to end up in a jail cell, and I'm never going back there as fat as I'm concerned.
However, as far as Chicago artists who've inspired me, I saw Chief Keef, King Louie, Chance, Vic Mensa, and Famous Dex all come up from the very bottom to where they all are now by grinding and putting they're all into their music.
That inspires me in itself, so even if I don't like some of the songs they put out, I still have mad respect for them, because they got it out the mud and I respect the hustle.
To conclude, with all the musical potential this city really has, Chicago needs to be more focused on linking up to make the best music, not hating on fellow Chicagoans' success and trying to start beef at every chance possible just to get some clout.
2) Talk to me about the making of your latest project – The Main Attraction.
All of the mixtapes that I put out, I consider milestones. I can listen back to any of my projects and know exactly what place and mindset I was in at that point in my life while I was working on it.
That's one of my favorite things about this. Seeing my growth and remembering what I put into that particular step to make it happen. The Main Attraction is my most recent mixtape/milestone. It's also the project that I've gotten the most recognition/plays/downloads from so far.
TMA is more of an album to me because it's not all about turn up music, there's some very real shit on there that you normally wouldn't see from me. It's a project that I really tried to make for everyone.
I wanted it to have a lot of different vibes and styles so that everyone who listens can find at least 1 song they really rock with and need to hear again, even if they don't necessarily enjoy the rap/hiphop genre.
3) What was the process behind making the project?
The Main Attraction is the third part of a trilogy I started with my first studio quality EP: The Introduction. Then followed by my second: The Intermission. And then The Main Attraction, being my first studio quality full length mixtape.
TMA is the most special to me though, because I held onto songs that were created throughout the recording process of all 3 mixtapes. There were certain tracks, even one from 3-4 years before I dropped the tape, that I just felt were meant to be held on to.
I record/mix/master all of my own music, so it was basically just years of hard work and lots of heart and soul that put these 3 projects together. Then after I selected the final songs and tracklist for the tape, I sent them over to DJ Smallz and he added in the drops and a few other finishing touches.
4) How did you link up with DJ Smallz to host the project?
I decided I wanted The Main Attraction to be big, so I started contacting all of the djs who I saw as possible hosts for the tape. DJ Smallz seemed like the best fit so I shot him an email. We talked a little business about his hosting and my tape, then we locked it in and made it happen.
5) You're also the founder of independent hip-hop record label Thin Air Music. What made you want to launch your own label?
I've had my own label since the day I made my first song because I saw how successful and profitable being an independent artist can really be.
I watched Mac Miller since The High Life and Wiz since B.A.R. and from there I decided I wanted to take the independent route as opposed to chasing down a record deal.
Also, I know that my Thin Air Music artists all have the potential to make it so I wanna come up and stay up with my fellow artists who I chose, and who I love working with. S/o to TJ Hookz, Ayoo Montana, Azzmatik, SHi KYD, & Young Slyce.
6) What are your thoughts on the independent rap game right now?
There are too many artists in the independent rap game who are trying to be another artist who's already famous. Everyone (not only in the music industry, but in this world) needs to stop trying to be someone/something they're not, and just be happy with being themselves.
Be real and people will automatically respect it, even if you're a fuckin weirdo. Now if we're talking about the independent artists on the rise right now, I salute you, and I hope you stay independent and make all the money you can make in this industry.
And for those who are signed to major labels but for some reason continue to call themselves independent artists, why? I'd really like to know.
7) Do you enjoy grinding it out independently or would you prefer to be signed to a major label?
I love the independent grind because it's made me more intelligent and music industry savvy. It's helped me develop engineering, video editing, graphic design, promoting, marketing and so many other skills that I'm so blessed to have.
And I'm still learning more everyday from this business. I've worked too hard to this point. I'm not going to let a major label try to harvest all the work I've put in and try to take the money that I deserve.
8) As an indie artist, how do you brand yourself and your music to stand out from the rest of the artists out there?
I brand myself by wearing my custom TA snapback everywhere I go, (The Thin Air Music apparel and website will be launching sometime this year) and by having our logo in every artists' cover art who's on the label. Plus you're always gonna hear us reppin on our tracks!
9) How do you currently make a living as an independent hip-hop artist? What sort of income streams do you have?
I support myself, my girlfriend, and my daughter so I need to grind hard to have money on top of rent and living costs, for promotion, studio upgrades, etc.
I have music based income streams coming from other artists booking studio time with me, purchasing covers, and promoting their music. I've also made some money from the various shows I've done and streams/song sales I've collected, but I wait tables 5 days a week to make the money I need to be as comfortable as I like to be.
And I'm actually pretty good at it. If you can walk away with 300$ from a night of waiting tables, I don't think that's something you should have to hide as an up and coming independent artist.