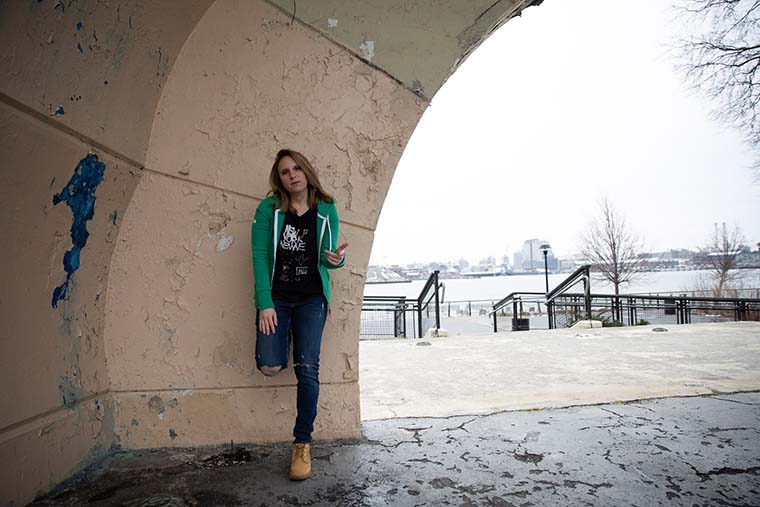 Lex Rush, a Queens native, is a champion of multiple freestyle/battle events, including Freestyle Mondays and Supreme BARS – Village Voice dubbed her the "first lady of freestyle rap."
she released the EPs 'Really Every Day' and 'Unbridled Enthusiasm' ("Joey Bada$$ meets MC Lyte meets a bit of a feminism andanti-bullshit-government for good measure" says Speed on the Beat) in 2015 and 2014, respectively.
She has also freestyled on the new incarnation ofMTV's TRL.
1) What inspired you to be a part of the music industry?
It wasn't so much the music industry — I'm more inspired by hip-hop music and culture.
This is the music I grew up listening to as a kid in Queens, NY, I started rapping in middle school and making connections and friends within NYC's hip-hop community in high school. It's a music and culture I've loved and respected for years.
2) Talk to me about the making of your latest project. What was the inspiration behind it?
My new EP drops in March and it's called Lex and the City. Basically all about being a 20 something to 30 something coming up in New York City, seeing the city change and the hustle and struggle.
The topics I'm rapping about are everything from gentrification to dating to jobs to making music. Sometimes serious, sometimes fun, but in the end I wanted to make really catchy and contemporary hip-hop, but still with a New York style and flow.
3) What was the process behind making the project?
Flames Emoji is made all the beats. He is awesome, has won a ton of beat battles and can make any style of beat.
So I worked with him to source a variety of styles and vibes, then started writing from there and reaching out to people I wanted to collaborate with. I'm super stoked about the other artists on the EP.
There's Jess Jamez, who is a beast, plus Chenzira and Meditate are two singers I enjoyed working with that provided great melodies to certain tracks.
4) What are your thoughts on the independent music industry at the moment?
Crowded and saturated but in a way that's good because it gives listeners a lot of options.
5) Do you enjoy grinding it out independently or would you prefer to be signed to a major label?
There's pros and cons in both for sure, but right now still interested in seeing how far I can take the independent grind.
6) What do you think goes into building a loyal fanbase?
Tons of self-marketing, going HAM on social media and showing up everywhere, even if it's not your show. Just show love, be out and about, and constant content. It really is a grind.
7) What sort of online promo and marketing are you doing to reach your fanbase?
The usual but I'm trying to constantly learn and evolve everyday to come up with new ways to promote and really connect with people that feels organic and not forced.
8) As an indie artist, how do you brand yourself and your music to stand out from the rest of the artists out there?
Trying to make tracks that are catchy yet still lyrical, and addressing super specific topics that a lot of people can relate too, often in a somewhat humorous way.
For instance, Lex and the City has a track all about online dating, another track about side hustles to pay the rent, and in the past I've made songs about subway delays and drinking beer-shot combos at dive bars.
9) How do you currently make a living as an independent artist? What sort of income streams do you have?
It is tough as hell to make a good living as an indie artist and I'm not there yet. Still have a day job but trying to make as much music as possible for as long as I can.