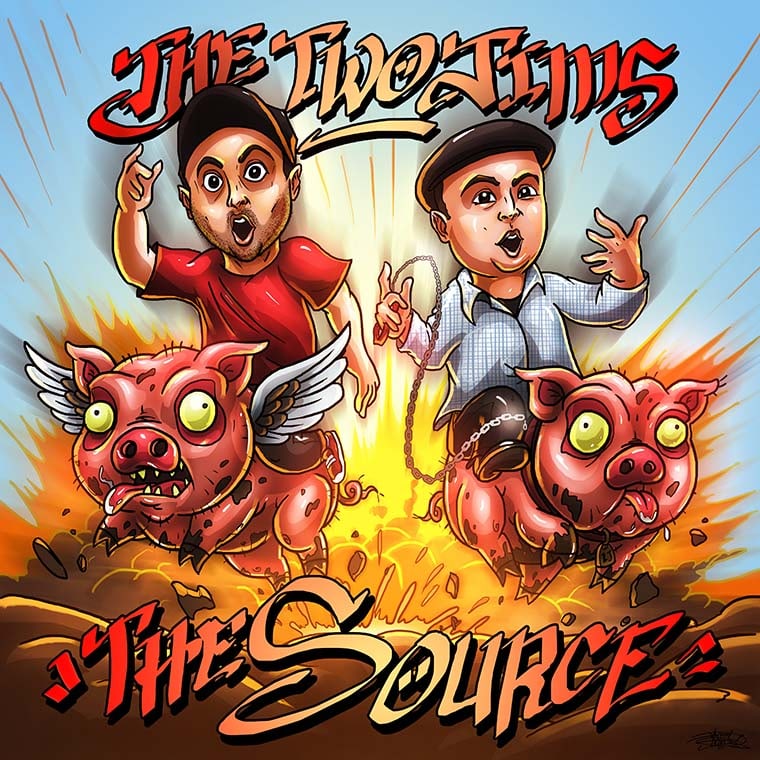 Old Man Stones (Jimmy Stone) got tangled in stems and stimulants at a young age to find his solace in rummaging through records and refining instrumentals. He found inspiration in the New Zealand rap scene and used it as a platform to find his individual rap style.
You will often find him in the booth wearing a native warrior outfit, hollering extremities. He resists a streamlined flow and aims to perplex. Jimmy Loops, 6-foot-tall at 16, grew up playing the tricks of Jedi Mind.
He started rhyming young, mixing it up with basketball and heroin. A dope shooter chasing hoops, he became known as Jimmy Loops for finding the loopholes in life. His style is raw but he doesn't take himself too seriously.
Jimmy Loops is a true linguist who loses himself in every syllable. Coming together in 2010 the duo connect like its Tetris. They complement each other like a paradox does meaning. Raw, senseless but with true talent, this is The Two Jims.
1) Tell us a little about yourself and your background.  
JL: I have had a love for hip hop but my drugs would take priority in a constant internal battle, my journey is from this place to where I am today which is 7 year drug free and 7 year deep in the making of my music.
JS: I spent many moons in search for the perfect sample to make the next classic beat. Sampling any thing from videos to earthworms. This is how I spent most my youth in the two car garage, just me tangled in all my equipment.
2) Who were some of your musical influences coming up?
Jedi Mind Tricks
Wu Tang
Louie Knuckles
Rhyme Asylum
Cypress Hill
3) How would you describe yourself as an artist? Has your style changed much over the years?
JL: Ive got so many different styles, playing with the structure of a verse in the editing process, but im really into concepts and love things raw and gritty.
JS: Hey Hey! I like to use my voice to add emphasis to words. This style has just gotten adjusted over time to sit snug in the tracks.
4) What's your process like for making music? Do you have a set routine or does it vary track by track?
JL: It can start from a beat, a concept, or a feeling. I have no set routine as I feel that would be limiting my abilities.
JS: Starts with a beat man, searching and digging for samples in the two car garage, and then what ever comes from that is where its at.
5) Can you run me through the making of your latest project? Where were the studio vibes like? 
JL: Everyday I would go to the two car garage as soon as I would wake up, being completely obsessive about our new project with attention to detail, fine tuning, brain frying but a lot of laughs.
JS: Chai tea, mugwort, chakra alignment, in the fifth element of the fourth dimension.
6) What sort of independent hip-hop promotion and marketing are you doing to differentiate yourself from other artists?
JL: We bring some fresh clips and keep up the momentum in the scene with live shows and word of mouth. Our artwork is unique too.
JS: Send USBs via homing pigeons to record labels executive pigeon hole, also transmitting frequencies telekinetically through the pineal.
7)    What are your thoughts on the current state of hip-hop music today?
JL: Theres so many different styles of hip hop out there that it can be so hard to judge as a whole genre.
JS: I seem to be suck in a loop of the same artist from the early 2000s, constantly listening to the same tracks on over and over.
8)    What music are you listening to these days? Anyone in hip-hop really blowing your mind?
JL: I got instrumentals filling a 16 gig USB for the car, full of head nodding beats. 2 Deep, Hala X and Life and Death.
JS: its confidential.
9) If you could work with any artist you wanted, what would be your dream collaboration?
JL: Vinnie Paz on a track based around a meaningful subject.
JS:Tyson Tyler
10) What has been the best moment in your music career so far?
JL: The creative process and opening for Necro in Melbourne was dope.
JS: The collabs – I love working with different artists. Oh and throwing vegetables into the crowd at live shows.
11) So what's next for you?
JL: Next for me is finishing my 3rd solo album witch take a different path then my usual street, gritty and or aggressive style, its focus is around my story from heavy drug use to recovery and everything in between.
JS: The fifth dimension and beyond.