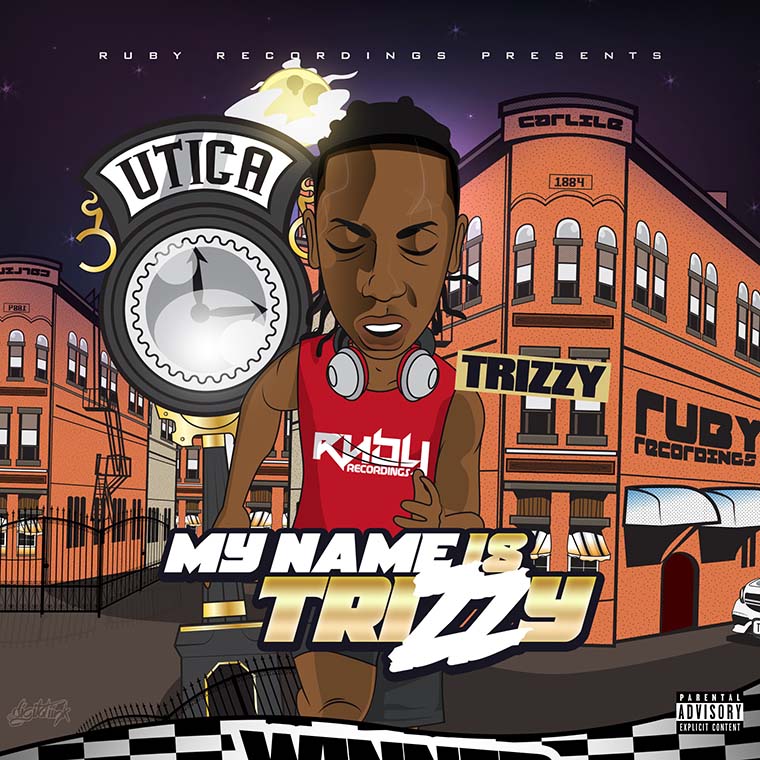 Artist bio: Utica, New York-based rapper/producer Travon Howard (aka Trizzy) played a central role in popularizing the wave of type beats — particularly in his home city — that began in the late-2000s.
Toward the mid-2010s, public attention grew toward producers, with names such as CashMoneyAp, BeatPlug, and Taz Tayler becoming stars in their own right; Trizzy was no different, gradually moving further into the spotlight.
As his presence grew on the New York scene, he recorded a single with John Boy, the Trizzy-produced "Pop That," which also featured Isa Blaque amassed over quarter-million streams. in 2015, After some supplemental tapes and the establishment of his own label, Ruby Recordings, Howard released his debut album, Winners Never Quit, in 2016.
In 2018, he appeared on the Dave Mac song "My Way," later issuing his own single, "I Won." The single appears on his debut full-length, My Name Is Trizzy, which arrives in June 2018.
1) Talk to me about the making of your latest project -My Name Is Trizzy?
People know me as Trizzy Beats cause that's how I made my way into the music industry, making beats and posting them on YouTube. Only my family and close friends knew I could rap, I never showed that part of me to outsiders.
I released my first album Winners Never Quit in 2016 then I pulled it down from streaming platforms few months after because I felt I needed to focus on developing my skills as a rapper/business person to make my brand unmatched in this industry.
As I'm doing this, I see theirs random people pretending to be me by naming their self Trizzy, and releasing their music on ITunes and YouTube gaining a hundred thousand or more views, some people got over a million views on their videos and the funny thing about it is, it's not just one person, it's multiple people who are doing this, and it just had me thinking like what is going on here, am I bugging?
So to stop all the confusion going on I'm just going to address the situation and make people aware of the fraudulent activity's that's happening, on the internet. It's getting hard for me to grow as an artist because it's so many Trizzy's, I'm letting my old fans and possibly new fans know who I am, letting them know who's the real Trizzy and who's impersonating.
If they are not affiliated with Ruby Recordings then they are fake.
2) What was the motivation behind taking the music off streaming platforms like Spotify?
Their was so many people on Spotify putting their music under Trizzy and my page was verified, so no matter what, people will believe that it was my music and that can ruin my brand. Spotify created and verified me a new profile and unverified the old page. So for now on, all of MY music will be on a verified page and all the fakes will be on a unverified page.
3) From a business point of view, which artists in the game do you think are really pushing the boundaries and changing it up?
I would honestly say Drake, Chief Keef, Tekashi 6ix 9ine, A Boogie, Rich The Kid and most definitely my guy 50. Their rise to success is something that we rarely see.
It's unbelievable what you can do when you believe in yourself. All of them shocked the world in ways that's unimaginable, and that's what I love about those artists. Big ups to them
4) What business lessons have you learnt from the music industry so far?
Wow, that's a great question bro, haha.. you gon have to listen to the album for that one.
No song I ever created, was made up. I lived threw each and every song on this album. I tell you my business lessons, my life lessons, and my love lessons. I don't make music to be cool, I make music because it's really me, always have been since a kid.
People don't listen to nothing I say, cause "I think I know everything", but at the same time they think they know everything. I just express myself threw my music because you can't ignore or interrupt a song unless you turn it off and you can't do that if you don't have control of the music that's playing.
I give hope, knowledge, motivation and inspiration in my music. If you can't relate, vibe and feel my music, I will refund you your money back, real talk.
5) What do you love about hip-hop music?
I love that it's always changing, if you look at other genres, nothing changes. All the music sound the same, just a different artist performing. With hip hop, we have many different sounds, many different ways to create something that's never been created before.
No other genre is like hip hop. Look at what it has evolved from, then look at what it is now. Hip hop has many different energy's it brings to a person life. Every Other genre, have the same similar sound, and you already know what's about to happen next.
But don't get me wrong, those genres are dope, but they don't have nothing on hip hop, I'm sorry lol Hip Hop runs the world rather they wanna acknowledge it or not. That's how I feel.
6) What still surprises you about hip-hop?
What surprises me is that the older generation who have been doing this for a very long time but lost their spark don't wanna see the younger generation shine. Since hip hop started, it was always being judged as in what's hip hop.
"This wasn't hip hop back in my days" I just feel like who cares about back in the days, let's focus on right now.
The music industry is controlled by the older generation but the music that they made back in the day is not what's selling now. The younger generation is what's selling these days. So let us live. Why can't we be great like you once was. Why can't we get the same respect you wanted the OGs to give you when you was the younger generation. Just let us do us like you did you.
7) If you had the power to change one thing about the hip-hop industry to help independent artists – what would it be?
Everything an independent artist needs to help their self is right there in their face, they just have to research and put the footwork in. A lot of these artists are lazy, they want somebody to put in all the work for them while they sit back and reap all the awards, achievements and bragging rights.
I've delt with artists like this for a long time, and I'm just over it, if I see you not going hard for your career then I'm not either. I'm more then just a producer, rapper or CEO, I'm a leader, and I want everyone around me to be the same way.
Don't follow my footsteps, or anyone else's, create your own. What Someone else do for their career may not be good for your career.
The reason I say that is to say this, I was givin no help at all, everything I've accomplished was on my own, didn't nobody want to help me grow, nobody invested in me, nobody was managing me, nobody was doing anything for me but me and I still accomplished to open up doors that people I wanted help from probably couldn't open on their own. My advice to help independent artists would be to open your own doors!
Create your own opportunities, and don't be an opportunist. People cannot take opportunities from you that you have established on your own. You get all the credit for that and reap all the awards and bragging rights.
Nobody can take that from you. Whether or not you last in this industry or fade off in 2 years, you still made it that far. Artists gotta stop looking for people to hold their hands and walk them to the door to blow up and make millions and think the person who gave them the opportunity suppose to make nothing. If that's the case bring yourself to the door.
If you can't build connections as an artist by having opportunity's then it's your fault. Use anybody's platform even if you have to pay. Take risks. Stop being scared to invest. use it to your advantage. You ain't gotta be chosen to be a winner. Make yourself a winner
8) Who do you think are top 3 rappers doing it at the moment?
The top 3 rappers doing it at the moment to me are Drake of course, Lil Pump and 6ix 9ine, these artists are doing unbelievable things and I love that, because that makes me go harder and put my all into this.
I'm a very competitive person when it comes to this music so they better keep it coming cause once I reach the level that they are at now, I promise you, I'm taking somebody's spot haha.
9) So what are your plans for the future?
My plans for the future is to provide a platform to aspiring artists to grow organically, in an atmosphere that is equipped with the latest technology and resources. At Ruby, our mission is to enable and boost artists' careers.
We offer distribution deals and management services. We will develop their brand, forge partnerships, and cultivate successful careers for our artists. So it's a win win for both parties.