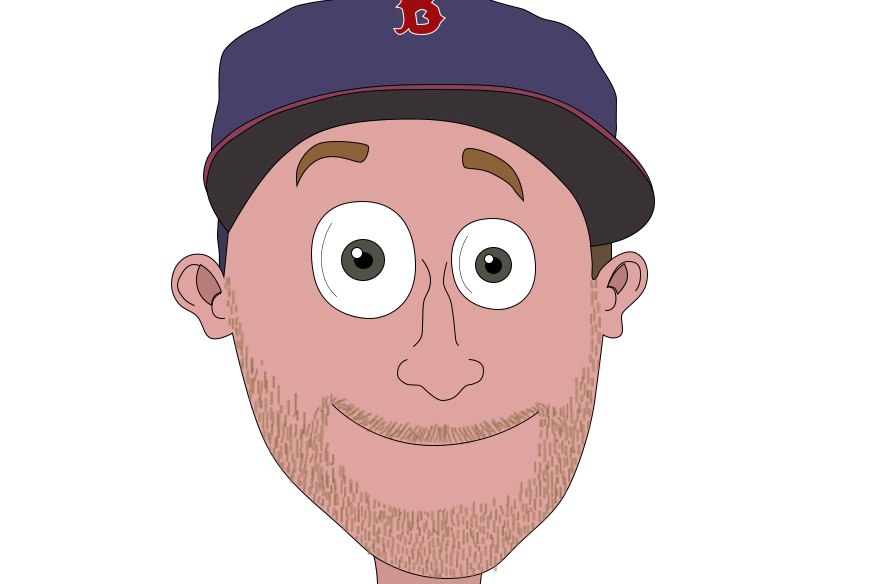 The Kid is a producer and musician from Billerica, Ma, located about 25 minutes north of Boston. He currently lives in Medford, Ma. He started creating beats with a toy keyboard, electronic drum set and a Boss BR-52 4 Track Recorder that his dad randomly brought home one day back when he was in Middle School.
After forming and concentrating on his rock band Pineapple Jam after college, he still felt the urge to create more hip hop, soul, r&b style music and in 2016 he starting really concentrating on creating beats for solo work.
The Kid has currently released the 18-track album self-titled The Kid on all streaming services and is working on 4+ more albums including the feature heavy album The Kid And Friends. He plans on releasing this album and more albums/music later this year.
The Kid creates all the beats, lyrics, and artwork for his projects and hopes to one day make a living making music.
1) Talk to me about the making of your latest project – The Kid. What was the inspiration behind it?
The inspiration behind The Kid was really just trying to create the best music I could create that was real and that I personally loved. If I put my emotions into it and loved it, hopefully other people would too.
I made it with Ableton Live 9, Native Instruments, a Roland FA-06 keyboard, and a Korg Synthesizer. It was heavily inspired by 808's And Heartbreak, My Beautiful Dark Twisted Fantasy and Man on The Moon for the beats along with a blend of Justin Timberlake, John Legend, Drake, Rihanna, Travis Scott, Young Thug singing and melodies.
I also love the harmonies of The Beatles and The Beach Boys so I tried to incorporate a lot of harmonies. Lastly, I love Calvin Harris and that's where the dance inspired tracks Main Attraction and Through The Year come from!
2) With the music industry tanking and record sales falling, how do you currently make money as an independent hip-hop artist?
I have not made any money as an independent artist (Besides very minimal with my rock band Pineapple Jam). But I have spent a lot! I started this album in 2016 and was just hoping to get my name out there and see what happens.
3) From a business point of view, which artists in the game do you think are really pushing the boundaries and changing it up?
Kanye West is my favorite and always will be. His creativity with each project pushes the boundaries every time. I also think Drake's constant releases of hit singles in between albums is a great business mentality to always keep people interested.
4) What business lessons have you learnt from the music industry so far?
Be very very careful of people online trying to take advantage of your passion. Make sure your dealing with trustworthy people. And absolutely nothing is easy.
5) What do you love about hip-hop music?
Mainly the beats. I really love a good beat, not just an average four or five track beat. A great beat like the ones on My Beautiful Dark Fantasy is almost like a current day cool orchestra made up of a mix of real instruments, electronic instruments, vocals, and samples.
There's truly no boundary. Great lyrics over great beats really make an amazing song. I also love how hip-hop continues to evolve and be one of the most creative genres today.
6) What still surprises you about hip-hop?
What still surprises me about hip-hop is how different flows and rapping styles can become so popular for specific time periods. Migos pretty much created that triplet flow over trap beats or at least catapulted it to today's mainstream.
It even seemed like J. Cole had a similar flow in some of his new songs. But then you have artists like Cousin Stizz creating his own smooth flow and Michael Christmas with something completely different. Shout out Boston!
7) If you had the power to change one thing about the hip-hop industry to help independent artists – what would it be?
If I had the power to change one thing about the hip-hop industry to help independent artists it would be for music platforms, A&R people, labels, radio stations, etc. to value the actual songs more than the artists who released the songs.
There's a crazy amount of talented artists creating amazing music out there struggling while some more popular and successful artists catapult to stardom from crazy antics, and incredible marketing instead of great music.
8) Who do you think are top 3 rappers doing it at the moment?
Kanye, Drake, and Kendrick and for Independent artist all three members of Ill Supreme.
9) So what are your plans for the future?
My plans for the future are to release a lot more music this year and hopefully never give up on my passion and this impossible dream to be able to have a career from creating music.