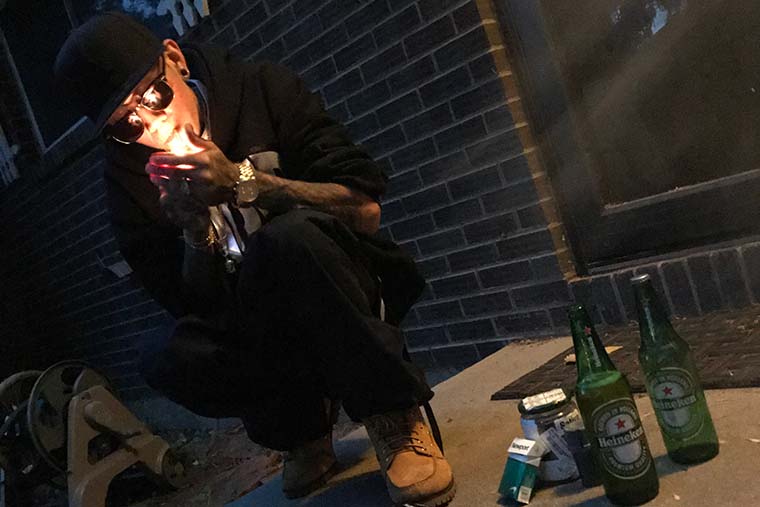 Well first off I go by T.B.M. or (ThaBoogeyMan). I'm a Mile High hip-hop artist. Speaking my life's story, what I've seen and also what I've been through. My music comes from a lot of genre influences like; Hip hop, rock, soul, and R&B.
I want my music to influence or help others through their troubles like music did for me. It's my dream come true to see my true career, my true passion come to life and for me to live it and share it with my family/fans who are my family. So let's Build An Empire Together! Kingz Forever!
1) Talk to me about the making of your latest project. What was the inspiration behind it?
The latest project released was Tha Horrific Nightmares EP. It was definitely an interesting project, very fun to write and record. The inspiration for this project was Halloween and the love for horror movies.
2) With the music industry tanking and record sales falling, how do you currently make money as an independent hip-hop artist?
As of right now I'm currently working at a production company.
3) From a business point of view, which artists in the game do you think are really pushing the boundaries and changing it up?
There is a lot of artist making changes in the industry right now, but I'd have to say Tech N9ne with Strange Music being in the industry for such a long period of time. Being able to stay strong as the largest independent record label.
Also Kevin Gates with Bread Winners Association being a versatile artist, after he was released he came back better then ever an inspiration telling the world to never give up on what you love to do.
4) What business lessons have you learnt from the music industry so far?
In reality it's a cutthroat business but once you enter into any business world, they are all like that everyone is competitors or competing, like survival of the fittest industry.
5) What do you love about hip-hop music?
I love hip hop music because the stories you can hear. The connections you can make, a get away from reality for the minutes that song plays. When I'm having a bad day, a good day, or in some type of mood hip hop music will get me out of that thought.
6) What still surprises you about hip-hop?
The type of beats you can make. Any type of music or instruments past or present the beats are what catches my ear first.
7) If you had the power to change one thing about the hip-hop industry to help independent artists – what would it be?
Honestly I really wouldn't change anything, the music industry is about who grinds and hustles more it's on you to show if you want it more and who's got the most hunger for it.
8) Who do you think are top 3 rappers doing it at the moment?
I would have to say Moneybagg Yo, Migos and Cardi B.
9) So what are your plans for the future?
Having my own record label company most definitely, touring all around the states and the world. Continue making my music and doing what I love to do.