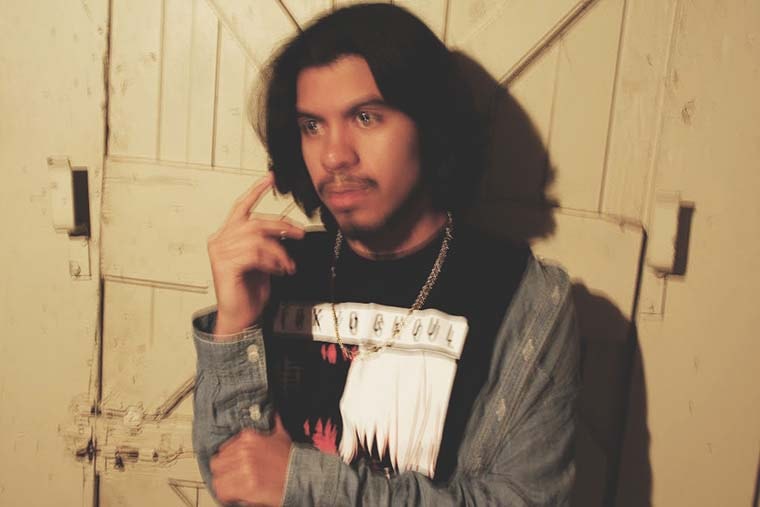 Usually when people think about the music scene in Kansas City, the first thing that pops in their head is Tech N9ne, and someone's 30 year old uncle passing out his mix-tapes at the local gas station. What many seem to overlook though is the city's diverse underground scene that is currently being run by teenagers and young adults.
One of these artists is Quincy Vatikan & his collective NAMELESSMAFIA. The 17-year old alternative hip-hop artist is the crews' most prominent rapper, & engineer. Being one of the few local hispanic artists makes him and the rest of his punk-esque collective stand out from the rest of the scene.
His style is a mixture of soft horror-core, & trap, or in his words — "TRAPCORE". Quincy is currently working on his debut mix-tape "TRA$H", so be on the lookout for that.
1) Tell us a little about yourself and your background.
Q.V:) Contrary to popular belief my name isn't actually Quincy, but it's nice to have people actually think that. I'm a 17-year old Hispanic high school student who happens to rap and run a collective, mini-label, & streetwear brand called.. (you guessed it!) NAMELESSMAFIA. I was born and raised in Kansas City, and dear frankly can't wait to fucking leave.
2) Who were some of your musical influences coming up?
Q.V:) As a kid I listened to a lot of chicano/cholo rap since my cousins and their friends were in gangs and I was constantly around them tapping in to what they listened to. It kind of just stuck to me. As the years went by I began to introduce myself to many more genre's including rock & underground hip-hop.
I've always wanted to make music in some way, shape, or form, I just didn't know when or how to. Originally I wanted to be in a band but since that wasn't going anywhere, I substituted for rapping which was a better choice considering I can't sing.
Coming up I had many influences. I listened to a lot of Odd Future, A$AP Mob, Lil Wayne, ILLFIGHTYOU, Kanye, Drake, Danny Brown, Flatbush Zombies, Lil B, Kendrick, Bones, Da$H, Pouya, Vince Staples, A$ton Matthews, Mac Miller & a whole shitload of metal & indie bands to name a few.
3) How would you describe yourself as an artist? Has your style changed much over the years?
Q.V:) As an artist I'm very unpredictable. One minute I'm rapping ominously over smooth beats and another I can be screaming and rapping like a chopper. At the end of the day I'm just a socially awkward punk kid who makes trapcore music.
My style's changed a bit though I will say. I started off making amateur backpack rap over Tyler The Creator or Early Mac Miller type beats. But over the past 2 years that I have been releasing music my style has evolved to become a bit more experimental and mature sounding if that makes sense.
4) What's your process like for making music? Do you have a set routine or does it vary track by track?
Q.V:) It really varies track by track. I like to have everything planned out when it comes to music and any creative goal I have for that matter. Shit, I already have my next 2 tapes planned out. What I usually do is I paint a vision in my head of what I have in mind for the project or song to portray, and then I scope out looking for all the right beats I possibly can find.
Once I settle on something that I really wanna sit down and work on rather than just rap over, I sit down alone and just start thinking about every small piece of inspiration — whether it be film, video game, or pop culture references, writing whatever I feel best fits the beat. I can't write real songs if I'm in a room with like 5 other guy's in the studio, only thing to come out of that is maybe a hard 16, but not an actual song ya know.
Once the writing process is done I like to record and mix the songs myself. I could have an actual engineer do it, but I feel that no one knows how to convey the sound I want other than myself, so thats why I usually take matters into my own hands from time to time. It really just varies, I'm weird.
5) Can you run me through the making of your latest project? Where were the studio vibes like?
Q.V:) The project that I'm working titled "TRA$H", has been in the making for the past 2 years. It really was supposed to come out the winter of 2015 but I really wanted to take my time with it. It started off being a 5 song EP but now It's a 10 track mixtape, with production from PackMan, DUS, BOYPROXY, features from TrippyThaKid, Jay Skitzo, & many more that are yet to be announced.
The actual making of the project so far has been a bit slow as I've been taking my time to conjure up exactly how I want it to play out as it is indeed a concept album. And I'm just barely starting to finish writing and gathering all the features. So if anything, the tape is around 60% complete.
To make up for the delay I've just been releasing singles, and doing features — so don't forget to check some of those out. I have my own bedroom studio, so the vibes really vary on how I'm feeling that particular day with the recording or mixing. But the majority of the time It's all chill, loud, and supportive vibes.
6) What sort of independent hip-hop promotion and marketing are you doing to differentiate yourself from other artists?
Q.V:) Aside from working with the wonderful people at Stop The Breaks, I've been using the same marketing scheme I used ever since I first started making music which is being myself.
I'm a really weird and expressive person, especially on social media so me acting weird, and posting controversial material and opinions online to garner attention or have someone actually listen to my music to figure me out is one of my many tactics that I feel help me stand out a tiny bit from the others.
7) What are your thoughts on the current state of hip-hop music today?
Q.V.:) I absolutely love the direction hip-hop is heading. I've never been much of a purist at all, and even if I was I'd be a very understanding one. I show new school rap the same amount of love I show old school rap. Life is all about progress, and so is music. So if you can't respect the grind behind these new artists, or at least fuck with the vision, then I really have nothing to say to you.
8) What music are you listening to these days? Anyone in hip-hop really blowing your mind?
Q.V:) I listen to A LOT of different music, and when it comes to hip-hop my attention span tends to really shift every 2 months when it comes to new rappers on my radar. As of right now I've really been digging Mick Jenkins, especially with his whole water theme. That man is the next wave. No pun intended.
9) If you could work with any artist you wanted, what would be your dream collaboration?
Q.V:) Either an EP with BADBADNOTGOOD, or a song with Bjork, Earl, Lil B, or Marylin Manson.
10) What has been the best moment in your music career so far?
Q.V:) Witnessing a mosh pit break out within the first 30 seconds of a NAMELESSMAFIA show.
11) So what's next for you?
Q.V:) Aside from finishing this mixtape, the next move is working to get me and NAMELESSMAFIA's name a bit more recognized within the city, ESPECIALLY ON THE BLOGS AND SOCIAL MEDIAS, and to of course get this bread and continuously make good music along the way. I know that sounds generic but it's the truth.