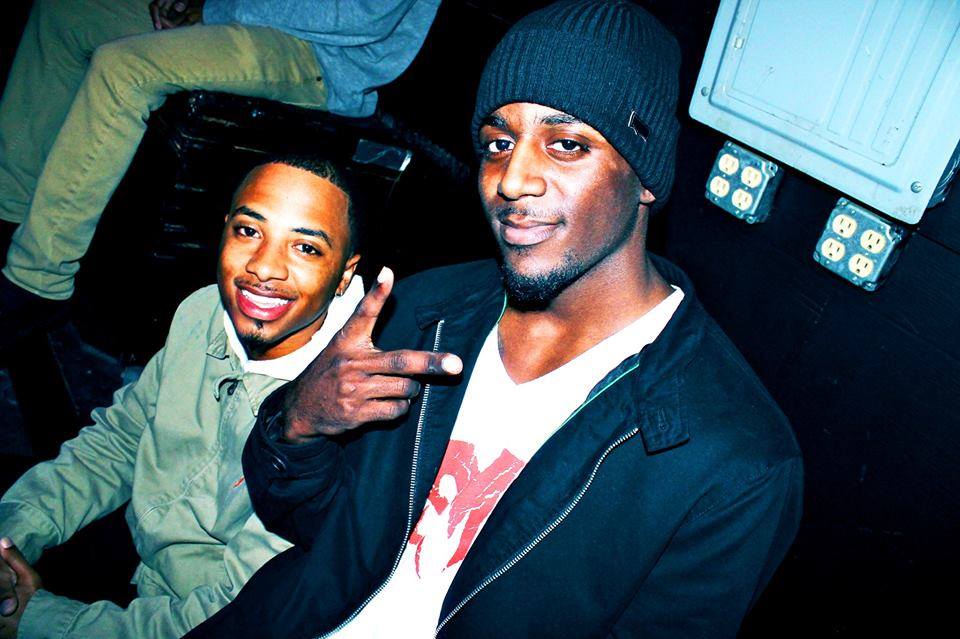 1) Tell us a little about yourself and your background.
My favorite shit to do when I'm not slaving my life away at work in the warehouse is to work on my music or just listen to my favorite artist's music(which is mostly PandaMa$on music), eat, sleep, skate, reading books and comics, watching movies and anime (I fucking love anime), kicking it with my friends or a female, or just going out and getting myself into random situations.
I like parties and shit, but not all the time because despite how nice I am I don't really like people that much. I love psychedelics and exploring the realms of spirituality. I meditate a lot and I enjoy my time alone. I'm a firm believer in God and that all things in the universe are connected. I hate liars and fake people.
Celebrities don't excite me. I also hate politics and will never trust any politicians. I don't like the system and I hate following rules because all rules are meant to be broken. I love my family more than anything in the world and I would never trade them for any amount of fame.
2) Who were some of your musical influences coming up?
Growing up my biggest musical influence was without a doubt Eminem. If it wasn't for him I might have never started writing raps. I liked a lot of everything though. Especially if it was good rap. As I got older though I got more into rock. My favorite band will always be Pink Floyd. Radiohead is probably second.
3) How would you describe yourself as an artist? Has your style changed much over the years?
As an artist I guess I'd say I'm very experimental and conceptual. I always have too many ideas and always have a hard time figuring out which ones to put more energy into. I'm sort of a perfectionist when it comes to the visionary aspect of my music, which could be a good or bad thing.
I wasn't always like that though. I use to just settle for whatever but I'm a lot more meticulous these day. I think it's important to get your message across properly the first time. I sing more now too but not too much.
4) What's your process like for making music? Do you have a set routine or does it vary track by track?
My music is pretty much driven by emotion so however I feel that particular day in that particular moment that's usually how I'm going to approach it. If i'm pissed off I'm gonna sound pissed off on the record; if i'm turned up then I'm gonna sound hype.
I record at my best when I'm alone because I can block everything else out and there's nobody around to distract me from my own thoughts. But I love collaborating with my friends because they're the ones I feel are on my level with this music shit right now. We just work well together.
5) Can you run me through the making of your latest project? Where were the studio vibes like? 
Well for Moonchild 2: The Movie I recorded almost the entire project in my kitchen on Pro Tools 8 with a C2 mic, except for 2 tracks. I know that shit sounds crazy but I was working almost 50 hours a week and I don't have my own place yet so I didn't have space for a full studio.
The computer and shit was setup on the far end of my kitchen near my living room. I would just turn the tv on and find a good movie then keep it on mute while i worked, I usually recorded in the morning because that's when nobody else was home.
And I pretty much always had a few beers and some Mary Jane close by. I like the morning the best because you get the ambiance of nature and shit, it sounds really cool.
6) What sort of independent hip-hop promotion and marketing are you doing to differentiate yourself from other artists?
To be honest I'm not sure what I'm doing differently than other artists as far as marketing and promotion. I haven't really figured that part out yet. I literally just finished the project yesterday and it's out today so I don't know we'll see how it goes.
Maybe we'll throw a PandaMa$on festival and film us getting wild or something, I wanna throw a small festival in my backyard cause it's big as fuck and the cops probably usually don't bother us back here where I live. It'd be tight. I could perform the whole tape then.
7) What are you thoughts on the current state of hip-hop music today?
I'm gonna be blunt on this one. 70% of hip-hop is trash right now. Pretty much everything on the radio is trash with a few exceptions. The other 30% is probably everything that I'm listening to. That's a pretty bad ratio. Everyone's being a follower and just doing the same shit as everybody else basically.
Doing whatever is popular to get on. That's sus. They just make whatever music they think that people want to hear. They just stunt for the cameras. That shit doesn't have any real substance. Most of them aren't even living that life. We don't give a fuck about how much money and cars you have. Nobody really cares about that shit.
8) What music are you listening to these days? Anyone in hip-hop really blowing your mind?
Right now I'm listening to Earl and Tyler's new shit. Those two are always on their shit. Lupe's album was really good. Kendrick blew my fucking mind with his album. I'm patiently waiting for Ye to drop his album. Mr. Wonderful was tight as fuck too I love Action Bronson he's a character. I would've bought Pilot Talk 3 already but it's like $100 or some shit.
I mean jeez c'mon Spitta have mercy on a nigga's wallet. I'm listening to my own shit of course. My brother Djenko has a self-titled album on the way that's gonna blow EVERYONE'S mind, that's my dude right there. And we're also working on my brother Tonee Shark"s new mixtape "Millenia" right now.
My boy Carson Mohler just put out his debut "Youngin' EP". It's the best 3 tracks out right now. My homie Alias E just put out her "Study Session" mixtape so I've been bangin that too. It's shaping up to be a good year for our music.
9) If you could work with any artist you wanted, what would be your dream collaboration?
If I could work with anyone right now it would have to be Thom Yorke. I envy that nigga's voice. He's so damn good. I wish I could sing like that.
10) What has been the best moment in your music career so far?
The best moment of my career so far is this interview right here and this Moonchild 2 project. I spent 18 months working on this tape, I guess we're about to see what it's really worth.
11) So what's next for you?
I'm constantly writing and working so there's gonna be a lot coming from me next. I'm working on an album with a producer friend right now but I can't speak too much on it since it's still in it's early stages of the process. I'm also featured on 9 Tales' upcoming album "The Minimal" so be on the lookout for that. He's super dope and his beats are crazy as hell.