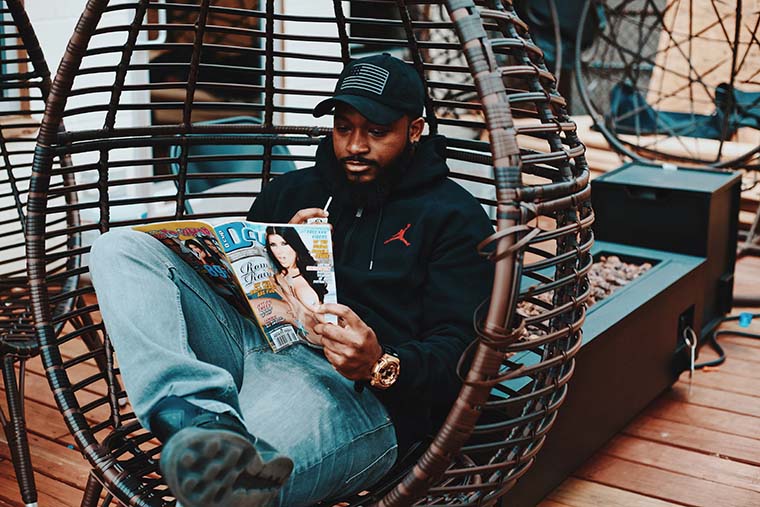 Artist Bio: Lxndo is an up and coming hip-hop artist located in San Diego, CA. Born in Montgomery, AL, he was raised as a military brat always on the move at a younger age. Influenced by literature, he wrote poetry and short stories in his free time.
This lead to his penmenship in writing lyrics. Surrounded by countless classic albums from father's collection, he studied the sounds of 2Pac, Snoop Dogg, Ice Cube, Notorious B.I.G., Big Daddy Kane, among others.
At the age of 16 Lxndo started putting thoughts to beats, creating melodic tales for many to listen and enjoy. In 2014 he moved to San Diego to start a new chapter in his life to further expand and grow his musical talents.
1) What inspired you to be a part of the music industry?
Making music has always been a huge part of my life so I figure why not have fun and get paid to do what I love hahaha
2) Talk to me about the making of your latest project. What was the inspiration behind it?
My latest project is titled "Evol Erom" or More Love backwards. This is pretty much my autobiography where I'm telling the world about my life, past relationships, struggles and hardships, EVERYTHING. I hold nothing back on this album. The story starts in present day but goes back I think almost 10 years, giving people a brief explanation of why I'm the man I am today.
3) What was the process behind making the project?
Well all of the recordings were done at my home studio in San Diego. Wanted to feel that vibe I felt back when I was 16/17 making music in my folk's basement. But all of the mixing and mastering got finished at Blue Room Studios in D.C. by the man Conrad over there.
Dude was great in putting together my first project so only right I let him put this one together too. Production was done by Beat Demons, Flash Beats, Powerful Beats, JSounds, and Everest Media Group. Sonically everything just fit together and a masterpiece was created in the lab.
4) What are your thoughts on the hip-hop industry at the moment?
At the moment the industry is in good hands. Hell, hip-hop is now the top genre being listened to and that means a lot! Especially the backlash it faced back in the day. So I'm happy how far it's come along since then.
Sure for a bit there were quite a few similarities between artists but now I think we're getting a bit more of a mix up in the game today. And there's a lot of positivity being pushed as well. I'm a fan of a lot of the newer acts too and I'm wishing everybody the best in their endeavors.
5) Do you enjoy grinding it out independently or would you prefer to be signed to a major label?
Honestly I wouldn't mind a label backing me hahaha. The creative freedom behind being independent is always great but it's stressful trying to make moves by myself. I just want to focus on making music and letting other people handle the managing, the booking etc. hahaha
6) What do you think goes into building a loyal fanbase?
Consistency. After my first project I took some time off and wasn't uploading any new content. No freestyles, nothing. But I came back just in time to give them something new. People will always want to see you on the move, on the grind, to show support for the hustle and work ethic being put into it. That's what I think goes into building a loyal fan base.
7) What sort of online promo and marketing are you doing to reach your fanbase?
Right now I'm working on certain packages to get put into spotify playlists and continuing to post my project regularly.
8) As an indie artist, how do you brand yourself and your music to stand out from the rest of the artists out there?
As cliche as it sounds I just keep it real in my music. That's something I hold close with my art. I also don't try to mimick other's flows or habits. The difference is being different from the rest. Even using wordplay that's different but still connects with the audience is key to me. That's my take on that.
9) How do you currently make a living as an independent hip-hop artist? What sort of income streams do you have
Currently just grinding it out, doing shows, music money grab contests, the typical stuff. But there's a lot more in store in the future so stay tuned.