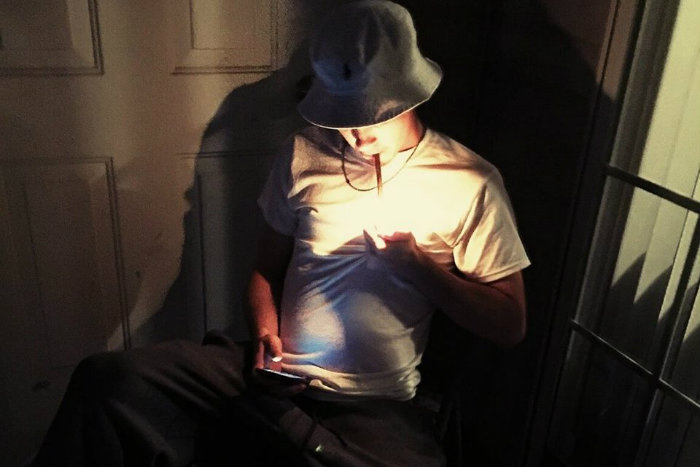 1) Tell us a little about yourself and your background.
I'm a rap artist and aspiring producer from Illinois. I've been rapping for a couple years now and I am releasing my first solo E.P., Lone Wolf, on September 5th, 2016.
I try to use music as a way to vent any feelings I can't in everyday life, from hateful and violent shit to
just some things that isn't comfortable social conversations, like anxiety and drug abuse/addiction.
And you'll always feel that in my music. I feel like if your art isn't about SOMETHING, then you might as well not do it at all.
2) Who were some of your musical influences coming up?
I've been influenced by a lot of artists/bands, man.
Eminem, Biggie, Nirvana, The Doors, Alice In Chains, T.I., Soundgarden, RHCP, System of A Down, Gucci Mane, and on the recent side, Pouya, $uicideBoy$, Bones, Xavier Wulf. I could go on forever.
I just love anything that I can really feel. Shit with passion. If I can feel it, I fuck with it.
3) How would you describe yourself as an artist? Has your style changed much over the years?
Well, when I started rapping, as you can tell through my old music on SoundCloud, I really didn't take it seriously, and I really didn't have any business doing it.
Me and my homies had a collective called 217 iLLinoise, we recorded shit out of my friend's closet that we turned into a booth, soundproofed it and all that shit. It was decent for the set-up I guess. We had the ideas, just not the means to convey the ideas into something that's fire.
But I would describe my music today as grunge rap. I'm not afraid to make a song about  mental illness or drug addiction, or killing somebody or suicidal thoughts. Whatever emotions I'm going through when I'm creating my music.
I have been heavily influence by southern rap, from Atlanta to Memphis to Houston. I definitely see a 90's vibe to the music I'm making now. "Very unique" would be my overall description. And that's my intention. But all in all I just make whatever I'm feeling.
4) What's your process like for making music? Do you have a set routine or does it vary track by track?
Usually I sit at home and map out my projects before I get in the studio. Find a beat, write to it, get every tiny detail ironed out, and then move on.
Once my vision's complete, I go and record it. usually over 8-12 hours.
I like to lock down and work. I have a great studio I record at in St. Louis (Jupiter Studios) and they do me right every time.
5) Can you run me through the making of your latest project? Where were the studio vibes like?
When I was recording Lone Wolf I did what I usually do which is lock down in the studio all day and work on it until it was complete.
My engineer Adrian Brown was on point with everything and was really getting into the project as well. So that go my creative juices flowing a little bit and we just did our thing.
Also, on TE$TME, the kid that did the hook (C-Rain) walked in the studio looking for an internship. I was like hey, kid.
Can you do something for me real quick? So he came back  to the booth and i gave him the lyrics and said just do what feels natural but do it with like intensity.
And he did this like neo-punk scream thing and it just was perfect. Random shit like that can happen and set a whole track off. It's crazy. Plus I have a track with Chilly SoSa on there, from HealthyBoyz. That's already dope enough.
6) What sort of independent hip-hop promotion and marketing are you doing to differentiate yourself from other artists?
I think the one thing that differentiates me from others is that I care about who cares about me. I will always be active and social on social media (Twitter: @KPGS618).
Whoever's listening, their opinion matters to a certain extent. And also I'm not afraid to express things that some artists wont express.
Plus, I have some plans for some visuals that are going to be game changing. I'm excited to announce more info about visuals for sure.
7) What are you thoughts on the current state of hip-hop music today?
I dig $uicideBoy$, Pouya, Fat Nick, Bones, Chris Travis, Yung Simmie, Yung Yogi, Father, Germ. Also, shout out my boy Jay Meline from 217 iLLinoise. Peep that man.
8) What music are you listening to these days? Anyone in hip-hop really blowing your mind?
Like I said, $uicideBoy$, Pouya, Fat Nick, Ramirez, Germ, Black Smurf, Shakewell, Bones, Eddy Baker, Chilly Sosa, Chris Travis, Xavier Wulf. I dig the underground scene.
They're hungry motherfuckers, man. And I feel that. They still have shit to prove. I can relate.
9) If you could work with any artist you wanted, what would be your dream collaboration?
Probably $uicideBoy$, Pouya, Eminem or if we're talking not all-time, Biggie. Hands down. Greatest of all time.
I'd also love to go back in time and have Kurt Cobain or Layne Staley sing a hook for me. That'd be absolutely crazy.
10) What has been the best moment in your music career so far?
Releasing a song with Chilly SoSa. I've been following him on twitter for like a year and listening to his music since he started. It's kinda crazy to me still.
11) So what's next for you?
I am releasing my first mixtape, Yellow$toned, on 12-22-16. My birthday. I can't say anything about who's going to be on it right now but I want to let Lone Wolf sink in before I drop something else, although I have some singles and another e.p.
I can drop whenever. I'm impatient as hell, so it's hard to hold off. But expect a steady stream of music from me from now on.
I'm just getting started in this shit. Shoutout Chilly Sosa, shoutout Jay Meline, shoutout C-Rain, shoutout to all the producers on the tape, shoutout to my engineer Adrian Brown and Jupiter Records. Y'all are Gods. Gi$aGang618.
https://soundcloud.com/kpgisa618/sets/lonewolf