Artist Background: King Tico, born Quantico McMillan, is a Red Springs, North Carolina native born on September 20th, 1996 he is an independent recording artist who was inspired musically by the blockbusters of the 90's and 2000's.
King Tico is a current Fayetteville State University student and on-air talent with Bronco iRadio and aspires to receive a baccalaureate degree in Communications and advance his music career. King Tico strives to be a diverse artist that is not only talented but relatable.
King Tico strives to one day become a multi platnium artist. King Tico also has a clothing line which is available at: teespring.com/stores/kingtico.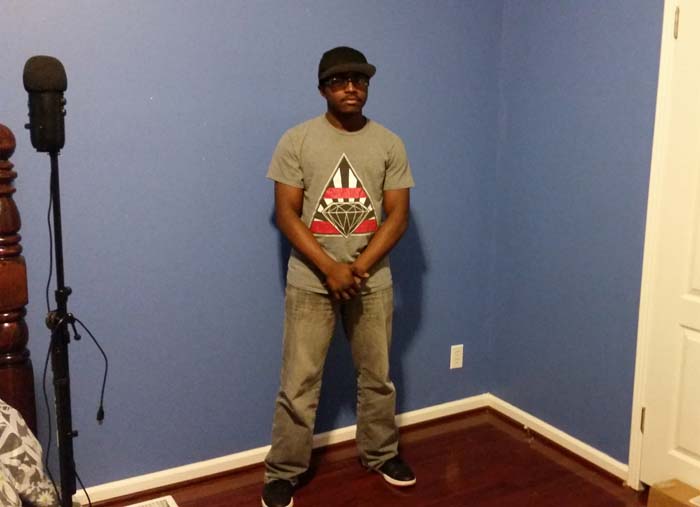 1) Do you remember the moment you wanted to be a hip-hop artist?
I have always had a love for music, while I watching artist videos growing up on MTV and BET I came across an Outkast video and completely became in love with the art of Hip Hop. I was around 7 or 8 at the time and all I knew was that I wanted to be as talented as the individuals I saw on TV.
2) What was it like creating your latest project?
"The Red Springs Project" is my most latest project but it is still under development in regards to production and mastering. I take pride in the fact that I have produced and written every piece of the project as opposed to my earlier project "Street Poetry" available on spinrilla.com/artists/officialkingtico .
I took this project in a new direction when it comes to sound but I am still the same artist, practicing out versatility.
3) What are you trying to achieve with the project?
My art is situational. I write and rap about what I have been surrounded with. If someone picks up a song of mine and relates to it then kudos to them. I hope that the first "The Red Springs Project" is a hit given the direction I am taking with it. I plan on cementing a fanbase and gaining exposure for my talents and creative outlook.
4) What are your thoughts on staying independent or signing to a major label?
I feel as if label recognition and signing is subjective to the artist. I feel as if a major label signing me would greatly boost my exposure and reach but it is more restrictive of the artist. I would not be against signing to a label. But for right now my interests are to make feel good music that people can vibe to.
5) How do you feel about the independent hip-hop industry right now?
Independent hip hop has become saturated but still has a large substance of quality and content as opposed to commercialized mainstream hip hop which is more focused on sales, which isn't necessarily bad, selling is a goal of an artist.
However, I feel like there is more creative freedom and stress due to everybody being an artist nowadays. Everybody has a SoundCloud, everybody is dropping a mixtape. That's where it comes down to what the individual independent artist is doing to separate themselves from the crowd.
6) As an independent hip-hop artist grinding it out, what sort of promotion and marketing are you doing to stand out from the rest?
I have contacted many online and social media promoters to gain blog articles about my content. I promote myself across social media; Facebook: King Tico ; Instagram: @officialkingtico ; Tumblr: officialkingtico and Soundcloud officialkingtico.
I have a clothing line so that fans are a form of my promotion and marketing. my clothing line can be seen at teespring.com/stores/kingtico
7) How do you currently make money as an independent artist?
I have partnered with Routenote to be my priority distributor and I monetize my music across all platforms such as officialkingtico.bandcamp.com and I am available on Google Play as "King Tico". my revenue comes from my clothing line as well. and eventually I will partner with YouTube when I start making YouTube videos.
8) How do you feel about hip-hop today?
Whether people agree with it or not Hip-Hop is many subgenres, and in regards to music I feel like on the mainstream level the quality has decreased while revenue decreases and I can't agree with it as someone who is in love with my art regardless of if it sales.
I feel like authenticity should make a comeback on the mainstream level of hip hop because many artists sound the same and rap about the same subject matter, which isn't bad per-say, but it is starting to become a tired act.
9) What artists in the game today do you look at for inspiration?
In regards to artists of today I am inspired by Chance the Rapper who has come so far despite being an independent artist. I also am inspired by North Carolina's own J Cole who grew up in Fayetteville, just 40 minutes from my small town.
Seeing artists who never strayed from their originality makes me strive to become a name that inspires someone in my position today.
10) Who are your top 5 rappers dead or alive?
My list is subjective but that's because they all have inspired me on an influential level,
5. Andre 3000 – Lyrically Andre is one of the best, his work as an artist is incredible. He is without a doubt my favorite artist and one day I will have a featured track with him. Andre is also one of the most influential artists when it comes to style, diversity and substance.
4. Lil Wayne – He has and still is inspiring artists to this day, He may not have been the most lyrical but there is no downing Lil Wayne's accolades and accomplishments. The man is a living legend
3. Ice Cube – One of the pioneers of Gangster Rap in my eyes, he was innovative creative and has gone down in history as one of the Kings of West Coast Hip Hop, but in my eyes he is the King of the West.
2. Lauryn Hill – She has paved the way for many conscious artists and is personally my favorite female MC. Sometimes I catch myself listening to her tracks in order to get me in the mood to perfect my craft.
1. Tupac – Arguably the most influential voice of the 90's. I grew up listening to Pac thanks to my uncle. He was a poet, an activist, and the definition of a true MC. Sometimes he does get overrated but that does not take away from the fact that this man is forever a legend and I say that as a millennial who grew up in the crunk era of the 2000's in the south.