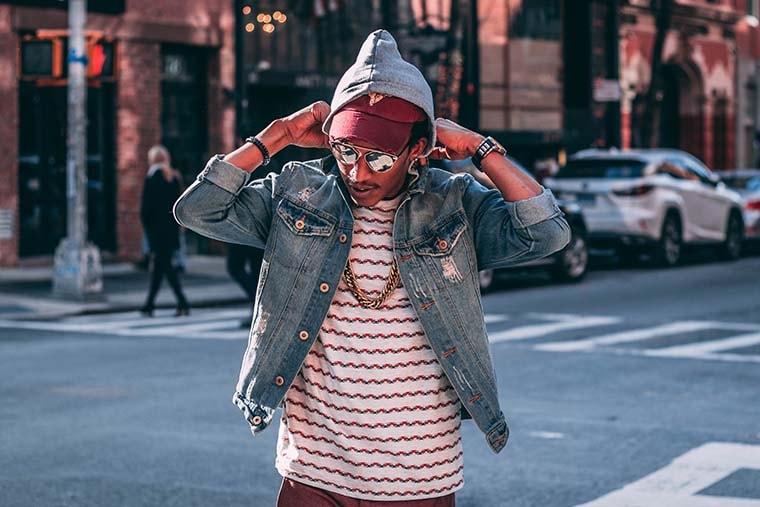 Artist bio: Since 2010, Jesse a.k.a. Sir.Scott The 3rd has been delivering hard hitting projects from "Ripple Effect" to his latest work "Last Minute Submissions".
As a member and co-founder of Third and Ninth Records along with Marvillous Beats/Marv Middle and Len Lama, Jesse has made a clear mark in music. His style is unique in its own way, coming across with a smooth delivery yet aggressive contact while conveying clear lyricism.
Jesse has a passion for hip hop and creating, it's clear to see this with every verse, mixtape and album presented by Sir.Scott. There's much more to come from Sir.Scott, be sure to stay tuned and keep him in your playlist.
1) How long have you been doing what you're doing and how did you get started in the first place?
I have been creating and making music since late 2009. This really all started back when I was working int the footwear department at Modells in New Rochelle. While working this crappy job, I came to know Jesus a.k.a. Zeus who now is one of my really good friends.
While putting in that work at Mo's lol I used walk around reciting "bars" and freestyle for fun and pass time. One day whilst doing this Zeus approached me and told me I should come to his crib and check out his studio.
He continued to tell me about all his "boys" he worked with, which later became friends and some were already friends but I had no idea do to the rap aliases. For days he told me to come through and record.
I was always hesitant to go because I never really thought I could rap. Long story short I ended up going, meeting everyone and became addicted to everything hip hop, everything music. At that point I was locked in and ten toes deep.
I bought my own equipment and began recording myself. Sling shot down the time line to when I met my good friend and brother Marv a.k.a. Marvillous Beats. From there history was written. Once I linked up with Marv and his brother Len Lama I and we became a machine in which can not be stopped. All of that leads to what you see and hear today.
2) What sort of hurdles and obstacles did you face to get to where you are now?
There are too many to count honestly. From the start even to this point its always been an up hill battle because I'm fully investing in myself. I've had to deal with the struggles of family and close friends accepting and or not my lifestyle and ambitions.
In addition to always needing money and learning the business aspect of "the game". Falling and failing time and time again from poor investments, failed shows, bad reviews, no reviews, no plays, no shares, comments, likes, etc.
I've had countless hurdles while traveling my road and passion, but it's what makes this all worth it honestly. It makes me more hungry and it makes the reward that much greater when I've worked above and beyond the call of duty to get where I'm at thus far.
I must say the largest obstacle that I have faced thus far and continue you to is myself. This journey and career requires a lot of self evaluation and faith.
3) What's the hardest thing about being an independent artist?
Just that. Being independent requires myself and others like me to wear several hats at once. In today's day and age you can't just be a good rapper. You must know at least the basics of business, branding and marketing along with a list of other skills, contacts and information.
4) Are there any independent hip-hop artists out there who inspire and motivate you?
To be honest I have a handful of hip-hop artist and people in general that inspire and motivate me to do better and create more. Of course there are the name droppers such as Nipsey Hustle, Currency, Childish Gambino a.k.a. Donald Glover, but I truly am inspired by anyone or anything that gives off a strong moving positive energy that resonates with me.
5) Where do you see yourself in 5 years?
In five years I will have see 1/3 of the world in which I plan to travel/visit, creating music which will reach a larger mass and having my business and brand in the first chapter of its ascension to becoming the enterprise and beacon of creation in which I envision.
6) Who were the first influences on your music and style?
My earliest influences that I can recall are for sure The Lox, DMX, Lil Wayne, Bone Thugs(not much), Fabolous, Dipset.
7) If you could choose to collaborate with 3 other artists on the same track – who would they be?
J. Cole
Jay Electronica
Erykah Badu
8) How do you currently make money as an independent hip-hop artists?
This leads back to wearing many hats and not only being a "Rapper". I currently make funds to re-invest through the following : Streaming Platforms, Production, holding Recording Sessions, Engineering, Photography and Videography.
9) What are you hoping to achieve with your music?
I honestly hope to achieve a stable lifestyle in which I can travel the world teach, learn and grow with my friends, family and loved ones all off the strength of my music and creations.
10) What do you think is the biggest barrier an artist like yourself has to overcome, to gain commercial success?
Knowing what you want, want to be and who you are. Also hearing "No" until you hear "Yes"