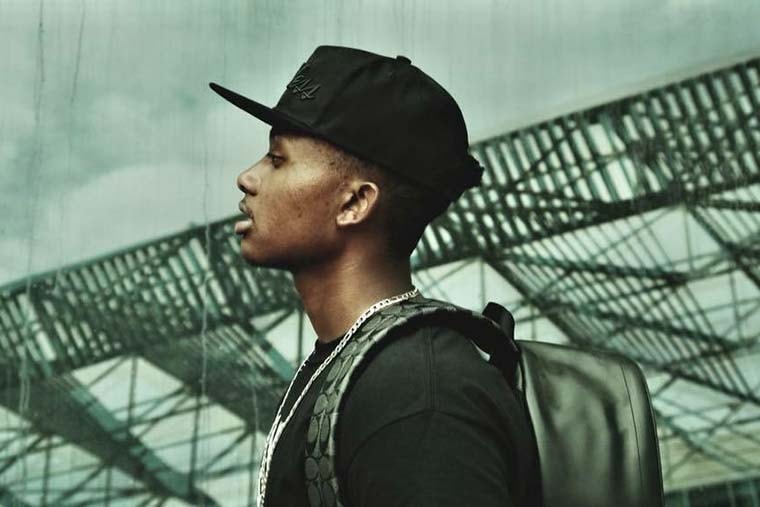 Artist Bio: Jamel Deon Williams, better known as Jamel Deon is a rapper and spoken word artist from Las Vegas, NV. He is also a member of Las Vegas hip hop duo, Kinfolk Kollab.
Although always having a passion for music since the age of 4, Jamel Deon didn't start taking rap seriously until the age of 14. He was inspired by his older brother to start rapping and has been taking the world by storm since.
He would proceed to release his debut mixtape The Pen Prodigy: The Missing Pages in 2014. In the following years, he would go on to release The Pen Prodigy 2: Writings On The Wall, No Hook, and Kinfolk Kollab: The Mixtape.
He strives to have his music center around the growing pains, triumph, and typical life experiences many people come up against in life (whether good, bad, or fun), including himself.
He cites Nas, Lloyd Banks, Jeezy, Scarface, and Jay Z as some of his musical influences. With four projects under his belt, Jamel Deon is nothing short of determined to make a name for himself and make his mark in hip hop.
You can find more about Jamel Deon on his website www.jamelpenprodigy.com.
1. Talk to me about the making of your latest project. What was the inspiration behind it?
"The Breather" (dropping April 30th) is basically a single that I feel a lot of people can rock with just because of the vibe. It's just super gritty. It's crazy how the inspiration for the record came about too. I was sitting on the beat for a while but I just felt I was in a dead spot musically.
I felt I hit a major plateau. I was going through a lot mentally, spiritually, & emotionally. & even a homie of mine, KJ was telling me how I haven't been at my best lyrically based off my last project. However, that random rush I needed came at the right time & I just started spazzing.
I didn't care to stick a specific subject matter or anything. I just wanted to go off on the song & get people amped. I knew it was a banger once I got the confirmation from everyone that been supporting my music from the jump.
2. With the music industry tanking and record sales falling, how do you currently make money as an independent hip-hop artist?
Well currently, since I recently graduated from college, I'm working full time to be able to fund everything. I'm also in the works of pressing up more merchandise since I took a small break from that and then now that I'm streaming, I'm starting to generate income on that end too.
Overall, I'm keeping my day job to keep consistent income for bills and some on the side for the music while finding ways to profit off my music for the time being. Plus, I got student loans to pay off as well so I gotta generate more than one stream.
3. From a business point of view, which artists in the game do you think are really pushing the boundaries and changing it up?
Ah man, there's definitely a lot of them. One of them is definitely Drake. I like how strategic he is as an artist and how he is able to immerse himself into different styles effortlessly but still make it correlate with his brand.
Regardless of what people may say about him, he will definitely go down as a great when it is all said and done. Another one would have to be Nipsey Hussle. I feel he is the epitome of someone who creates doors and opportunities for himself in this day and age.
He basically is like "They're doing it this way, but fuck that. We gonna do it like this and make it work." He's showing artists how to cut out the middleman as much as possible. For this generation, he is the one that's really pushing ownership and self investment.
Lastly, I would say Chance the Rapper. Before him (and correct me if I'm wrong), I never heard of anyone being able to make it successfully in music from putting out all of his music for free. Independently for that matter.
He is definitely someone who pushes for what they believe in, holds on to their integrity, and encourages others not to fall victim to typical industry bullshit. & as an honorable mention, I'll say Curren$y. His consistency is impeccable & I feel he is highly underrated. Him doing it all independently too? You can't knock that.
4. What business lessons have you learnt from the music industry so far?
Sheesh, there's so many to name that I cannot even list them all. However, I feel the biggest one I have honed is it is vital to treat your career like a true business. Many feel that just because there are some artists that were able to blow up "instantly" off Soundcloud, Youtube, or whatever other platform, that they don't have to formulate any plan or put any money behind their shit.
That ain't the case at all. There was strategy behind it whether they know it or not. Just having good content will not suffice at all. It's just like when you're trying to open a business, trying to sell a product, or provide a service.
Are you gonna instantly make some bread just because you got a dope idea? While it may be nice to, the answer is a definite no. You gotta network, put money down for marketing and promotion, INVEST and budget where everything is gonna go, the whole nine. Ultimately, you ARE a business. It's a lot but it's worth it.
5. What do you love about hip-hop music?
Hip hop has been in my blood and spirit ever since I knew what music was. I love the influence it has on people. How you can be able to tell stories in so many different flows, rhyme schemes, and so much more. So many different vibes you can get from it and how it brings people together.
Along with being the biggest genre right now, it's beautiful. I feel we're the only genre that's not just a genre but a full blown culture! From rapping, to deejaying, to dance, to graffiti, you can't get any better than that.
6. What still surprises you about hip-hop?
Really, just the fact that it's been 45 years and the innovation just keeps coming. The ability to make everything into our own flavor and hone on to it. It always feels like a new genre on the scene. Aside from the hate and bullshit going on currently, the love received is phenomenal in my eyes.
7. If you had the power to change one thing about the hip-hop industry to help independent artists – what would it be?
Man, that's a good one. I would probably change and create more outlets for the hometowns that tend to get looked over or don't have much of a music scene.
I know coming from smaller towns or coming from a place where music is not taken as seriously, it can be tough to get heard, cultivate a fanbase, and even tough to find opportunities to take your music to the next level.
Coming from Las Vegas, I come from the latter situation so if granted the opportunity, that's something I'd be interested in doing. I believe there's much more dope talent than what's being currently heard.
8. Who do you think are top 3 rappers doing it at the moment?
Besides the ones I mentioned already, I feel Cardi B is at the top of my list. I'll be the first to admit that I wasn't feeling her initially, but after I heard "Red Barz", I couldn't help but become a fan.
With her story and personality, I feel she is a force to be reckoned with and I'm loving her growth. Her being so raw and uncut is what makes her stand out and I feel that has contributed to her success.
Another I would say is Gucci Mane. His consistency and adaptability is what I feel has been the key to him staying relevant throughout his career. He has always been around but I feel he's bigger than ever before now. Also, ever since he's been released from prison, I feel he has grown so much as not only an artist, but an overall individual and I can't help but respect that.
While this last one may be a very uncommon one, I feel Trae Tha Truth is another one doing his thing right now. He always has been doing his thing but I feel he elevated every single time. The way he can immerse himself into the new generations and trends without compromising his authenticity is dope.
I feel he is someone that is very underrated & I love how he makes giving back to Houston apart of his brand (especially with what he's been doing ever since Hurricane Harvey happened). It makes his music so much more personal.
9. So what are your plans for the future?
As far as short term is concerned, I hope to cultivate and solidify my fanbase this year. Also, in the next year or two, I want to start slowly putting together a team of people who believe in my vision and can take my career to the next level.
That's including management, marketing, promo, all that good stuff. Lastly, I wanna be able to start making consistent income off my music and find more ways to monetize myself.
As far as long term is concerned, I wanna be able to quit my day job and be able to make a true living off my passion. I then want to branch off and get into business ventures and affairs that are relevant to my brand. I wanna go down as a great in my own right. All while doing it independently.